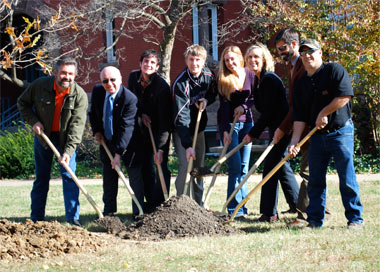 Replanting Blitz – Chancellor Samuel Goldman, second from left, joined several students, staff and faculty members to plant the first of 200 trees that will replace some of those destroyed in the May 8 storm that, among other things, disrupted commencement and destroyed many old and beautiful trees on the Southenrn Illinois University Carbondale campus. Joining the chancellor are, from left to right, John Taylor, business manager for Plant and Service Operations; Nick Wangelin a plant and soil science major from Princeton; Ethan Lindsay, a plant and soil science major from Marion; Katie Smith, a geography and environmental resources student from Tinley Park; Karen Midden, a professor in plant, soil and agricultural systems; Matthew Therrell, assistant professor in geography and environmental resources; and Ira Tripp, labor and maintenance. (Photo by Andrea Hahn) Download Photo Here
November 06, 2009
Volunteers needed to plant 200 trees in one day
CARBONDALE, Ill. -- Southern Illinois University Carbondale is poised to write the next chapter in the saga that began on May 8. And, as was the case in the days and weeks following the devastating windstorm, volunteers will play a key role in the ongoing restoration efforts.
SIUC officials, relying on input from a focus group, developed a plan to plant 200 trees in mowed areas around campus in a single day -- Friday, Nov. 13. All the holes will be ready, and trees, fresh dirt and tools will be at each location. The key ingredient will be volunteers.
Plant and Service Operations and Student Development are working together to coordinate the efforts of volunteers, who will work in two-hour shifts. Registered Student Organizations, and individual faculty and staff members -- along with members of the community at large -- interested in volunteering should call the Student Development office at 453-5714 by 4 p.m. on Tuesday, Nov. 10.
Several students joined Chancellor Samuel Goldman today (Nov. 6) to jump-start the restoration effort by planting three trees near Wheeler Hall.
"Our students and staff showed great loyalty to our University, and to each other, in the wake of that storm," Goldman said. "If you were here that day, you know how widespread the damage was. I am sure we will continue to see that Saluki Spirit as we take this important step in enhancing the beauty of our campus."
Goldman also noted that the campus re-landscaping effort is being supported in part by a gift from Ameren Corp. Ameren's gift stems from the assistance it received from the University following the May 8 storm, when utility workers stayed in residence halls for several days.
Phillip S. Gatton, director of Plant and Service Operations, said the nine-member focus group first met in mid-July and began meeting about every two weeks when the fall semester began. He anticipates the group will continue meeting through the end of the school year.
"We have academic representation, student representation and several physical plant people," he said. "They are all very interested in seeing the campus restored."
The May 8 storm, he said, created "such a sense of loss" on campus.
"The devastation made all of us feel like we had lost a piece of ourselves," he said. "It was very difficult, and as you looked around you realized we had lost something we probably will never see again in our lifetime."
The Nov. 13 event affords everyone the opportunity to create something new.
Gatton said the upcoming tree planting will not necessarily be "like for like."
"The way the campus has developed over the years in that regard has not been a well thought-out process," he said. "We plant trees, but we don't have an overall plan for how we're going to do it in general."
The campus lost more than 600 trees in the mowed areas in the May storm; many more, of course, were lost around campus lake and in wooded areas. If there was a benefit, it was that a Kent, Ohio, firm performed a tree inventory of the mowed areas. That process also provided officials with a brand-new tool: GIS-generated overhead photographs of the campus.
"This inventory provides us with a starting point for what our needs are," Gatton said. "We can now take a look and see how many white oaks we have, or red oaks, and also see what tree species we may be missing or don't have enough of."
With the input from the focus group, the plan is to plant trees in a manner that will create thematic areas.
"You might not see the exact same tree, but it might be of a related species," Gatton said. "We're thinking a lot about how we group trees together and also looking at ways to frame the surroundings of the areas with a lot of foot traffic."
He also said focus group conversations have been about both short- and long-term goals.
"This is an exciting opportunity to start the process, but we want to have some long-term goals and come up with a significant plan, much like the campus Land Use Plan," he said. "For example, we have had conversations about planting more native grasses on campus, areas that we wouldn't mow."
Planting 200 trees in one day requires a great deal of planning and advance work. To start with, a subcommittee of the focus group evaluated the types of trees to be planted. After identifying the locations for the new trees, physical plant staff has been locating all the utility lines where trees will be planted, and marking them with small flags. They then have to drill the holes and take the "old" dirt off-site. The trees will be planted in "new" dirt that includes vermicompost from SIUC's Vermicomposting Center, all of which has to be transported to the various tree locations.
With the holes open for several days, crews are placing plywood over them so people don't get hurt.
"Our process has been designed so that realistically, we can get 200 trees planted in one day," Gatton said.
In addition to Gatton, members of the focus group are:
• Katie Smith, a student majoring in Geography & Environmental Resources.
• Adam Oller, a student also majoring in Geography & Environmental Resources.
• Ethan Lindsay, a student majoring in plant and soil science.
• Nickolis Wangelin, a student majoring in plant and soil science.
• Karen Midden, professor, Plant, Soil Science and Agricultural Systems.
• Charles Ruffner, associate professor, Forestry.
• Dave Tippy, assistant superintendent of grounds, physical plant.
• Matthew Therrell, assistant professor, Geography & Environmental Resources.