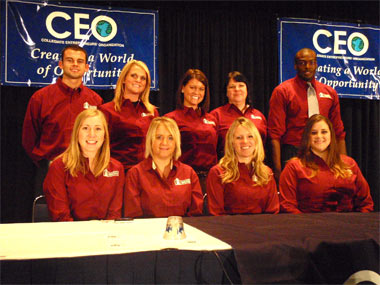 SIUC at CEO -- This group from Southern Illinois University Carbondale attended the 2009 National Collegiate Entrepreneurs' Organization (CEO) Annual Conference where Renee Favreau, bottom row at far left, won 10th place and $300 at the CEO Elevator Pitch Competition. Also pictured, in front row, are Gina Montgomery, Jenni Janssen and Katie Dzugan. Back row includes, from left, Ben Morris (who also competed), Ashton Grounds, Amy Campbell, Maryon King and Armon Kelly. (Photo provided) Download Photo Here
November 02, 2009
Student sells contest judges with 'elevator pitch'
CARBONDALE, Ill. -- Southern Illinois University Carbondale student Renee Favreau proved she could make a tough sale under pressure by taking 10th place and a $300 cash prize recently in the 2009 National Collegiate Entrepreneurs' Organization (CEO) Elevator Pitch Competition.
The idea behind the competition is that contestants have the equivalent of an average elevator ride, about 90 seconds, to convince someone to invest in their business concept or product. Favreau, of Carbondale, placed in the competition at the annual conference recently in Chicago with a sales pitch promoting "Bake Me a Wish."
Favreau's conceptual business plan proposes delivery anywhere around the University of small, delicious cakes you order online or by telephone. Her "pitch" proclaims it a great way for parents to stay in touch with their children on campus and for friends to show they care.
Dozens of college students vied for the $2,500 top prize. Favreau is a senior marketing major at SIUC.
"It was a great honor to place in the 2009 CEO Elevator pitch competition. I am proud to be able to compete with the other participants. Their presentations amazed me! However, I am looking forward to improving for next year so I can do even better," said Favreau, daughter of Carl and Connie Favreau.
Favreau plans to pursue a career in sales and marketing. She hopes to one day have enough experience and expertise to be part of the marketing and College of Business executive advisory boards at SIUC.
Winning the local competition hosted by Saluki CEO Corps this fall earned Favreau a trip to the Chicago competition and conference. Also competing from SIUC was Ben Morris, a senior management major from Vandalia. He's the son of John B. Morris and Deborah J. and Brad L. Boley.
"I am extremely proud of our students who competed in the National CEO Elevator Pitch Competition. It is very difficult to get up in front of students, faculty, business owners and investors to pitch your business idea. I believe that we have the caliber of students at SIUC to bring home first place in next year's competition," said Jenni Janssen, assistant director of the Center for Innovation at SIUC.
Janssen and Maryon King, associate professor of marketing in the College of Business and director of the Center for Innovation, led the SIUC group. Also attending from the University were Saluki CEO Corps members Amy F. Campbell, a second year MBA student from Coulterville; Katie Dzugan, a senior management major from Mount Prospect; Ashton Grounds, a senior finance major from West Frankfort; and Gina Montgomery, a senior art major from Carbondale.
In addition to the pitch competition, the conference featured a variety of presentations and guest speakers providing insights and information about entrepreneurship and successful business operation.