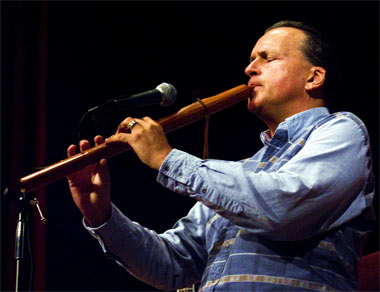 Award-winning musician -- Cherokee recording artist Michael Jacobs will perform at Southern Illinois University Carbondale at 11 a.m. Nov. 13 in the Roman Room at the Student Center. (Photo provided) Download Photo Here
October 26, 2009
SIUC celebrates Native American Heritage Month
CARBONDALE, Ill. -- Breaking down stereotypes, showing realities and bringing people together are among the goals of the Native American Heritage Month celebration at Southern Illinois University Carbondale.
Throughout the next month, special films, guest speakers, entertaining events, artistry, traditional foods and much more, will help members of the campus community and community at large learn about those who trod this soil long before Columbus and the other explorers landed here.
"Native American Heritage Month offers the chance to see that Native Americans and their cultures are much more than historical footnotes. Through awareness of the historic as well as the contemporary Native Americans, participants will be able to take another step forward in their cultural competency, ability to accept and understand, as opposed to fear and avoid, people and cultures different from their own," said Carl Ervin, coordinator of Student Development- Multicultural Programs and Services.
Among the coming attractions is a mid-day performance by Cherokee recording artist Michael Jacobs on Nov. 13, the celebrated storytelling of Cherokee Robert Lewis the evening of Nov. 19 and W. Jackson Rushing III's presentation about the life and work of the late Apache painter, sculptor and artisan Allan Houser on Nov. 16. Also featured will be Native American dance, song and artistry along with an interesting exhibit about the Trail of Tears.
The schedule for Native American Heritage Month 2009, with all events free and open to the public unless otherwise noted, includes:
Tuesday, Oct. 27
• 7 p.m. "For the Rights of All," a movie presentation in the Ohio Room of the Student Center. Gray Whaley, assistant professor in history at SIUC, will lead this screening and discussion of this inspiring film about Alaska natives and their non-violent struggle for social change to overcome prejudice, bigotry and other problems to win justice and ultimately achieve passage of the Anti-Discrimination Act in 1945.
Monday, Nov. 2
• 10-11 a.m. NAHM Kickoff Event at the Free Forum Area. See a performance by Iron Necklace, a traditional American Indian drum and dance group, and view unique craftsmanship. Artist Wade Kingfisher will offer traditional regalia while silversmith Charles Birdshead will display his traditional plains silverwork.
• 11 a.m.-2 p.m. at Trueblood Hall, 4-7 p.m. at Lentz Hall and 7:30-10 p.m. at Grinnell Hall you can enjoy bison stew and tacos featuring bison from the local Bison Bluff Farm while visiting with Iron Necklace, Charles Birdshead and Wade Kingfisher. Purchase tickets at the door for $7.99 plus tax. Students and the public can compete for three $50 Karma Tattoos gift certificates and other prizes in the traditional American Indian Dance Contest too.
Tuesday, Nov. 3
• 7 p.m. Lakota History and Horsemanship with Wade Kingfisher, a Minnicoujou Lakota, in the Mississippi Room of the Student Center. Kingfisher addresses the Hollywood stereotype of the lone Indian riding his horse across the plains. An expert horseman, he acknowledges there's some truth to that picture in this presentation during which he discusses myths and stereotypes regarding the Lakota and their horses as well as traditional training methods and their current usage. Those attending have a chance to win door prizes from McKinney's Western Store in Marion and Giant City Stables in Makanda.
Wednesday, Nov. 4
• 7 p.m. Traditional Plains Silverwork by Lakota/Arapaho Charles Birdshead in the Mississippi Room at the Student Center. Birdshead will show and tell of the complicated artistic process that transforms a piece of raw silver into integrated traditional designs and handiwork. You can even purchase his creations. Win door prizes from local restaurants.
Monday, Nov. 9
• 7 p.m. "The Manitou's Shoe: Satirizing (Mis)Perceptions of the American Indian" with Lisa King (a Delaware) and Thorsten Huth in the Kaskaskia Room of the Student Center. This evening features a German production of a contemporary western farce, "Der Schuh Des Manitu." The film satirizes clichés that Europeans and Americans commonly hold about Native Americans and the American frontier. It illustrates the consistent past and present conceptions of what an "Indian" is supposed to be. The full-length feature film with English dubbed will follow a brief lecture and a discussion wraps up the evening.
Tuesday, Nov. 10
• 11 a.m.-2 p.m. Native American Theme Meal at University Hall. This theme meal features bison burgers and bison stew. Meal tickets are $7.99 plus tax.
• 7 p.m. "My Grandma was a Cherokee Indian: Native American Legal Status in the United States" in the Ohio Room of the Student Center with Dawn C. Stricklin, a doctoral anthropology student at SIUC. Although thousands of Americans claim Cherokee ancestry, this doesn't guarantee tribal benefits. This presentation considers who is legally a Cherokee Indian and what this means for countless Cherokee descendants.
Thursday, Nov. 12
• 7 p.m. Blackhorse Mitchell, a Navajo, in Ballroom B of the Student Center. He's an internationally known writer and performer and his semi-autobiographical novel "Miracle Hill: The Story of a Navajo Boy" was a groundbreaking piece of Native American literature. He also is the author of numerous poems and several CDs featuring distinctive Navajo sheepherding songs and contemporary Navajo life commentary. He uses humor in his stories, enthralling audiences. You can purchase his books and CDs and get his autograph afterward.
Friday, Nov. 13
• 11 a.m-1 p.m. Michael Jacobs "Unetlanvhi Ujeli Dekanogisgo," in the Roman Room of the Student Center. Jacobs is an award-winning Cherokee recording artist and creative musician and songwriter, known for painting with words and music as he blends Native American and American music fusing all sorts of sounds and emotion while addressing social and human issues. The recipient of numerous music awards including the 2003 Native American Music Award for his debut solo CD "Sacred Nation," he's performed at more than 120 campuses in 21 states.
Sunday, Nov. 15-Saturday, Nov. 21
• Continuous exhibit "Mapping the Trail of Tears through Southern Illinois" in the Display Case 51 South on the first floor of the Student Center near Starbuck's. This exhibit features a portion of the larger University Museum's "Mapping Southern Illinois" exhibit. It includes the Trail of Tears map and research by curators Karen Frailey and Harvey Henson. WSIU sponsored the exhibit's reappearance to raise awareness of Native American history and highlight the station's upcoming documentary, "We Shall Remain."
Monday, Nov. 16
• 7 p.m. "Unconquered: Allan Houser's Apache Modernism" with W. Jackson Rushing III in Ballroom D at the Student Center. Rusher will bring to life Alan Houser (1914-1994), the distinguished modernist Chiricahua Apache painter and sculptor whose work included realistic and abstract art from intimate watercolors to bold bronze statuary. Rushing is the Eugene B. Adkins Presidential Professor of Art History and Mary Lou Milner Carver Chair in Native American Art at the University of Oklahoma. He's authored a number of works, predominantly focusing on Native American art and the other artistry it inspires both past and present. He was vice president of the Native American Art Studies Association 1995-1997.
Wednesday, Nov. 18
• 7 p.m. "Historical and Present Day Interactions between African Americans and American Indians" with Pamela Smoot in Ballroom B of the Student Center. Smoot, clinical assistant professor of Black American Studies at SIUC, will discuss issues including slave-holding Indians and tribes that assisted and adopted run-away slaves, and tribal recognition of Black Indian descendants. There will be door prizes from area businesses.
Thursday, Nov. 19
• 7 p.m. "Stories from the Earth" by Robert Lewis, master Cherokee storyteller in Ballroom B at the Student Center. WSIU and the Shawnee National Forest co-sponsor this return visit by Lewis, a school and community specialist from the Cherokee Nation, for an evening of storytelling. He specializes in outreach classes and services in art and storytelling for the Cherokee Nation's education department. His last appearance at SIUC was a standing-room-only event. Lewis also anticipates speaking in some local schools during his stay in Southern Illinois.
Monday, Nov. 30
• 7 p.m. "Summer Sun, Winter Moon," film and conversation with Anthony Webster, an assistant professor in anthropology at SIUC, in the Illinois Room at the Student Center. The presentation features the unlikely collaboration between a Blackfeet poet who is fighting to save his language from extinction with the unconventional classic music composer Rob Kapilow. Their interaction is powerful, creating a symphony about the Lewis and Clark expedition as told from an American Indian perspective.
"Native American Heritage Month, at its best, should remind us all both of the importance of Native Americans to the larger American heritage and of the continued accomplishments and relevance of Native Americans to our contemporary American society. A heritage month is a small gesture to the perduring relevance and importance of Native Americans within the larger American society," said Anthony Webster, anthropology assistant professor. "Native American Heritage Month provides educational opportunities for students here at SIUC to gain an appreciation for what Native Americans are doing today."
Sponsors of Native American Heritage Month include Student Development-Multicultural Programs and Services; the departments of anthropology, criminology and criminal justice and history; College of Liberal Arts; Native American Minor; Native American Student Organization; School of Art and Design; Office of the Chancellor; Office of Diversity/Equity, Provost and Vice Chancellor; University Housing; University Honors Program; Vice Chancellor for Student Affairs; Workforce Education; and WSIU-TV.
"Native American History Month promises to be a time of reflection on the culture that all American citizens should become familiar with," said Devin Morgan, a graduate student in higher education from Lexington, Ky.
"Taking the time to attend a program during Native American Heritage Month is always a great way to become informed, experience a unique culture and become a more well-rounded individual. It is great that SIUC provides this opportunity for students to learn about different cultures," said Jake Roth, a junior civil engineering major from Elgin.
For more information about Native American Heritage Month, contact Student Development-Multicultural Programs and Services, at 618/453-5714 or look online at www.stddev.siu.edu.