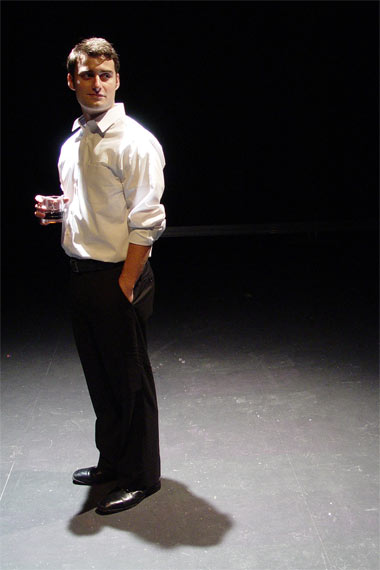 Company at McLeod Theater -- Robert W. Riddle is Bobby in Southern Illinois University's production of the Sondheim musical "Company." The play runs Oct. 8-11. (Photo provided) Download Photo Here
October 02, 2009
Musical 'Company' set for McLeod Theater
CARBONDALE, Ill. -- The Department of Theater at Southern Illinois University Carbondale, in conjunction with the School of Music, presents the fast, funny and sophisticated musical "Company," Oct. 8-11 in the McLeod Theater.
Written by Stephen Sondheim and George Furth and originally produced on Broadway in 1970, "Company" ushered in the new age of musical theater -- one that focused on adult problems in a contemporary setting using a witty, non-linear story-telling style.
The musical won the Tony Awards in 1970 for best score, lyrics, book and musical. It started as a collection of short plays about married couples, which Furth wrote for actress Kim Stanley. When production of the plays was cancelled, Furth sent the script to Sondheim, who in turn passed it to famed Broadway producer and director Harold Prince. Prince thought the plays might be interesting material for a musical. A character, Bobby, ties all the stories together. He is the quintessential single man caught up in the pace of contemporary life, full of anxiety and loneliness and not quite certain a relationship is what he wants.
In "Company," Bobby pauses before entering a surprise party for his 35th birthday, and reflects on his life and those of his married friends'. In a cavalcade of funny and touching scenes, seasoned with musical numbers, he weighs his footloose and fancy-free lifestyle against the sorry-grateful reward of a committed relationship.
"What Bobby is learning," Jennifer Holcombe, director, said, "is that there is no such thing as a perfect relationship. You have to take the good with the bad."
Robert W. Riddle, seen last year as Neville Craven in "The Secret Garden," is Bobby. Stacie McDaniel is Sarah, a karate-chopping dieter, and Travis Westbrook plays her mostly-on-the-wagon husband, Harry. Kelly Stuible and Michael C. Kelly are Susan and Peter, the perfectly matched couple on the verge of divorce. John Robert Moss and Karen Massey are the "we're too old for that" couple Jenny and David. Landon Sutton is romantic groom Paul and Natalie Stephens is bride Amy. Gretchin Simmons is sarcastic as Joan, and Patrick Santoro dances disco as her husband, Larry. Angie Fisher, Andrea Gedrasik and Casey Levin are April, Marta and Cathy, Bobby's girlfriends.
Jennifer Holcombe directs while Timothy Fink serves as musical director and conductor. Sets are by Ron Naversen, lighting by Michael P. Frohling and costumes are by Beth Clark. Courtney Self handled the choreography.
"Company" plays Oct. 8-11. Performances begin at 7:30 p.m. except on Sunday, when the performance is a 2 p.m. matinee. Tickets are $15 general admission, $12 for senior citizens, and $6 for students. Get tickets in advance at 618/453-3001, or beginning one hour before the performance.
On Sunday, a pre-show lecture begins at 1:30 p.m. in the Dean's Conference Room, adjacent to the McLeod Theater lobby. David S. Solish, a theater professor from Blackburn College and an expert on Sondheim, will discuss Sondheim's life and work.