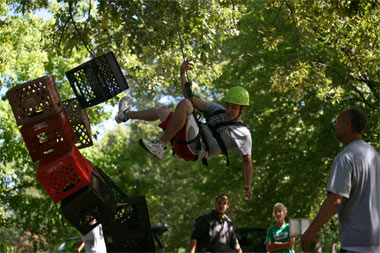 Ultimate Saluki -- Patrick Sutphin of South Elgin competes in one of the challenges at the Southern Illinois University Carbondale 2009 Ultimate Saluki Challenge under the watchful eye of Mike Skupin of television's "Survivor: Australia." Sutphin ultimately won the competition. (Photo provided) Download Photo Here
September 29, 2009
Patrick Sutphin wins 'Ultimate Saluki' contest
CARBONDALE, Ill. -- Food and sleep -- forgotten luxuries. Minds, bodies and spirits -- taxed to the max. It was Southern Illinois University Carbondale's 2009 Ultimate Saluki Challenge.
Sixteen contestants gathered at 3 p.m. Friday Sept. 25, and competed in their very own intense version of the CBS reality show. It all ended Sunday, Sept. 27, in a final tribal council with the tabulation of ballots, one by one.
The tally revealed Patrick Sutphin is the 2009 Ultimate Saluki. The sophomore photojournalism major from South Elgin won a Missouri Valley Conference athletic package that includes two tickets to the basketball conference championship tourney, lodging in St. Louis and a $50 Visa card, prizes courtesy of SIUC athletics and Old National Bank.
But, what truly made the contest a great experience for Sutphin, he said, were the friendships, the camaraderie, what he learned about himself, and the fact that as the weekend ended, his fellow competitors remarked on his integrity. He said he tried to remain positive and honest throughout the tough competitions and was pleased that during the weekend, no one voted to send him packing and that in the final voting, his fellow Salukis commended his integrity.
"This weekend was all completely worth it. It showed me I could do a lot more physically and in other ways than I ever thought I could," Sutphin said. He'd seen the contest last year and thought it looked like a lot of fun. He said it indeed was. It was also intense and difficult.
One of the toughest challenges for Sutphin came in the wee hours of Saturday morning. Sleep was scarce the night before and there was no food. Tired and hungry "castaways" were to compete with their wrists lashed together. In two teams, the joined contestants solved puzzles and hauled big logs around campus beach.
"It was grueling," Sutphin said. But he also noted that all of the experiences enriched him and also helped him form great friendships. Although a couple of his competitors looked familiar, he really knew no one at the start. Sharing such close quarters and working together to tackle challenges changed all that.
"It was sort of an instant click," he said.
"This group was a very tight knit 'family,'" agreed Lynn Thompson-Cundiff, assistant director of fitness for Recreational Sports and Services. RSS sponsored the competition.
"It was really weird. The teams were cheering each other on. And they actually shared a banana they won with the other team. It wasn't like they got a lot of food either. They didn't get any food they didn't earn. And even then their rewards were like a miniature bag of M & Ms, hot chocolate, a little bag of Doritos. They had the chance to earn maybe 500 calories total all weekend," Thompson-Cundiff said.
Of course, the contestants did have other dining options. During the challenges they could feast on such delicacies as assorted worms, crickets and other icky-tasting things. Other challenges found them playing a giant human chess game or finding ways for one after another to pass through (or be fed through) a rope "spider web" without touching the ropes or going where a previous contestant went. Teams also vied to be the first through a maze. But there was a catch. If you hit a roadblock, you returned to your team and recited exactly which turns and paths you had taken so the next team member could attempt to make it further with that information in hand.
"That challenge took teamwork, memory, communication and listening," Thompson-Cundiff said.
Armed with the bare minimum of supplies, contestants had to create their own fishing poles and try to catch a fish. At least one had never fished before. He not only caught a fish, but also figured out how to remove it from the hook as the other contestants congratulated him.
"The camaraderie was definitely there. When you see how this contest impacts the people who play it's amazing. It's a really unique bonding experience," Thompson-Cundiff said. And, it's also a lot of fun for the spectators, too.
New this year to the contest was the "Team Favorite" award. While only the last seven contestants standing vote for the Ultimate Saluki, all 16 cast their ballots for the team favorite. Thompson-Cundiff said eight of the contestants received at least one vote.
"That tells me they really made friends," she said.
Kashayla Stanford, a junior mortuary science major from Rockford, won the team favorite honor and claimed a $50 Visa card from Old National Bank.
Mike Skupin of television's "Survivor: Australia" fame, was the guest host for the 2009 Ultimate Saluki Challenge. Winning second place and a $500 University Bookstore scholarship was David Garland, a sophomore agricultural business major form Homewood. Max Herlache, a sophomore physics major from Lombard, will enjoy an Ocoee White Water rafting trip as the third prizewinner. Rounding out the top five were Cara Dunn, a senior outdoor recreation major from Barrington in fourth and Robbie Cochrum, a graduate kinesiology student from Harrisburg, in fifth. Each won Nautilus Select Tech dumbbells from Ortho Tech.
Thompson-Cundiff expressed appreciation to the many volunteers who helped make the event a success, the prize sponsors, and to Banterra Bank for its financial contribution.
The 16 Ultimate Saluki Challenge contestants for 2009, listed with year and major, by hometown, were:
Illinois
Barrington
• Cara Dunn, senior, outdoor recreation.
Belleville
• Tiarna Sands, freshman, mortuary science.
Cobden
• Cliff Connolly, senior, psychology.
Danville
• Christopher Turner, senior, exercise science.
Dixmoor
• Harold Wright, junior, computer engineering.
Elgin
• Courtney Munson, freshman, pre-medicine.
Fairbury
• Corey Peters, senior, psychology.
Harrisburg
• Robbie Cochrum, graduate student, kinesiology.
Harvard
• Andrea Nazem, junior, mortuary science.
Homewood
• David Garland, sophomore, agriculture business.
Lombard
• Max Herlache, sophomore, physics.
Orland Park
• Ryan Siriann, sophomore, mechanical engineering.
Plano
• Mike Beck, junior, biology.
Rockford
• Kashayla Stanford, junior, mortuary science.
South Elgin
• Patrick Sutphin, sophomore, photojournalism.
Minnesota
Duluth
• Cory Dack, graduate student, outdoor recreation.