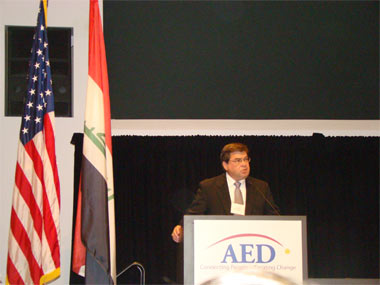 Iraq Education Initiative -- Larry H. Dietz, Southern Illinois University Carbondale vice chancellor for student affairs, speaks in July during the announcement of the Iraq Education Initiative and the American Universities Iraq Consortium in Washington, D.C. SIUC late last month signed an agreement with the country that is expected to bring Iraqi students to the University. (Photo provided) Download Photo Here
September 17, 2009
SIUC signs pact related to Iraqi student initiative
CARBONDALE, Ill. -- The effort to bring Iraqi students to Southern Illinois University Carbondale through a higher education initiative under way in Iraq is gaining momentum.
Late last month, the University and the Higher Committee for the Educational Development of Iraq entered into a memorandum of understanding that will provide Iraqi students an alternative tuition rate. The rate is similar to the rate the University now offers students from five neighboring states -- Kentucky, Missouri, Indiana, Tennessee and Arkansas.
"This will be a significant incentive to attract Iraqi students here," said Larry H. Dietz, SIUC's vice chancellor for student affairs.
The agreement also includes an exchange component, meaning the Iraqi government will welcome SIUC faculty, staff and students to work with them, and SIUC welcomes Iraqi faculty, staff and students to come here, Dietz said.
The memorandum of understanding, or MOU, is the first between a single American university and the Higher Committee for the Educational Development of Iraq, Dietz said.
SIUC is a founding member of the American Universities Consortium. The 21 American institutions within the consortium, including the University of Evansville, the universities of Iowa, Kansas, Kentucky, Texas A&M, Vanderbilt, Virginia Commonwealth, and West Virginia, will pursue their own agreements, Dietz said.
Dietz anticipates the tuition incentive will be attractive to the Iraqi government as it places students at various universities and colleges. Published reports indicate the number of Iraqi students who could study abroad eventually will reach 10,000 annually for up to five years. The Iraqi government will use oil revenues to pay for the full scholarships, according to reports.
"They want to make sure that they are getting the best value for the money they invest in their students. We think we offer that," Dietz said.
The groundwork for the memorandum of understanding with SIUC started less than two months ago. Dietz participated in a panel discussion in late July during an announcement of the Iraq Education Initiative and American Universities Iraq Consortium at the Academy for Educational Development in Washington, D.C.
He met with Zuhair A.G. Humadi, executive director of the Iraq Education Initiative and Iraqi Prime Minister Nouri Al Maliki. Humadi earned a doctorate from SIUC in political science in 1978 and is a senior adviser to Al Maliki.
After Humadi said the initiative is far enough along in the process to entertain individual institutional agreements, Dietz and the University's International Programs and Services Office then began work on the agreement.
University officials and Humadi signed the agreement in late August, Dietz said.
"We're ready to go. We have an agreement in place. We are ready to accept students," Dietz said.
The University's legacy with international students is important, and dates back 62 years with Iraq.
"We've kind of come full circle in a way," Dietz said, noting that Iraqi Saad Jabr enrolled as a freshman at SIUC in 1947. While other international scholars were studying at SIUC prior to Jabr's arrival, he was the first international student to graduate with a bachelor's degree. Jabr became a prominent businessman in Southern Illinois and now lives in Baghdad.
"We are poised to do the same kind of groundbreaking activity in the international arena that was done in 1947 when Mr. Jabr was admitted here," Dietz said. "Now we are going to be on the ground floor of building with the government of Iraq an initiative that will educate students and allow them to go back and take their place of responsibility in helping rebuild their country."
The Iraqi government hopes to start a pilot program with 500 to 600 students studying at universities, private colleges and community colleges in the United States, the United Kingdom, Canada, New Zealand and Australia during the 2009-2010 academic year, Dietz said.
The Iraqi government now has approximately 4,000 applications for slots abroad, Dietz said. Some of the students will need English as a Second Language courses, and Dietz anticipates the Iraqi government will assign students to institutions that have ESL programs.
"That is an advantage for us. We have an excellent Center for English as a Second Language," he said.
In addition, only about six of the institutions, including SIUC, are research universities, Dietz said. He expects SIUC will receive undergraduate, master, and doctoral level students. The Iraqi government will decide where students are assigned, and students must also meet admissions criteria of each respective university's academic program.
Students could arrive at SIUC for the spring 2010 semester, but Dietz believes the timetable for the first group is more likely in fall 2010. There is a "slight possibility" that a small group of students could arrive next month for CESL classes or as early as the spring semester of 2010, Dietz said.
"It will begin to ramp up over the next several years to where they are wanting to send 10,000 students abroad" annually, he said.
The initiative's momentum is encouraging, Dietz said. Conversations with Humadi began for Dietz and John S. Jackson, a visiting professor at SIUC's Paul Simon Public Policy Institute, when they went to Iraq to visit and discuss the Iraq Education Initiative in October of last year. Dietz and Jackson visited in January.
Dietz praised both Iraqi officials and SIUC staff for their efforts.
"When you really think that it's less than a year from when the idea was conceived and a small group was identified as being part of this consortium … and they have come along this far, this is moving at a very rapid pace," Dietz said.