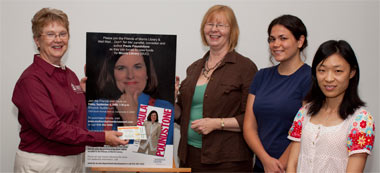 Poundstone ticket winners -- Thyra Russell, vice president of the Friends of Morris Library, presents tickets for the Sept. 4 Paula Poundstone comedy performance at Southern Illinois University Carbondale to drawing winners (from left) Maryanne Dalzell, Melissa Wangall and Ruilan Zhao. Not pictured are Zachary Wikholm and Daren Callahan. (Photo provided) Download Photo Here
September 17, 2009
Sales of Poundstone book, CD benefit library
CARBONDALE, Ill. -- Comedian Paula Poundstone had her audience in stitches earlier this month at Southern Illinois University Carbondale's Shryock Auditorium. But, she brought more than laughter to the University.
As the 2009 national spokesperson for the Association of Library Trustees Advocates Friends and Foundations (ALTAFF), Poundstone supports libraries on a local level and that support raised more than $500 for the Friends of Morris Library. The funds came from the sale at Poundstone's performance of her book "There's Nothing in this Book I Meant to Say" and her CD, "I Heart Jokes."
ALTAFF is a national network of library supporters emphasizing the importance of libraries as social and intellectual centers for communities and universities. The Friends of Morris Library will use the funds for various projects benefitting the library and in turn the University and community.
In addition to Poundstone's generosity in donating book and CD sales proceeds to the Friend of Morris Library, thanks to the partnership with Poundstone, the friends group got five sets of tickets for the performance. The Friends held a drawing for the Morris Library faculty, staff and student assistants. A pair of tickets went to each winner with Thyra Russell, vice president of the Friends of Morris Library, making the presentation.
Winning tickets were:
• Ruilan Zhao, a master's student from Guang Zhou, China. Zhao, who is a graduate assistant in the cataloging unit, is a student in the "Teaching English to Speakers of Other Languages" program at SIUC.
• Melissa Wangall, a senior creative writing/English student from Rockford, who works as a student assistant in the preservation unit.
• Zachary Wikholm, a sophomore cinema and photography student from Romeoville, employed in the acquisitions department.
• Maryanne Dalzell, a senior library specialist from Carterville working in the acquisitions department.
• Daren Callahan, a professor and head of the cataloging department, from Carbondale.