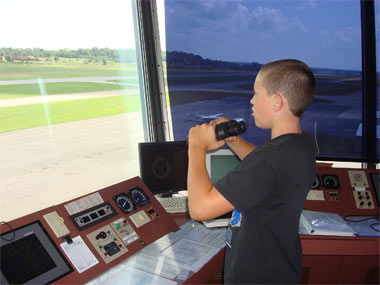 Watching the runways -- Trevor Atwood, of Carbondale Middle School, peers out the windows at the air traffic control tower at Williamson County Regional Airport. Atwood participated in a five-day program this summer at Southern Illinois University Carbondale titled "Building a Bridge for Young Minds: Journey to Careers in Transportation." The program, funded by the Illinois Department of Transportation and presented by SIUC faculty, introduced 20 students in grades 7 through 9 from southern and central Illinois to transportation system concepts and practices. (Photo provided) Download Photo Here
September 14, 2009
Students gain insight into transportation system
CARBONDALE, Ill. -- The country's transportation system is its lifeline, and all too often taken for granted by everyone it serves.
That's one reason faculty in the College of Engineering at Southern Illinois University Carbondale partnered with the state's transportation department to show school children what makes the transportation system work.
A five-day program this summer, "Building a Bridge for Young Minds: Journey to Careers in Transportation," introduced 20 students in grades 7 through 9 from southern and central Illinois to transportation system concepts and practices, said Sanjeev Kumar, professor and distinguished teacher and chair of the Department of Civil and Environmental Engineering at SIUC.
"We believe that students of these ages need to be exposed to these careers, and they need to know how much is involved with this lifeline of the country," Kumar said. "If they are, maybe when the time comes they will select as a career in transportation."
The students, whom teachers recommended for their strong interest in science and mathematics, learned about critical transportation elements by studying, discussing and visiting them, Kumar said.
The Illinois Department of Transportation funded the program in partnership with SIUC, which delivered the program. IDOT Assistant Secretary David Phelps attended the closing banquet, along with SIUC Chancellor Samuel Goldman.
Students participated in competitions, including building a successful bridge out of popsicle sticks, re-assembling a steel bridge originally designed and built by SIUC engineering students, sketching a bridge, writing an essay on the transportation system and performing a skit in which they portrayed the worst possible teacher.
They also made many field trips, including to the Williamson County Regional Airport where they visited the air traffic control tower, took a bus ride down a runway and took a ride in an airplane. They also visited area lock-and-dam facilities, asphalt and concrete plants, highway weigh stations and construction sites, Kumar said.
"It was an excellent program and by the end of the week all the students were friends and having a great time," Kumar said. Another such program is set for weekends in October and will host students from the Metro East area, he said.
Ramanarayanan Viswanathan, interim dean of the College of Engineering, said the program was a great success.
"Coming from different area schools in Southern Illinois and not knowing their team members, the kids were very quiet and reserved on the morning of the opening day, but they made many friends by the concluding day, as was evident at the banquet where the students were jubilant and vocal," he said. "Many parents expressed total satisfaction with the five-day camp and vouched that they would send their kids again to camps of this nature."
Kumar acted as principal investigator on the program. Co-investigators included J. Kent Hsiao, associate professor in the Department of Civil and Environmental Engineering and Chris Pearson, coordinator of undergraduate recruitment in the College of Engineering. SIUC undergraduate and graduate students and a pre-engineering student from Shawnee Community College served as peer mentors.