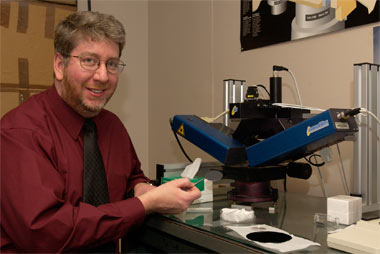 Searching for a cure -- Daniel J. Dyer, professor in the Department of Chemistry and Biochemistry at Southern Illinois University Carbondale, works in his laboratory on campus. Dyer, recently diagnosed with glioblastoma multiforme, wants to establish an endowed professorship and endowed research center where he and others can focus their research on brain chemistry and cancer. (Photo by Jeff Garner) Download Photo Here
September 11, 2009
Facing brain cancer, professor works to find cure
CARBONDALE, Ill. -- Faced with a life-threatening illness, an organic chemist at Southern Illinois University Carbondale is determined not only to beat the odds but to help others do the same.
Daniel J. Dyer, professor in the Department of Chemistry and Biochemistry, wants to establish an endowed professorship and local endowed research center where he and others can focus their research on brain chemistry and cancer.
Dyer said his diagnosis with glioblastoma multiforme or GBM -- a common and aggressive form of brain cancer -- is fueling his desire to establish a center for brain chemistry research at SIUC, where he has been a leading scholar since 1998.
For Dyer, who up until now has focused much of his work on materials chemistry including polymers and liquid crystals, the future holds amazing challenges. One such challenge involves raising up to $6 million to seed his envisioned research center and professorship. Another is modifying the course of his research to focus on brain chemistry and particularly the common disease that threatens his life and recently took the life of U.S. Sen. Edward Kennedy.
"I intend to focus most of my research on GBM," said Dyer, who was the first SIUC researcher to win a prestigious CAREER Award from the National Science Foundation back in 2001 and has earned many grants since.
His plans are garnering praise and support around the University, but not surprise. Those who know and work with Dyer say his desire to face his challenges with a ferocious intellectual thrust is typical of his determination as a researcher.
"Dr. Dyer is a young faculty member who is highly successful in his own teaching and research career and was just promoted to full professor in his department," said Jay Means, dean of the College of Science. "At 42, his research also extends to numerous collaborative efforts with his younger colleagues. These collaborative efforts are now leading to breakthroughs in basic macro-molecular sciences and biomolecular sciences that are innovative and have many applications. He is an outstanding mentor of graduate students."
"Dan is an exceptionally talented researcher, educator and colleague," said Gary R. Kinsel, chair of the Department of Chemistry and Biochemistry, pointing to Dyer's many research grants from numerous organizations on which he worked as a principal or co-investigator. "These efforts reflect the multifaceted research interests that Dan has and his selfless desire to work for the advancement of the Department of Chemistry and Biochemistry at SIUC. Given Dan's broad-ranging research interests and his involvement in numerous collaborative research projects, I'm not surprised he would seek to redirect his research efforts into the area of brain cancer."
John A. Koropchak, vice chancellor for research and dean of the graduate school, said Dyer is not only an impressive scholar but also a valued colleague and a fine teacher.
"He is a good University citizen who contributes positively in many ways, serving on the Graduate Council,as the principal investigator on an NSF Research Experiences for Undergraduates grant, and many other positive activities," said Koropchak, who previously served as chair of the chemistry and biochemistry department and hired Dyer. "I have heard the chemistry and biochemistry department described not just as a department, but as a family, and Dan has always been an important contributor to that attitude, which makes for a wonderful working and learning environment forour faculty, staff and students.
"Dan's interest in trying to do all that he can with his intellect and efforts to help find cures for this dreaded disease iscommendable," Koropchak said.
Dyer, who will soon turn 43, first noticed symptoms during the winter, when he found at times he had difficulty spelling words. Being in the throes of new parenthood -- he and his wife, Denise, had a daughter in January -- he figured his disrupted sleep patterns were the reason for these unusual lapses.
His symptoms worsened and grew, however, and in July Dyer underwent an MRI procedure in Carbondale, which identified the 4-inch tumor located in the portion of the brain that controls speech and fine motor skills. On Aug. 10, Dr. Eric Leuthardt of Washington University in St. Louis operated on Dyer at Barnes Jewish Hospital. Dyer was conscious throughout most of the procedure and able to provide feedback to the surgical team as members worked to remove the tumor from this sensitive area.
The surgery was a success. "As far as they're concerned, they got everything out," Dyer said.
The prognosis, however, is daunting. Doctors have told Dyer he has an aggressive form of GBM that often returns. About 75 percent of those who have it die within two years, and about 90 percent within five years.
"I'm making the assumption that after I go through chemotherapy and the six-week radiation course that I'm going to be among that percentage who survive," Dyer said, before adding a note of humor.
"I'm young, and my brain's always been above average, so I'm counting on being in that percent that make it," he said, laughing.
Above average, indeed.
Besides the NSF CAREER grant, Dyer has won numerous grants from organizations including the National Institutes of Health, 3M, Oak Ridge Associated Universities, the American Chemical Society and others. He also was instrumental in strengthening undergraduate research by helping bring the NSF's Research Experience for Undergraduates grant to SIUC.
Not bad for a guy who also lists his hobbies as "drinking beer, various sports, gambling and the pursuit of happiness."
Dyer now plans to use this record of achievement to create a lasting contribution to cancer research at SIUC. While he is on medical leave, he plans to make presentations to potential donors, outlining the promising research of not only his own but also of his colleagues. His ambitious goal includes eventually employing up to 10 professors and their respective research groups at the center, which he is tentatively calling "The Southern Illinois Institute for Brain Chemistry." Once up and going, the center's researchers would acquire funding from traditional research foundations, such as NSF, NIH, the American Cancer Society and others.
He believes fundamental research in three areas -- cancer research, MRI contrasting agents and techniques and nerve fiber tissue engineering -- will lead to clinical treatments for the many thousands who suffer from brain cancer or nerve damage. And he wants the center located in Carbondale.
"We want it here because this is where the University's physical sciences are conducted," he said, adding that it ultimately would complement the SIU School of Medicine, as well.
Some of this research is already well under way at SIUC laboratories. To understand its significance, however, one must understand a recent trend in cancer drugs as well as protein research, or proteomics.
For instance, a major thrust of cancer drug research currently involves creating substances that attack the way cells -- particularly cancer cells -- receive oxygen and nutrients through new blood vessels and circulation. While such drugs now exist that attack this process, called angiogenesis, the drugs don't differentiate between healthy cells and cancer cells.
For most drugs under development, therefore, the Holy Grail is finding a way to target only cancer cells. Many researchers, including Dyer, believe the key to this may lie in the thousands of smaller proteins that are present in cells. Finding a drug that would bind with and nullify a cancer-causing protein, for example, would be ideal.
Cell proteins act like locks and keys, fitting together in specific ways to cause certain physiological and metabolic reactions within cells. Extremely complex, proteins do the work assigned to them by DNA, such as telling a cell when and how to reproduce itself. For this reason, many researchers believe protein malfunctions may be at the root of cancer, which involve abnormal cell growth.
Researchers know and understand many of the larger and more abundant cell proteins, but thousands of others remain mysterious in their actions and consequence. Separating and studying them, however, is a tedious, time-consuming proposition and remains impossible in many instances, given current technology.
That's one major area where Dyer's center and his colleagues believe they can achieve a major breakthrough.
For the last couple of years, Dyer has been working on developing an array-based approach to isolating proteins using what he calls "nanosponges." The sponges are polymer "brushes" that sit on a substrate and, based on their design, attract proteins with certain characteristics. The "sponges" can be expanded or contracted -- that is, "squeezed" -- to suck up or expel proteins by altering the pH level of their environment.
Researchers can then analyze the proteins collected by specific nanosponges using a mass spectrometry instrument known as a MALDI. The so-called MALDI, which stands for matrix-assisted laser desorption/ionization, works by placing a sample in the instrument's vacuum chamber where they fire a laser at it, sending a gaseous, electrically charged plume airborne where the instrument can analyze it based on its molecular weight.
The method could greatly increase the number of individual proteins researchers can isolate, and make it easier to detect their presence in the MALDI by capturing more of them. What might take a week of planning and lab work could instead be done in about 30 seconds.
Another effort, this one by Luke Tolley and Matthew McCarroll, both associate professors in the department, is called DIABLA, or "Dynamic Isoelectric/Anisotropy Binding Ligand Assay." The long name stands for another way to separate proteins.
In DIABLA, the researchers are building on "dynamic isoelectric focusing," which Tolley previously developed. It works by placing proteins in a long, thin quartz tube and applying an electrical field to each end, causing an electrical and pH gradient to form from one end to the other. The gradient causes proteins to separate into bands within the tube and by fine-tuning the field -- something Tolley came up with -- the researcher can force the proteins into finer and narrower bands.
DIABLA, however, takes that concept one step further. In that method, researchers can add another molecule into the tube and observe which band of proteins it binds with based on its fluorescence and rotation. This allows researchers to separate the proteins they want to study even further, by making it possible to identify a single band of proteins that reacts with a drug molecule, for instance.
Collecting samples, however, still remains a problem. A third and potentially revolutionary method involves combining the two technologies -- Dyer's nanosponges and Tolley/McCarroll's DIABLA -- might solve that as well.
"These would be some of the first ideas we'll be working on at the center, and they hold tremendous promise," Dyer said.
Dyer is wasting no time. While in St. Louis three days a week for treatment he plans to hang out in clinical laboratories and absorb all he can from researchers there. He also will work with staff at the SIU Foundation to plan fund-raising efforts, and with administration officials to talk about his plans.
"Dan is a remarkably courageous and dedicated scientist who has committed himself to be part of his own survival from this potentially devastating type of brain cancer," Means said. "His successes as a scientist both individually and collaboratively have, as if by design, empowered him to undertake this challenge."
Dyer has no illusions about the tough road ahead.
"It's a lot to do. It's a very large goal," he said. "And I'm literally fighting for my life here."