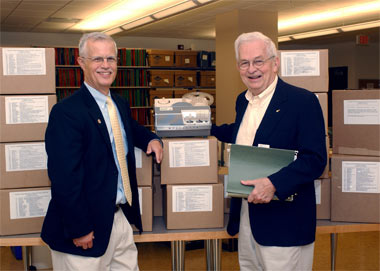 Michel Donation -- Don Michel, former owner and operator of WRAJ radio in Anna (right), donated more than 500 "Insight" programs from the radio show he hosted to David Carlson, (at left) dean of Library Affairs at Southern Illinois University Carbondale. The programs include interviews with nationally known people and residents of Southern Illinois. The Don Michel Archive is a significant addition to the SIUC Special Collections Research Center at Morris Library. (Photo provided) Download Photo Here
September 02, 2009
Collection of radio interviews donated to library
CARBONDALE, Ill. -- An extensive collection of interesting and historic interviews is now available in the Special Collections Research Center at Southern Illinois University Carbondale's Morris Library.
Don Michel, former radio station owner and operator, recently donated a collection of more than 500 radio programs that WRAJ/WRAJ-FM radio in Anna originally aired. WRAJ broadcast from 1957 until the 1980s. The station's "Insight" programs aired between 1965 and 1976 and featured an eclectic mix of locally and nationally known speakers discussing a broad spectrum of topics.
Michel hosted the show, conducting interviews not only at the station but also at SIUC and locations across the country. In fact, many interviews were the result of visitors brought to campus and the region by the University. The tapes feature the likes of Walter Cronkite, Bob Hope, Arthur Godfrey, Buckminster Fuller, Ralph Nader and heart surgeon Michael DeBakey. Several programs focused on the John F. Kennedy assassination, including on-scene interviews in New Orleans with Lee Harvey Oswald's landlord, a coffee company co-worker of Oswald and with newspaper reporter Rosemary James, author of multiple articles about Oswald.
The tapes also tell the stories of Southern Illinois and its people -- their jobs, hobbies, travels, experiences and interests. There are discussions of Union County referendums, too. Interview topics ran the gamut from politics, ecology and energy conservation to space travel, student exchange programs and even fortune telling.
"The acquisition of the Don Michel Archive is a major addition to SIUC's collection. We are delighted that he has entrusted us to share this with the world," said Pamela Hackbart-Dean, director of Special Collections. "Scholars and students from around the world will find in these records stories related to local, state, national and international issues of the day. These recordings enhance the library's extensive special collections holdings in Southern Illinois and political history. They're a wonderful supplement to our collection that also includes the papers of the late Sen. Paul Simon and former congressmen Ken Gray and Glenn Poshard, now SIU president."
She said the library will make the recordings available for public use and plans call for eventually, as time and funding allow, making digital copies to assure long-term preservation of the interviews.
Michel presented the collection, along with a reel-to-reel tape recorder used by most stations during the era of the interviews, to Hackbart-Dean and David Carlson, dean of Library Affairs at SIUC.