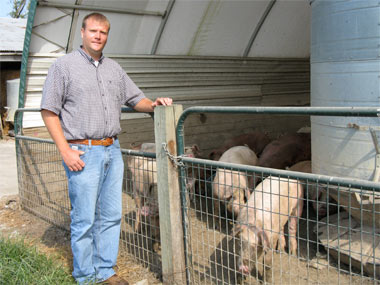 Hog wild -- As a college senior, S. Ryan Orrick placed first in a national swine-judging competition. Now the Mt. Vernon native will be teaching a new generation of Southern Illinois University Carbondale students the fine points of assessing a pig. (Photo by K.C. Jaehnig) Download Photo Here
September 01, 2009
Agriculture college resurrects livestock judging
CARBONDALE, Ill. -- When it comes to developing critical thinking skills, there's nothing like learning how to judge a hog or a steer.
"You have to look at a situation, make your evaluation and defend your reasons," said S. Ryan Orrick, Southern Illinois University Carbondale's new livestock judging coach.
A new graduate student in the College of Agricultural Sciences, the 26-year-old Orrick is resurrecting a program dropped more than two decades ago when it seemed no one wanted to learn the art of assessing animals and no faculty members were available to teach it.
Fresh interest in the skill led College administrators to take another look.
"We wanted another professional leadership activity," said Dean Gary L. Minish. "With livestock judging, you learn how to make decisions and justify them. These are abilities that last a lifetime.
"We tested the waters with our horse-judging team and found it was a big draw, and our industry folks strongly support the idea."
Orrick, who grew up on a small cattle and crops farm in Mt. Vernon, got involved in judging through 4-H when he was 12.
"I had some initial successes -- it was fun getting the plaques -- but I also learned a lot about selecting animals, and I made some good friends," he recalled.
Orrick continued judging through high school, joined the Lakeland Community College judging team while a student there and continued judging when he transferred to Kansas State University, where he earned his bachelor's in animal science in 2005. In his last year at Kansas, during the national collegiate judging contest in Louisville, he placed first in the swine competition and placed fifth overall. For the last four years, he served as judging coach and animal science instructor at Seward County Community College in Liberal, Kan.
In some ways, his current assignment is his dream job.
"Growing up, I always thought that if SIU started a judging team, I would want to be a part of it," he said.
Under Orrick's tutelage, students will learn what traits point to top-quality beef, swine and sheep, then practice using that knowledge by assessing animals owned by the University and by local producers.
"The manual will give you the correct terminology and the ways to describe what you see, but you can't learn placing (ranking a group of animals from best to worst) from a textbook -- it's hands on," Orrick said.
While judging contests take place nearly year round, the official "season" begins in January with the National Western Stock Show in Denver, Colo. Orrick plans to spend fall semester training his new recruits to compete there.
"We'll probably meet a couple of times a week, moving up in December to three times a week and Fridays and Saturdays as well," he said.
This first year, Orrick hopes to take students to five competitions, including the three most prestigious (in Denver, Kansas City, Mo., and Louisville, Ky.). As the team gains experience, the number of contests they enter will expand. He also hopes to set up a summer judging camp to introduce 4-H kids to the finesse and fun involved in sizing up stock.
"It's been very encouraging for me because there's been a lot of excitement from our alumni and people around the state," Orrick said. "I'm really looking forward to this."