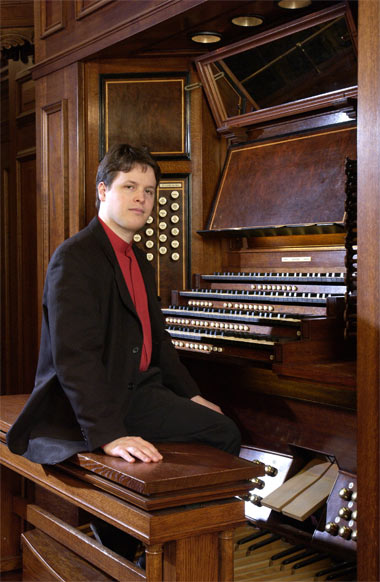 Paul Jacobs -- Organist Paul Jacobs visits Southern Illinois University Carbondale for a free performance of organ music at 7:30 p.m. on Sept. 18 in Shryock Auditorium. (Photo provided) Download Photo Here
August 31, 2009
Organ recital series to feature Paul Jacobs
CARBONDALE, Ill. -- Southern Illinois University Carbondale welcomes organist Paul Jacobs to Shryock Auditorium for the 17th concert in the Marianne Webb and David N. Bateman Distinguished Organ Recital Series.
The free performance begins at 7:30 p.m. on Sept. 18.
Jacobs is a faculty member and the chairman of the organ department at The Juilliard School, famous worldwide for producing some of the finest performance musicians. Critics credit him with "reinvigorating the American organ scene" in part because of his obvious delight in playing the organ.
Jacobs is a young musician, but experienced in musical milestones. In 2000, when he was 23, he honored the musical legacy of J. S. Bach by playing the composer's entire repertoire -- an 18-hour, non-stop marathon. More recently, he performed with the Philadelphia Orchestra, the San Francisco Orchestra, the Phoenix Symphony and more. He dedicated a new organ in the Segerstrom Concert Hall in Costa Mesa, Calif., premiering, as he did so, new music composed by Grammy Award-winner Christopher Theofanidis.
Jacobs has won numerous musical awards and competitions. His appearances include American Guild of Organists conventions, music festivals and radio and television broadcasts of his performances. For more information, visit www.concertartists.com/PJ.html.
The organ concert series for which he visits SIUC began in 1990, when Webb, a professor in the School of Music and the namesake of the Marianne Webb Pipe Organ in Shryock Auditorium, and Bateman, professor emeritus from the College of Business, established it as a way to bring renowned organists to the Southern Illinois area. The series is possible thanks to an endowment Webb and Bateman provided in perpetuity.