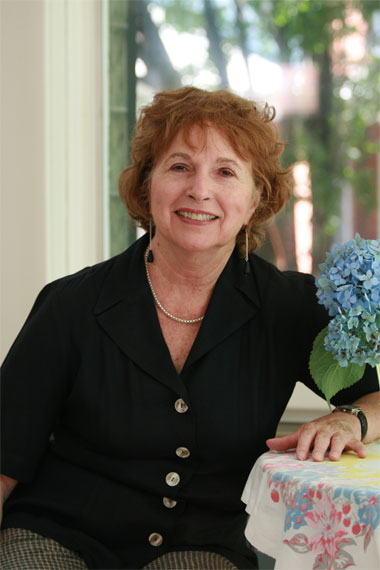 Guest Speaker -- Marianna Riley will speak at the Friends of Morris Library Gala Dinner Sept. 12. She will discuss "Caring for Victor: A U.S. Army Nurse and Saddam Hussein." Set for release a few days later, the book is the story of Robert Ellis as he cared for Hussein in captivity. Ellis will also attend the meeting and answer questions. (Photo provided) Download Photo Here
August 18, 2009
Annual Friends of Morris Library dinner is Sept. 12
CARBONDALE, Ill. -- As the Friends of Morris Library at Southern Illinois University Carbondale gather for their annual Gala Dinner next month, they'll get a sneak preview of a soon-to-be-released book detailing an American Army nurse's duties keeping the captured Saddam Hussein alive and well.
Marianna (Brown) Riley, retired St. Louis Post-Dispatch reporter and Anna native, will speak at the Sept. 12 dinner. She and Master Sgt. Robert Ellis wrote his account of his duties as a nurse in Camp Cropper near Baghdad caring for man at the top of the Army's Iraqi "Most Wanted" list. Ellis will also be on hand at the Friends dinner.
The evening begins with a wine and hors d'oeuvre reception at 6 p.m. in the first floor rotunda of the renovated and expanded Morris Library. Dinner starts at 6:45 p.m. in the Hall of Presidents and Chancellors.
Riley, of St. Louis, will discuss "Caring for Victor: A U.S. Army Nurse and Saddam Hussein." Victor was Hussein's code name and the book is more than just the account of a nurse caring for a famous patient. It's the tale of a complicated relationship between the two men and how the experience meshed with Ellis' life and experiences before and after. During his tour of duty in Iraq and the time spent assuring Iraq's deposed dictator was alive and well, Ellis returned twice to St. Louis -- for the funerals of his mother and his brother.
Ellis, an operating room nurse at Barnes-Jewish Hospital in St. Louis, will answer audience questions at the upcoming Friends dinner. Reedy Press of St. Louis plans release of the book by Riley and Ellis a few days after the Friends of Morris Library Gala Dinner.
Tickets for the gala are $65 for individuals or $120 for couples and seating is limited. For more information, an invitation, or to purchase tickets, contact Kristine McGuire at 618/453-1633 or by e-mailing kmcguire@lib.siu.edu. All proceeds of the dinner go to the Friends of Morris Library Fund, helping support the library's mission.
A group of 85 area residents, book aficionados, faculty and alumni gathered on Oct. 17, 1960, to organize the Friends of the Library of Southern Illinois University. Initially, the group had divisions for the Carbondale and Edwardsville libraries but on Jan. 1, 1971, they separated into two autonomous groups and the Carbondale group became Friends of Morris Library.
The Friends have purchased equipment for the renovation of the Browsing Room, contributed to endowments and much more, supporting the valuable research facility and its expansion. The library now features nearly 3 million volumes and a multitude of other resources.
The Friends of Morris Library are joining with the library faculty and staff to raise funds for a new outdoor patio planned for the northeast side of the library. The patio, with an estimated $130,000 cost, will be home to library events and for public use. Plans call for installation completion by fall 2010.
The Friends of Morris Library welcome new members. For more information, contact McGuire at 618/453-1633 or via e-mail at kmcguire@lib.siu.edu.