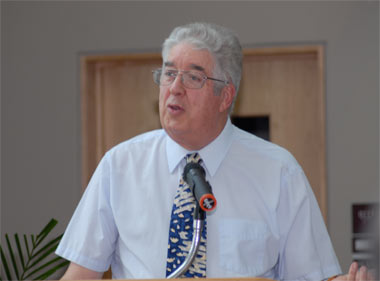 Buck Honored -- Terence Buck, formerly director of the SIUC Student Health Center, enjoys a reception in his honor following a ceremony to formally name the second floor administrative conference room at the Student Health Center as the Buck Conference Room. (Photo provided) Download Photo Here
July 20, 2009
Student Health honors former director
CARBONDALE, Ill. -- The second floor administrative conference room at Southern Illinois University Carbondale's Student Health Center is now designated as the Buck Conference Room.
Room 278H now bears the name of Terence "Terry" D. Buck, a man who devoted three decades to the University and its student health programs. A recent dedication ceremony honored Buck and unveiled the plaque designating the conference room in his honor.
"Over the past year, I have come to know Dr. Buck a little deeper than just on a social level," Dr. Ted Grace, Student Health Center director, said during the festivities. "He's a very enlightened leader that is willing to share his wisdom. He's also a very caring individual that takes great joy in mentoring others. When I asked the staff about Dr. Buck, they referred to him in affectionate terms like the 'gentle giant,' and said he exhibited 'calmness under fire.' They helped me pen the words that are on the plaque officially dedicating the room in his name. It reads 'In grateful recognition of your distinguished leadership -- for your willingness to inspire and mentor, gentle spirit, wisdom, friendship and visionary insight for a new student health facility'."
Buck, the son of educators, is a native of Lexington, Mo. After graduating from the Wentworth Military Academy where his father was dean, Buck earned his bachelor's degree in physics and math at the University of Missouri-Columbia. He also completed his master's and doctorate in counseling psychology there.
He interrupted his schooling for two years between earning his master's and doctoral degrees to serve in the U.S. Army. He continued to serve as a captain in the reserves for a year after coming to Carbondale in 1969. Originally hired as coordinator in counseling and testing at SIUC, he was a psychology assistant professor and also developed a part-time private practice.
Buck became acting director of counseling and testing in June 1972 and in August of that year became an associate professor. By September 1972 he was director/dean of student services overseeing the Counseling Center, Career Services, Disability Support Services and Women's Services. From July 1993 until his retirement on Feb. 29, 2000, he was director of Student Health Programs. In all, Buck logged 30 years and eight months of service to the University.
During his tenure he united the existing programs under the title of Student Health Programs and led in the health center earning accreditation from the Accreditation Association for Ambulatory Health Care, Inc.. Under his leadership, the student insurance program became self-insured, initially saving an average of $750,000 annually in costs to the students. He established the groundwork planning for the new Student Health Center building and held a number of statewide leadership roles in Illinois university health programs and was instrumental in establishment of the Illinois Consortium of Student health Programs.
Terence and Jackie Buck have a blended family including five children (and nine grandchildren). All but one were in attendance at this month's dedication ceremony. In retirement, Buck enjoys fishing, Saluki basketball, his companion Springer Spaniel and traveling in "Barney", as the grandkids have dubbed the Bucks' purple motor home.
"Great leaders like Terry believe in three things: they believe in the past (and Terry has reminded me several times this past year that he used to invite health center alumni back at least twice a year when he was director); they also believe in the future; but most of all, they believe in the capacity of their own people to learn from the past to create a better future," Grace said. "We do believe in the future here at Student Health."
The Bucks donated $50,000 to the Student Health Center, creating the Terrence Buck Endowment Fund. The money will fund training and development opportunities for the center's staff. Grace expressed appreciation to the Bucks for the generous endowment gift and welcomes inquiries from others interested in donating to enhance student health services at SIUC.