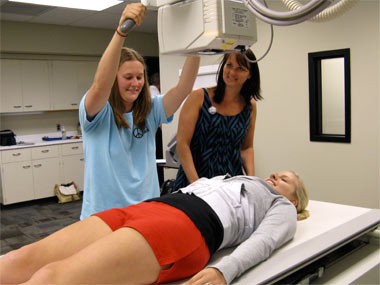 New lab -- Danielle Campbell (left), of Carterville, and Rosemary McFarland, of Thompsonville, demonstrate on fellow radiologic sciences student Ashlee Gurley, of Metropolis, one of the new three-phase diagnostic X-ray units located in the College of Applied Sciences and Arts at Southern Illinois University Carbondale. All three women are juniors in the program, which recently underwent a major expansion, renovation and equipment enhancement project. (Photo by Christi Mathis) Download Photo Here
June 29, 2009
Radiologic sciences facilities, equipment upgraded
CARBONDALE, Ill. -- Students at Southern Illinois University Carbondale will be even better prepared for careers in the field of radiologic sciences thanks to facilities renovation and expansion and equipment acquisition and replacement.
The remodeled classrooms in the College of Applied Sciences and Arts are freshly painted and carpeted, furnished with comfortable seating and equipped with overhead projection, computer and Internet access, document cameras and DVD players.
There are now two X-ray laboratories instead of one, featuring the latest in diagnostic X-ray equipment. In addition, three new medical ultrasound units will be in place by the time the fall semester begins.
"Our students will greatly benefit from these enhancements to our program," said Steven C. Jensen, director and professor of radiologic sciences. "We are very proud of the facilities and equipment. Students in the program will now be able to work with state-of-art diagnostic x-ray and ultrasound equipment. Use of this technology will better prepare our students for clinical internships and the real world of work in the radiologic sciences."
Jensen said training with the computed radiography/digital radiography equipment will well-prepare students to work in today's healthcare facilities. The technologically advanced equipment eliminates the use of X-ray film, instead creating computerized images that can be sent electronically to physicians or specialists anywhere.
Funds for the $300,000 project came from the chancellor's office as well the College of Applied Sciences and Arts' dean's office. The radiologic sciences department is part of the School of Allied Health within the college.
The radiologic sciences program at SIUC began in 1979 with 10 students and two faculty members. At that time, it was an associate of applied sciences degree program. Between 1998 and 2000, it moved to a bachelor of science degree program. Students could then complete specializations in computed tomography and magnetic resonance imaging, diagnostic medical sonography and radiation therapy technology.
The program is in fact the only baccalaureate radiology program in Illinois, Jensen said. The program added a master of science degree program in medical dosimetry in 2008. The medical dosimetry program expanded in 2009 with the addition of a new online curriculum.
Now, there are more than 170 full-time students and eight faculty members in the radiologic sciences program, according to Jensen. Affiliated with more than 60 hospitals and clinics, the program provides clinical internship opportunities for students. The majority of the sites are in Illinois, although there are also sites in Michigan, Indiana, Kentucky, Missouri, Oklahoma, Iowa and Kansas.
Plans call for an open house later this year to showcase the newly improved facilities and equipment. For more information about the radiologic sciences program, look online at http://www.siuc.edu/%7esah/RADS/rads.html. Or, contact Jensen via e-mail at sjensen@siu.edu or by calling 618/453-8882.