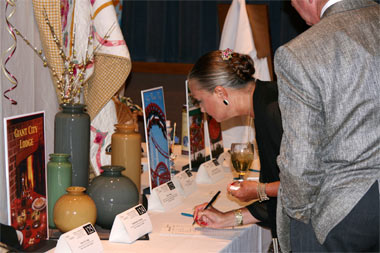 May 29, 2009
20th WSIU Fantasy Auction set for June 13
CARBONDALE, Ill. -- From the prized works of local artists, to getaway vacation spots and an autographed Mickey Mantle baseball and photo, the annual Friends of WSIU Fantasy Auction is sure to have a little something to pique everyone's interests.
This year's event marks the auction's 20th anniversary, in addition to celebrating 50 years of public broadcasting.
The auction is Saturday, June 13, in the SIUC Student Center Ballrooms. The evening starts with cocktails at 6 p.m., followed by a dinner buffet that includes the signature dessert -- Martha & Mary's Chocolate Pecan Pie.
The annual event is a fund-raiser in support of WSIU Public Broadcasting.
Financial support of WSIU "is an investment in personal excellence and a better life for you, your family, your friends, your neighbors, and your community," said Monica Tichenor, public information and promotion coordinator for WSIU Public Broadcasting.
The contributions support local programs such as WSIU's "InFocus" and "Morning Conversations," education services such as PBS' "TeacherLine" and "Raising Readers in Southern Illinois," and community engagement initiatives such as WSIU's "We Shall Remain" project, which highlighted the contributions of Native Americans in the region, and the local connection to the Trail of Tears, Tichenor said.
Approximately 200 items are ready for the silent and live auctions, and the list continues to grow. Among the gifts are brass rubbings from a cathedral in Europe, a custom-made bar by F-W-S solid surface specialists, and a bi-colored tourmaline ring created by Traci Rogers for Gem and Jewelry that is an auction exclusive.
The getaway trips include one week at the Marriott Ocean Pointe in West Palm Beach, Fla., along with other destinations including Chicago, San Antonio, Maine, Massachusetts, and St. Lucia, in addition to one- and two-night stays at local inns and bed and breakfasts.
Other auction items include an antique mantle clock, a landscaping design package from Greenridge Landscaping, and an autographed football from St. Louis Rams' strong safety Todd Johnson. Tickets to St. Louis Cardinals baseball and Saluki basketball games will also be among available live event items.
Other items include artwork from local artists including Mary Pachikara, Roberta Elliott, Kyle Kinser, John Medwedeff, Susie Phillips, Missy Carstens, Harris Deller, and Darby Ortolano. Gary P. Kolb, dean of the College of Mass Communication and Media Arts, will donate photography from his recent trip to Antarctica to the auction.
"I think we have one of the most amazing collections of items up for bids this year," said Laura Davis Cobin, WSIU donor communications and special events coordinator. "We are very excited."
The evening's musical entertainment includes the Mel Goot Trio. Mark Kennedy of Murphysboro will serve as auctioneer.
Reservations are required, and available online at www.wsiu.org/auction_reservations.html. Tickets are $60 per person, of which $20 is a charitable donation. More information is available at www.wsiu.org/auction or by contacting Cobin at 618/453-4287 or by email at laura.cobin@wsiu.org.
(Monica Tichenor, public information and promotion coordinator for WSIU Public Broadcasting, contributed information for this news release.)