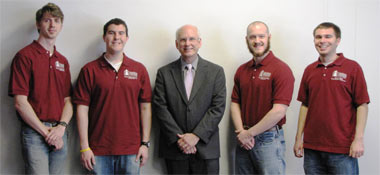 AMPAS Scholarship recipients -- Gary P. Kolb, center, dean of Southern Illinois University Carbondale's College of Mass Communication and Media Arts, is pictured with four of five students to receive funds from a $5,000 grant from the Academy Foundation of the Academy of Motion Picture Arts and Sciences. The funds will help supplement the students' eight-week summer internship through the college's Hollywood Studies program that begins next month. Pictured with Kolb, from left, are: Jonathan D. Helms, Patrick Perez, Cody Wade, and Luke A. Rafalowski. The highly competitive Studies Program is a key component within the College of Mass Communication and Media Arts, and provides students with on-the-job learning experiences in Hollywood, Chicago, New York, Nashville, and Washington, D.C. Not pictured is grant recipient Wade Morrison. (Photo provided) Download Photo Here
May 22, 2009
Grants expand internships for MCMA students
CARBONDALE, Ill. -- Students in Southern Illinois University Carbondale's College of Mass Communication and Media Arts will enhance their educational experiences this summer through numerous internships across the country.
The college is providing funding for an expanded number of internships through a pair of significant grants it recently received. A $5,000 grant from the Academy of Motion Picture Arts and Sciences will assist five cinema students. In addition, MCMA also received $5,000 from the SIUC Office of Diversity and Equity's Studies Program Educational Diversity Initiative, or SPEDI, scholarships. Those five scholarships, also worth $1,000 apiece, will help enable students to participate in one of MCMA's five organized summer Studies Programs internships.
"I'm happy that we have been able to find scholarship support to allow our students to do this," Dean Gary P. Kolb said. "It is an incredibly important part of their education. It's a great way of expanding their education beyond the walls of the classroom. Particularly in our area, the media industries, that kind of hands-on experience is invaluable for them. It's a real value added to their education."
The grants will be for program and housing fees and incidental expenses, key factors that many students take into consideration when applying for the non-paying internships, said Clare Mitchell, MCMA's assistant dean of student affairs. Successfully completed internships provide academic credit, in addition to giving students invaluable work experience and industry contacts through the highly selective program.
The eight-week internships start June 15, the first day of the summer 2009 semester. In all, 73 students will participate in Studies Program internships this summer.
Krissi Geary-Boehm, MCMA coordinator of internships and placement, identified and pursued the AMPAS grants; the college received funding in its first attempt. According to the Academy Web site, the Academy Foundation of the Academy of Motion Picture Arts and Sciences awarded $500,000 to 64 film-related non-profit organizations, including universities, throughout the U.S. and Canada for 2009-2010.
"We are tremendously grateful," Mitchell said. "It will truly make a difference in a lot of students' lives -- not just this summer, but the internships are life-changing experiences for many students. We are very happy to be able to offer them and even happier that we can help fund them."
MCMA also hopes to receive another $5,000 SPEDI stipend toward internships next year, Mitchell said.
Potential interns go through a rigorous application process that begins during the fall semester. The process includes an application, an interview with an internship committee, reference letters, and a minimum GPA of 2.75 in that student's major, Mitchell said. Students selected for the programs must also attend several professional development workshops in preparation for their internships.
The College's Studies Program offers internships in Hollywood, Chicago, New York, Nashville, and Washington, D.C., and dates back to 1995 with the inception of the Hollywood Studies' program. All but the Chicago program is a off-campus residential program. MCMA finds students internship opportunities and a place to live, such as an apartment complex or university residence hall.
More information on the program is available at http://www.mcma.siu.edu/internships. Kolb estimates 850 students have participated in Studies Program internships since 1995.
The Studies Program is an integral component within MCMA and a primary facet that separates MCMA's offerings from other media and communication colleges, Kolb said.
Kolb does not believe there is another communication college in the nation that has five separate organized internship programs in five major media markets in the country. Students come to SIUC as freshmen because they know they will be eligible for these internships as juniors, he said. The programs also attract graduate students to MCMA since they may also apply for admission to the Studies Program.
"The fact that we have these five organized programs makes us unique," Kolb said. "It's a huge selling point for us."
The additional $10,000 in internship funding is significant, he said. Funding can prove to be the "tipping point" in a student's decision to accept an internship, Kolb said, noting that $500 to $1,000 can make a significant difference.
In addition to the new outside sources for funding, Kolb credits alumni with helping to increase the funds for internships, and pledges to continue to seek out alumni to help further endow the summer scholarships. Several alumni have donated stipends for students involved in the Studies Program. SIUC alum Brian Hunt, a senior vice president for marketing and sales strategy with NBC Universal Television Distribution in New York and a member of the Dean's National Industry Council, initiated the first endowed scholarship for students selected for New York Studies.
"Our alumni have been very instrumental helping us set up these programs. Without the alumni base out there we could never have gotten these off the ground," Kolb said.
Here is a list of the MCMA 2009 internship grant recipients, by hometown. Where available, the listing contains the winner's name, year in school, major, and which Studies Program they will participate in.
Academy of Motion Picture Arts and Sciences Institutional Grant
Illinois
Niles: Patrick Perez, senior, cinema and photography (cinema), Hollywood Studies.
Smithton: Luke A. Rafalowski, senior, cinema and photography (cinema), Hollywood Studies.
Springfield: Wade K. Morrison, junior, cinema and photography (cinema), Hollywood Studies.
Missouri
Florissant: Jonathan D. Helms, senior, cinema and photography (cinema), Hollywood Studies.
St. Charles: Cody Wade, master's student, professional media and media management, (cinema emphasis), Hollywood Studies.
Studies Programs Educational Diversity Initiative Scholarships
Illinois
Catlin: Lydia B. Legg, junior, radio-television (radio), New York Studies.
Lake in the Hills: Mary A. Melendez, senior, cinema and photography (cinema), Hollywood Studies.
Mt. Olive: Rose Odorizzi, senior, cinema and photography (photography), New York Studies.
New Lenox: Amanda E. Achter, senior, cinema and photography (cinema), Hollywood Studies.
University Park: Kelly E. Williams, senior, cinema and photography (photography), Nashville Studies.
Foote Scholarship for Off-Campus Study
Illinois
Breese: Jonathan L. Robben, senior, journalism (advertising). New York Studies.
Brian Hunt New York Studies Scholarship
Illinois
Springfield: Alex J. Wasilewski, senior, cinema and photography (photography), New York Studies.
2009 Alumni Stipend
Missouri
Jackson: David C. Ladreiter, senior, cinema and photography (cinema), Nashville Studies.