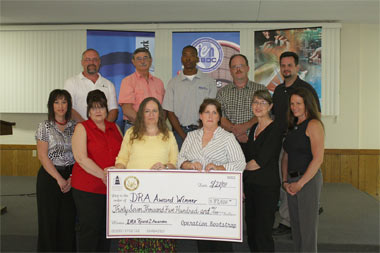 Seed capital winners -- Operation Bootstrap graduated 34 participants in a ceremony at Du Quoin on Thursday, May 21. Eleven of the graduates earned seed capital for their new businesses. They included, front row, from left: Sara Wilson, Tracy Clark, Sue Estes, Mary Peterman, Martha Cropper and Joanne Carroll. Back row, from left: Byron Wink, Dick Codding, David Cook, Kevin Pierson and Allen Mezo. (Photo provided) Download Photo Here
May 22, 2009
34 graduate from entrepreneurship program
CARBONDALE, Ill. -- They're ready. The Operation Bootstrap program graduated a group of 34 entrepreneurs on Thursday, May 21, with the tools and knowledge they'll need to successfully open and operate a business.
The Entrepreneurship and Business Development Unit of Southern Illinois University Carbondale's Office of Economic and Regional Development and the Delta Regional Authority teamed to offer the new business training program to unemployed or underemployed low- to moderate-income residents from the 16 Illinois Delta counties. The first session was in Carbondale with more than 30 graduates, while this time the venue was Du Quoin's Man-Tra-Con Family Opportunity Center. The intensive six-week program was open to residents of Alexander, Franklin, Gallatin, Hamilton, Hardin, Jackson, Johnson, Massac, Perry, Pope, Pulaski, Randolph, Saline, Union, White and Williamson counties.
"As we graduate 34 people from our second entrepreneurship training class, we are thrilled at their accomplishments," said Robyn Laur Russell, Entrepreneurship Center director. "The participants have worked so hard, in a jam-packed format, overcoming a natural disaster even, to develop their business plans and get their businesses launched. This is a day for them to all be proud of themselves!"
The free program gave participants the knowledge and tools to help them start their own new business or formalize an existing business. At the American Legion Hall Post 647 Thursday, 34 people graduated from the program. There was also a bonus for some of the graduates. Ten received $3,500 and another got $2,500 in business development grant funding.
Operation Bootstrap's May graduates, along with their proposed business name and a brief description of their product or service, listed by city, are:
Carbondale
• Brewster's Interior Specialist, home remodeling, Sylvester Brewster.
• Catch'M LLC Minimalist Boutique, clothing boutique, Mark Baldwin.
• Fountain of Youth, wellness coaching/personal training, Joanne Carroll.
• Medical Claim Consultants, medical accounts-receivable recovery, Mary Peterman.
• Purple Thumb Researching, grape vineyard research, Timothy Fritts.
• Thee Irish Barbers Landscaping Company, landscaping, Troy McGinnis.
Carterville
• Garcia's Mexican Restaurant, Mexican restaurant, Ramiro Garcia.
• Garden of Eden, daycare center, Christine Pullen.
Christopher
• Jan's Catering, catering business, Jan Biggs.
• The Body Barn, salon/spa, Sara Wilson.
Cobden
• Turning Point, craft store for vendors, Dick Codding.
Creal Springs
Afyne Canine, canine breeding, Jerry Moore.
De Soto
• R & P Recyclable Salvage, recycling/salvage, Kevin Pierson.
Du Quoin
• Image Wizard Photo Restoration, graphic design/photos, Michael Samples.
• Mitchell's Collision, auto shop, Lamonte Mitchell.
Elkville
• K-9 Ranch, doggie day care, Tammy Schoolcraft.
Herrin
• Big Daddy Lane's, detail shop, Victor Lane.
• Southern Illinois Property Management and Maintenance, property rental and management, Jason Shirley.
Marion
• Double D Wash & Go, auto detailing, Danny Davis.
• Neagle Brothers Woodworking, woodworking business, William Hopper.
Murphysboro
• Allied Automotive Detailing, auto detailing, David Cook.
• Martha & Mary's Catering, catering, Martha Cropper.
• Sew-A-Lot, alterations, custom sewing, mending, Sue Estes.
Sesser
• All Pro Overspray, overspray removal, Darren Clark.
• TWI, Inc., roll-off trucking, Roger Wyciskalla.
Steeleville
• Jan Can Paint Services, painting company, Janice Grimm.
Stonefort
• Cabin Country, cabin rental business, Kimberly Galt.
Tamaroa
• Tables by Sogsace, woodworking, Byron Wink.
Thompsonville
• Lean Green Mining, consulting, John Skinion.
• Roger's Family Lawn Care, lawn care, Kathy Rogers.
West Frankfort
• Finntastic Fish Co., fishtank rental, Chris Finn.
• Phoenix Martial Arts, martial arts center, Allen Mezo.
• PJ and Company Primitives, craft/gift/coffee shop, Pam Plumlee.
• Safeway Transportation of Southern Illinois, medical transportation service, Shannon Morris.
Recipients of $3,500 in grant funding at the May 21 ceremony were: Fountain of Youth, All Pro Overspray, Turning Point, Allied Automotive Detailing, Martha & Mary's Catering, Sew-A-Lot, Medical Claim Consultants, R & P Recyclable Salvage, The Body Barn and Tables by Sogsace. Phoenix Martial Arts claimed a $2,500 monetary grant award.
The city of Du Quoin and Man-Tra-Con assisted in providing this business development opportunity. Russell said that while this graduation wraps up Operation Bootstrap for 2008-2009, with the program's obvious success thus far, they're hopeful of additional federal funding for business training and grant awards in the next fiscal year.
For more information about Operation Bootstrap, contact program coordinator Kim Sanders at 618/453-2078 or e-mail startbiz@siu.edu. To learn more about the many services the Office of Economic and Regional Development offers clients from throughout the region, contact Russell at 618/453-3805.