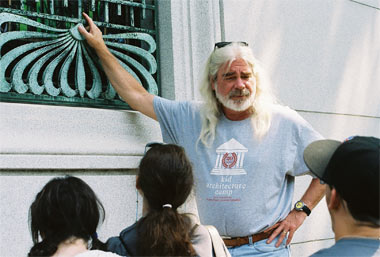 Architecture camp -- Jon Davey, architecture professor, distinguished faculty member and director of the Kid Architecture camps, talks to 2008 summer camp participants as they study architecture at the historic Bellefontaine Cemetery in St. Louis. (Photo provided) Download Photo Here
May 06, 2009
SIUC to host popular Kid Architecture camps
CARBONDALE, Ill. -- Jon D. Davey saw it happen frequently with his students in Southern Illinois University Carbondale's School of Architecture. They chose architecture as a vocation because dad said they could draw well or decided to be an interior designer because mom said they did a good job coordinating colors.
"I was concerned about why they were choosing their careers, concerned they weren't doing any critical thinking, any problem solving, showing no thought of design," said Davey, an architecture professor, and distinguished faculty member in the College of Applied Sciences and Arts.
"I took that concern for kids and created Kid Architecture," Davey said.
Kid Architecture has evolved as a design education venue and 21 years after the first camp, there are different camp sessions for different age groups encompassing students in fourth through 12th grades. More than 2,000 youths have participated in the popular, award-winning summer program.
The prestigious American Architectural Foundation recently recognized the Kid Architecture program with a Letter of Merit. The recognition denotes the value of the unique summer program, signifying it is one of the best in the country at addressing architecture in the built environment, Davey said.
It's not the first award for the camp either; it won the same honor in 2007. Previous accolades also include a national certificate of distinction from Urban Network, School of Architecture at the University of Michigan; a citation of honor from the Illinois Council and Presidential Award from the American Institute of Architects; a chapter education award from the St. Louis Chapter of the Construction Specification Institute; a regional educational award from the Construction Specification Institute; an Illinois connections award of distinction from the Illinois State Board of Education; and an award of merit for best practice in K-12 architectural education from the American Architectural Foundation.
"Our program is absolutely unique," Davey said. "SIUC is one of the few universities to offer a summer architecture class even for grade school kids. Some offer a high school program as a recruiting tool but we have a special program we offer even for younger students. Our goal has never been to recruit, but many kid architects have come to SIUC after attending the camp. Some parents really sacrifice to send their kids. We have junior high and high school kids fly in from all over the country. We've even had international students participate."
Davey noted that a campus visit is often one of the prime reasons students choose a college.
"When we have them here at the University for a whole week where they can really come to appreciate everything SIUC has to offer, we've planted the seed," he said.
Davey is in his 29th year of teaching design, including previous teaching experience at the School of Architecture-University of Wisconsin. At SIUC, he has earned department teacher of the year awards five times. Twice he won honors as college teacher of the year, scholar of the year and distinguished faculty award winner.
Davey is an SIUC alumnus, having earned an associate degree in architectural technology, a bachelor's in architectural studies and a master's in education and environmental design. He lacks his dissertation to earn his doctorate in education at the University. He also studied at the University of Wisconsin-Milwaukee, at the Jose Marti Institute in Havana, Cuba, and the Paris American Academy in Paris.
There are four weeklong sessions of the camp this summer, allowing youths ages nine to 18 to participate in age-appropriate sessions with their peers. Campers will learn how buildings manage to stand, why buildings look as they do, what architects and interior designers do and how they use the design process. They'll discover how design drawing works to solve problems, what construction materials go into buildings, how and why people "define" space, and why it's important that everyone be involved in the design of the "built environment." They will also see the latest design tools, including computer graphics systems, animation and computer-aided design.
Hands-on activities fill the camp days. Participants will create sketches and renderings, visit construction sites and complete small-scale construction projects. They will do spatial, structural and small-scale construction projects. In addition, students will cast concrete, work with computer graphics and computer-aided drafting, take walking historic architecture field trips, discuss the environment and architecture, visit sites in St. Louis and other places and enjoy recreational activities. They will also create one-of-a-kind mosaics.
There are brand new activities on tap for the 2009 camps too, Davey said. It's all about taking architecture out of the box, out of the classroom, and making it a window through which the participants can study society, design, and culture and how they fit together.
"I'm a firm believer in visual teaching, helping people think and really figure out what they're seeing and why," Davey said.
Kid Architecture Day Camps are set for June 22-26 and July 20-24. The camp is for kids in fourth through sixth grades and it meets from 8:30 a.m. to about 4:30 or 5 p.m. Monday through Thursday at Quigley Hall. There's a field trip to St. Louis on the final day of each camp, departing at 8 a.m. and returning between 5:30 and 6 p.m. The registration fee is $175 and covers lunch each day, field trip transportation, camp supplies and materials, limited accident medical coverage, and a camp T-shirt.
Middle School Architecture Camp is open to grades seven to nine while High School Architecture Camp welcomes grades nine to 12. The middle school camp is July 5-10 while high school camp runs July 12-17. Both offer residential and commuter options. Check-in is 3-4 p.m. Sunday and activities run until about 8:30 p.m. each day, except for Friday when the St. Louis field trip wraps up at Quigley Hall between 5:30 and 6 p.m.
The $499 resident registration fee includes dinner Sunday through Thursday, breakfast and lunch Monday through Friday, lodging in air-conditioned residence halls Sunday through Thursday, educational and camp activity supplies and materials, limited accident medical insurance, a camp T-shirt and extraordinary experiences. The fee for commuters is $350 and covers everything previously listed except breakfast and lodging.
Registration is on a first-come basis and the camps usually fill up very quickly. Enrollment is limited so Davey suggests registering early. For architecture camp registration or more information, contact the Division of Continuing Education at 618/536-7751 or visit the Web site at https://www.dce.siu.edu.
You can also visit http://www.siu.edu/~kidarch/ to learn more about the SIUC youth architecture camp experience.
The Southern Illinois Chapter of the American Institute of Architects, the School of Architecture and the College of Applied Sciences and Arts, cooperatively with the Division of Continuing Education at SIUC, are sponsors of the architecture camps.