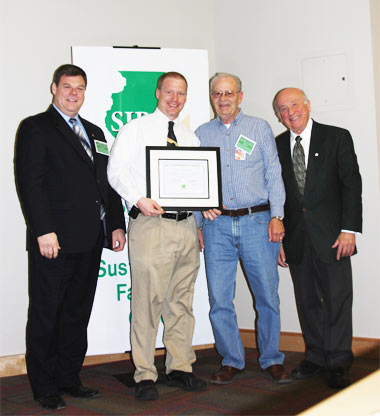 Grant-winner -- Marissa School District 40 won a $2,500 recycling grant and a Silver Award at the recent Schools of Illinois Public Cooperative Sustainable Facility Care Leadership Conference at Southern Illinois University Carbondale. Pictured, from left, are: Kevin Settle, superintendent of Mt. Vernon School District 80 and chairman of the SIPC; Dan Lehman, student counselor from Marissa School District 40; Bill Terry, Marissa school custodian; and SIUC Chancellor Samuel Goldman. The SIPC award is to help create a more sustainable school district while the silver award recognizes Marissa for exceeding state standards for environmentally friendly healthy educational facilities. (Photo provided) Download Photo Here
April 16, 2009
Schools recognized for sustainability efforts
CARBONDALE, Ill. -- School administrators and representatives from all over the region converged at Southern Illinois University Carbondale recently for the Sustainable Facility Care Leadership Conference.
About 140 school officials representing K-12 districts, along with community colleges and university representatives, shared ideas and explored new technologies to help school districts clean well and cost-effectively while being environmentally friendly. The Schools of Illinois Public Cooperative (SIPC) meeting was a time to exchange information, view product demonstrations, and tour the Student Health Center.
"Conference participants exchanged ideas regarding how using less chemicals can yield more cleaning power, how students can participate in the process and learn stewardship lessons that extend beyond the classroom and how to obtain funding to institute higher standards for their facilities. They also discussed new products that reduce the number of chemicals that need to be stored, products that you dilute with water for a wide variety of cleaning purposes," said Wallace Burman, SIUC director of purchasing.
Speakers at the conference included Chancellor Samuel Goldman and Jim Sheffer, director of sustainable building care for AmSan Corp. Burman talked of the purchasing power available to educational entities by purchasing jointly. Andilee Warner, SIUC recycling coordinator, talked about the University's efforts to reduce waste.
Kevin Settle, Mt. Vernon School District 80 superintendent and chairman of SIPC, was moderator for an interactive panel discussion. The speakers and discussion gave those in attendance a chance to learn much more about maximizing cleanliness and germ elimination while promoting health, reducing hazardous cleaning chemical exposure, improving educational facility lifespan, reducing natural resource consumption and environmental preservation.
A combined effort involving SIUC, SIPC, the Illinois Public Higher Education Cooperative, the Illinois Community College System and corporate partner AmSan crafted certification standards through the School Cleaning Redesigned for the Environment (SCORE) curriculum. Goldman and Settle presented awards to school districts and university departments recognizing their efforts to create cleaner, healthier facilities and thus do their part to improve Illinois. Burman said the University has a proven record for accomplishing this.
Schools receive "certified" awards for meeting minimum standards as mandated by the state of Illinois. Bronze awards designate exceeding state standards while a silver award goes to those districts or institutions that greatly exceed state standards. Those going well above and beyond, doing everything possible to be environmentally friendly, earn the gold award. Rounding out the awards is the stewardship award, given to institutions or districts with custodial departments exhibiting exceptional building services leadership in establishing standards for other departments or schools to follow, according to Burman.
Claiming the stewardship award was SIUC Building Services.
Gold Award: Breese School District 12 and SIUC Health Services.
Silver Award: SIUC University Housing, Carmi-White County Community Unit School District 5, Central Community High School District 71, Freeburg Community High School District 77, Joppa-Maple Grove Unit District 38, Marissa Community Unit School District 40, Mount Vernon School District 80, SIUE's Morris University Center and Wabash Community Unit School District 348.
Bronze Award: Anna-Jonesboro Community High School District 81, Beecher City Community School District 20, Bond County Community Unit School District 2, Bunker Hill Community Unit School District, Carlyle Community Unit School District 1, Dongola Unit School District 66, Giant City Community School District 130, Harrisburg Community Unit School District 3, Massac Unit District 1, Roxana Community Unit School District 1 and SIUC Student Recreation Center.
Certified Status: Anna Community Consolidated School District 37, Carrier Mills-Stonefort Community Unit School District 2, Century Community Unit School District 100, Cypress School District 64, Galatia Community Unit School District 1, Jonesboro Community Consolidated School District 43, Madison Community Unit School District 12, Nashville Community Consolidated School District 49, New Simpson Hill District 32, South Central Community Unit District 401, Vandalia Community Unit School District 203, Greenville College, North Wayne Community Unit School District 200 and Patoka Community Unit School District 100. Litchfield Community Unit School District 12 is working on certification.
Marissa School District 40, represented by Dan Lehman, student counselor, and Bill Terry, custodian, also got a $2,500 grant at the conference. The SIPC award is to help create a more sustainable school district.