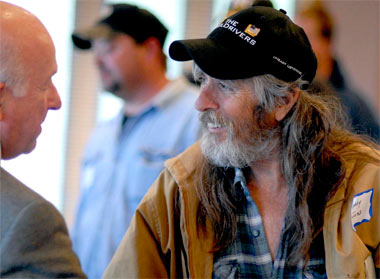 Thanks -- Samuel Goldman, Southern Illinois University Carbondale chancellor, shakes hands with laborer Bobby Fricks during the recent Laborer Appreciation Day Ceremony at Touch of Nature Environmental Center. Goldman, SIU President Glenn Poshard and MaryAnne Cunningham-Ismael, assistant director of Touch of Nature, presented certificates of appreciation to many of those from the Illinois Laborers' and Contractors' Joint Apprenticeship and Training Program who have provided infrastructure improvements at the camp during their training. (Southern Illinoisan photo) Download Photo Here
April 09, 2009
Ceremony honors Laborers' efforts at SIUC facility
CARBONDALE, Ill. -- The evidence of change and improvement is everywhere you look at Southern Illinois University Carbondale's Touch of Nature Environmental Center these days, and a recent ceremony paid tribute to those who made it happen.
The Laborer Appreciation Day Ceremony at Touch of Nature honored the Illinois Laborers' and Contractors' Joint Apprenticeship and Training Program and its members. A 2008 agreement between the University and the program brought union members from all over the state to the 3,100-acre facility along Little Grass Lake for training that gave them much-needed experience while giving the camp desperately needed improvements.
"Thanks to the Laborers' Apprenticeship and Training Program practicing their trades at Touch of Nature, the University and the people who utilize these facilities are now about to enjoy new and improved amenities that we would otherwise not be able to provide," SIU President Glenn Poshard said. "The University owes a great deal of gratitude to our Laborer friends. We are thankful for their good work as are the many who use these facilities and enjoy Touch of Nature's beauty."
Poshard, SIUC Chancellor Samuel Goldman and MaryAnne Cunningham-Ismael, assistant director of Touch of Nature, presented certificates of appreciation to many of the Laborers who contributed to the camp's improvements.
"I am just truly impressed with the attitude and the expertise that the Laborers and all of the administration have given to this partnership," said Cunningham-Ismael. "This is actually a model for other universities that should be grasped immediately on a national level. The cooperation is immeasurable. We never could have reached the heights of improvements we've attained without the Laborers. We're looking forward to having more classes here in the future too."
The list of improvements between May 2008 and March 2009 at Touch of Nature is long. For Camp I and Camp II, it includes an assortment of new concrete and asphalt sidewalks, concrete pads for vending machines and around picnic tables, foundations for new cabins, asphalt patching, loading docks and drives and much more.
"I think this agreement is a true partnership between the University and the Laborers," said Clint Taylor, administrator of the Illinois Laborers' and Contractors' Joint Apprenticeship and Training Program, known by the acronym ILCJATP. "Our students get practical, hands-on experience with projects that benefit people and they're doing something that's going to be there for a long time, something they can bring their kids back to look at. They're doing something for someone else, that's what the union is all about, helping others. When they see people who are able to get around and get down to the lake or to some of the other buildings so much easier because of the sidewalks they've laid and things like that, it really brings it all home. That's what it's all about."
Following the appreciation ceremony, tours throughout Touch of Nature highlighted the many improvements the Laborers have made there thus far. Taylor said the Laborers' training at Touch of Nature has so far involved perhaps as many as 150 apprentices doing asphalt and concrete work. He's hopeful that the program may expand to include pipe-laying or masonry work.
Touch of Nature, located about seven miles south of Carbondale on Giant City Road, was conceived in 1949 by former SIU President Delyte Morris as an outdoor laboratory supporting the University's educational mission. Camp Little Giant, the nation's first University-affiliated residential camping program for people with disabilities, opened a couple of years later on 150 acres acquired from the U.S. Fish and Wildlife Service. The much-expanded Touch of Nature Environmental Center now offers camps and high-quality educational, research and experiential programs throughout the year for children and adults.
For more information about Touch of Nature or its facilities, call 618/453-1122 or look online at http://www.ton.siu.edu/.