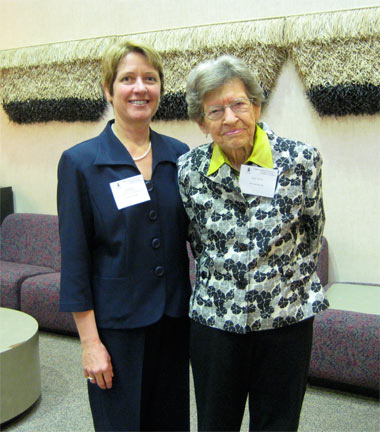 Award-winner -- Janet Rogers (left) is the 2009 recipient of the E.J. and Mary C. Simon Distinguished Faculty Award from the College of Applied Sciences and Arts at Southern Illinois University Carbondale. Mary C. Simon spoke with Rogers at the April 5 CASA Honors Day awards. (Photo provided) Download Photo Here
April 08, 2009
College honors Janet Rogers with faculty award
CARBONDALE, Ill. -- Little did Janet L. Rogers suspect when she moved to Carbondale that her interesting new neighbors would have such a significant impact on her life or that many years later she would be the recipient of an award named for those special people.
Rogers is the 2009 winner of the E.J. and Mary C. Simon Distinguished Faculty Award in Southern Illinois University Carbondale's College of Applied Sciences and Arts (CASA). E.J. Simon was dean of the college from its inception in 1951 until his 1970 retirement. The couple strongly supported CASA and the University. E.J. Simon passed away 20 years ago, but Mary C. Simon still reigns as the college's "first lady."
CASA faculty with tenure and at least seven years with the college are eligible for the award. It was created to "acknowledge, celebrate and reward lifetime achievements with respect to teaching and other activities directly related to the education and general welfare of students," according to the college's award application criteria. Administrators within the department select the winner and it carries a $2,000 award this year. A plaque in the office of the CASA dean will include Rogers' name, too.
Recognition went to Rogers during the annual CASA Honors Day ceremony April 5. Mary C. Simon was in attendance as Rogers delivered the ceremony's keynote address.
"Associate Professor Dr. Janet (Jan) Rogers, is a valued faculty member in the School of Allied Health," said Charla Lautar, director of the school. "She has a long history with the University beginning in 1977 working in the Clinical Center. She began teaching in 1982 as an instructor in the Physical Therapist Assistant Program and she consistently receives very good Instructor and Course Evaluation scores from her students. As the director of that program, she is constantly looking for ways to improve the curriculum. She is active in professional associations and agencies and has served on a number of University committees. Regularly presenting and publishing, Dr. Rogers has been recognized by her peers for her research."
Rogers said she is very honored to receive the Simon award, calling it the highest compliment she could receive on her teaching career. She said the Simons quickly befriended her when she came to Carbondale and instantly became her mentors, inspiring her in many ways. She said they shared their stories about SIUC with her and taught her that it is vital for a good teacher to be able to communicate and especially to be able to listen. They also taught her that a sense of humor is important.
"They were mentors in the true sense of the word," Rogers said. "No other award would have meant more to me. It's an honor to have my classroom work recognized. As a teacher, research and service are very important but my true love is being in the classroom. The Simons truly inspired me."
Rogers has an exclusively Saluki collegiate education, earning her doctor of philosophy in health education in 1995, her master of science in rehabilitation administration in 1985, her bachelor of science in occupational education in 1980 and her associate of applied science as physical therapist assistant in 1976, all at SIUC. She is also a certified clinic instructor for the American Physical Therapy Association and a licensed physical therapist assistant.
Now an associate professor and program coordinator for the physical therapist assistant program in the School of Allied Health, Rogers previously served in a number of capacities at the University and in Carbondale. She was program director, assistant professor and instructor at SIUC as well as physical therapist assistant at the clinical center. Her career also includes employment as a physical therapist assistant for Home Health Care Services of Carbondale, Specialized Neuro Services of Carbondale and Tri-County Special Education and as director of physical therapy for the Center for Comprehensive Services and director of rehabilitation services at the Adult Neuro Physical Rehabilitation.
Widely published in professional journals, Rogers has presented at numerous professional conferences, obtained a variety of teaching and training grants, and served on numerous committees at the University and within professional organizations. She also is the recipient of several honors and awards, including the research paper of the year for the School of Allied Health and researcher of the year and teacher of the year on separate occasions from the Department of Health Care Professions and the Department of Health.
"The E.J. and Mary C. Simon Distinguished Faculty Award acknowledges career achievement of faculty in the area of teaching and service to students. Dr. Jan Rogers is a long-time faculty member in CASA who continually receives very good teaching evaluations, has an ongoing and active record of research productivity, and has provided service to her profession and to all levels of the University including serving on the Faculty Senate," said Terry A. Owens, associate dean of the College of Applied Sciences and Arts. "In her capacity as physical therapist assistant program director, Dr. Rogers continually strives to enable students to graduate and successfully transition into the profession. I believe Dr. Rogers' activities align very well with the spirit of this award."
In addition to their work for the University, Rogers and husband Steve Rogers, director of Students' Legal Assistance at SIUC, enjoy traveling.