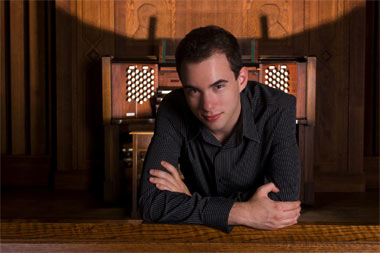 (Photo provided) Download Photo Here
April 08, 2009
Christopher Houlihan to present organ recital
CARBONDALE, Ill. -- The Southern Illinois Chapter of the American Guild of Organists welcomes up-and-coming organist Christopher Houlihan to the Artist Subscription Recital Series.
The free organ performance begins at 3:00 p.m. on April 19 in Shryock Auditorium, home to the Marianne Webb Pipe Organ. Houlihan will play the music of Bach, Mendelssohn, Widor and Duruflé.
Houlihan is an advanced music student at Trinity College in Hartford, Conn. He recently studied at the Conservatoire National de Région de Versailles, where he earned a "Prix de perfectionnement" artist diploma. He also served as assistant musician at the American Cathedral in Paris. He was on hand there to play organ and direct the choir during a visit from President George W. Bush and Laura Bush. He was a featured recitalist at a concert series at St. Etienne Cathedral in Limoges during his French study trip as well.
Houlihan released his first CD in 2007, recorded on the Austin Organ at the Trinity College Chapel. The CD garnered positive reviews in "The American Organist" and "The Diapason."
At Trinity, he holds the inaugural John Rose Organ Scholarship, and is one of John Rose's students. He is senior assistant organist at the college chapel.
Houlihan plans a return to France in 2010 for a recital at the Cathédrale Saint-Louis de Versailles during the Les Mois Molieres Festival.
The American Guild of Organists promotes "the organ in its historic and evolving roles" and encourages organ music performance as well as education about the organ and the music created for it.