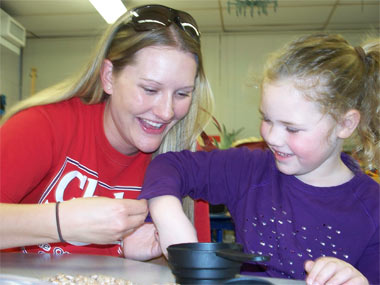 Head Start cooking -- Makensie Rhodes and her mother, Amber Rhodes of Carbondale, participated in a recent Head Start cooking class. Makensie attends Head Start and the cooking classes are among the many free programs and activities Head Start offers families. Parents can register their children now for the fall Head Start classes. (Photo provided) Download Photo Here
April 03, 2009
Enrollment now open for fall Head Start program
CARBONDALE, Ill. -- Enrollment is now open for the fall 2009 Southern Illinois University Carbondale Head Start program. It's a pre-kindergarten program for eligible children who will be at least three years old by Sept. 1, 2009, but who won't be old enough for kindergarten next school year.
Head Start offers weekday morning and afternoon programs along with all-day programs. The partial-day programs are free, while family eligibility and income determine fees for the full-day program. Free bus transportation is available in designated service areas.
As federal income guidelines have changed, all those with preschool-age children are encouraged to apply. Children with disabilities, foster children and homeless children get top enrollment priority.
Head Start is a children's program but it's much more than that. It's fun and educational for kids but it benefits the entire family as well. Head Start encourages parental involvement and offers free programs and activities for parents at least once a month. Many families recently enjoyed participating in cooking classes under the direction of Toni Kay Wright, health/nutrition coordinator and registered dietitian. Grant funding from the General Mills Foundation helped fund the program, whose goal was preventing childhood obesity.
The Head Start enrollment process takes about an hour; appointments are preferred. During four designated enrollment events, however, parents may walk in and sign up their child. The open enrollment schedule, with each event set from 4 to 7 p.m., is:
• April 7 -- Murphysboro Center at 9822 Illinois 149, 618/687-4433. Parents should bring the child they are registering to this site for pre-screening. The Southern Region Early Childhood Programs collaborates with the Head Start program at this location.
• April 21 -- Marion Center at 907 N. Vicksburg St., 618/997-4255.
• April 23 -- Johnston City Center at 901 Prosperity Ave., 618/983-8459.
• April 28 -- Carbondale Center at 1900 N. Illinois Ave., 618/453-2440.
Those who can't attend one of the open enrollment events can schedule an appointment by contacting any of those locations or any of the SIUC Head Start co-locations offering full-day/full-year services.
The Head Start co-locations are:
• Eurma C. Hayes Center at 441 E. Willow St., Carbondale, 618/453-6448, ext. 229, or 618/457-3302.
• John A. Logan College Childcare Lab in Carterville, 618/997-2216, ext. 229, or 618/985-3741, ext. 8241.
• Malone's Early Learning Center at 108 Walnut St., Carterville, 618/997-2216, ext. 229, or 618/985-3366.
The fall Head Start classes will begin in August and prior to that time, parents must provide an official copy of the child's birth certificate (not the one issued by the hospital) and proof of income. Children likewise need current physical examinations, immunizations, tuberculosis (TB) screening and a blood lead test. Upon enrollment, children must also have a hemoglobin/hematocrit screening and dental examination. Parents should bring as much of this information as possible with them when registering their child.
SIUC, with federal grant funding, directs the Head Start programs for Jackson and Williamson counties. For more information, contact the University's Head Start administrative office between 8 a.m. and 4:30 p.m. Monday through Friday at 618/453-6448 or 618/997-2216.