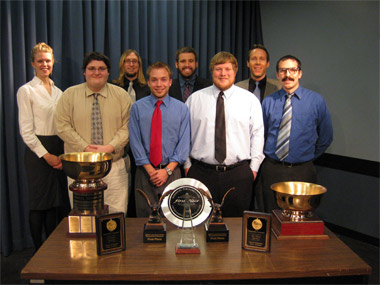 2008-2009 SIUC Debate Team -- From left are Katie Thomas, Kevin Calderwood, Assistant Coach Kyle Cheesewright, Christopher Neill, Assistant Coach Brian Norcross, Adam Testerman, Coach and Director of Debate Todd Graham and Assistant Coach Benjamin Haas. The trophy hardware displayed was the team's take from early in the season. (Photo provided) Download Photo Here
March 31, 2009
SIUC debate team wraps up successful season
CARBONDALE, Ill. -- The Southern Illinois University Carbondale Debate Team closed off a successful season this spring by making history.
Kevin Calderwood, a political science major, was part of the winning duo last year at the National Parliamentary Tournament of Excellence with debate partner, Kyle Dennis, now an alumnus. This year, he made it to the final round with debate partner Adam Testerman, a sophomore in journalism.
Todd Graham, director of SIUC's debate program, likened the tournament success to a team making it two years in a row to the NCAA basketball championship game.
"It's not an easy thing to do. In fact, it's almost unprecedented," he said, adding that, "Jason Steck, one of the founders of this tournament, said any discussion about the greatest debater in the history of debate has to include Kevin Calderwood."
The NPTE tournament is the most prestigious in parliamentary debate. Fewer than 100 of the top debate teams in the country even make the invitation list. To clinch the whole tournament, to become national champions last year, the Saluki Debaters bested teams from the top programs in the country -- teams from University of California at Berkeley, the University of Nevada, Creighton University and more. This year, they made it all the way to the final round, carrying a perfect record from the preliminary rounds, only to fall to the University of Nevada with a 4-3 decision -- the closest in history among seven judges during a final round of the NPTE tournament.
The senior team wasn't the only one to earn bragging rights. The junior team of Katie Thomas and Christopher Neill, both political science majors, finished sixth in the NPTE tournament, and by doing so, earned themselves a spot as one of the top 10 teams in the country.
On Monday, March 30, Thomas won the National Parliamentary Debate Association's All-American Award, presented to a graduating senior in a debate program based on academic success and civic involvement.
"It's been fun to see teams from some of the top programs in the country looking up to our team," Graham said.
Calderwood agrees that success has gained him recognition in the debate world. "There are tons of people who know me or know my name and I don't know them," he said. "I'm proud because our debate record makes SIUC look good on the education front. We have two teams in the top 10 in a research-oriented competition."
Testerman noted that while SIUC may not have the worldwide name recognition enjoyed by some of its competitors, Graham is known as a top -- Testerman said "the top" -- debate coach.
"I came to SIUC almost exclusively because of the debate program," he said. "I came here to be coached by the best."
Testerman said Graham's coaching philosophy has "taken hold" of he team and led to its success. He said there is more to debate than competition, though. The required research and the need to stay abreast of current events the world over has been an education in itself.
"We become well-informed citizens," he said.
Neill agrees, noting that what he learns during debate research informs all his other classes. In addition, he said, the focus and mental discipline have made him a better student.
"I was one of those students who needed focus," he said. "I became interested in debate when I was in eighth grade. I met some kids who were on the high school team, and they were doing really good things with their lives -- and they hadn't all started out as great students."
Neill said debate motivates him to achieve as a college student -- and was his ticket into higher education.
Thomas, a graduating senior, said debate is "fundamental to the person I am."
After commencement, she will go to work for the Public Interest Research Group (PIRG) as a campus organizer. She plans to work with PIRG for one year and then enter law school.
The other team members return for at least one more year as Saluki Debaters.
The team is: Kevin Calderwood, Chesterfield, Mo.; Adam Testerman, Springfield, Mo.; Christopher Neill, Petosky, Mich.; Katie Thomas, Fort Collins, Colo. Assistant coaches Benjamin Haas, Kyle Cheesewright and Brian Norcross travel with and help prepare the team.