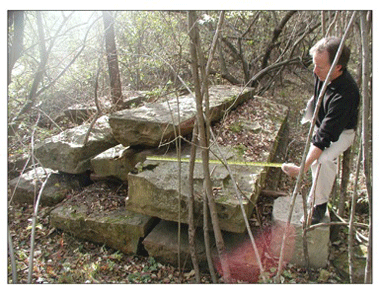 Old Main for library patio -- Brian Gorecki, an architect with Plant and Service Operations at SIUC, looks at stonework from the historic Old Main building, destroyed in a 1969 fire, earmarked for use as a perimeter border for a new Morris Library patio. (Photo provided) Download Photo Here
March 03, 2009
Library patio will incorporate Old Main stonework
CARBONDALE, Ill. -- As the extensive renovation and expansion of Morris Library at Southern Illinois University Carbondale nears completion, plans are under way for a new patio at the east end of the building, an idea conceived in 2006 as library focus groups considered numerous options.
"This picturesque, well-shaded corner of campus should prove a popular spot and I hope library patrons, staff and donors alike will support this idyllic space," said David N. Carlson, dean of Library Affairs.
The brick patio design features tables and benches with a special touch: the incorporation of some architectural elements from the historic Old Main building, destroyed by fire in 1969. The patio plans call for use of some of the building's stonework, saved after the fire. Pieces of the limestone and granite will help form an exterior patio border and serve as benches. Plans also are in the works to recreate an Old Main archway featuring a star at its pinnacle to serve as a patio entrance.
The design was a joint project involving the Friends of Morris Library, library staff, Engineering Services student worker Eric Leitner and Brian Gorecki, an architect with Plant and Service Operations. Gorecki said engraved paving bricks "will enhance the historical nature of the patio" and give supporters the opportunity to be part of "a permanent piece of history."
The Friends of Morris Library lent its support for the patio project, contributing $8,000 toward the estimated $130,000 price tag. Private funding will cover the patio cost and one source for that funding is the sale of commemorative bricks. The bricks will comprise part of the walkway curving through the middle of the patio. The engraved bricks, of high-quality materials, carry a 100-year guarantee.
Each four-inch by eight-inch brick costs $250 and offers space for engraving of three lines of text, each line having a maximum of 11 characters, including spaces. For $500, supporters can purchase an eight-inch square paver brick that offers the option of adding to the engraving the Pulliam clock tower or the Saluki athletics logo for an additional $50.
A $4,000 contribution covers the cost of tables with seating while a $2,000 donation pays for an interior bench. A $5,000 gift underwrites the cost of creating a perimeter bench from Old Main stone. Reconstruction of the Old Main arch will cost $30,000.
"The patio project represents a unique opportunity for all members of the SIUC community to make a very substantial addition to our beautiful campus," said Rob Jensen, chairman of the Friends of Morris Library patio committee. "This patio will be an ideal complement to the newly renovated library and it will further enhance the library's role as the heart of our academic ventures."
Individuals or groups interested in assisting with the project by sponsoring engraved bricks or other patio elements may contact Kristine McGuire at kmcguire@lib.siu.edu or by calling 618/453-1633.
(Gordon Pruett contributed to his release.)