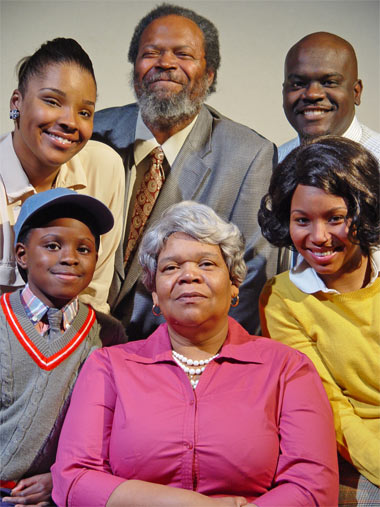 'A Raisin in the Sun' cast -- Clockwise from lower left are: Ore Ojewuyi Simone Biles, Dr. Phil Howze, Jeff McGoy, Leslie Jordan, and Audrey Morgan (center) as the Younger family. (Photo provided) Download Photo Here
February 16, 2009
'A Raisin in the Sun' set for Feb. 19-22
CARBONDALE, Ill. -- Southern Illinois University Carbondale joins the 50th anniversary celebration of Lorraine Hansberry's groundbreaking play, "A Raisin in the Sun," with its own presentation of the play this weekend.
The play runs Feb. 19-22 at McLeod Theater, located in the Communications Building on the SIUC campus. Thursday through Saturday performances are at 7:30 p.m. Sunday's performance is a 2 p.m. matinee. Tickets are $15 for general admission, $12 for senior citizens and $6 for students. Reserve tickets at 618/453-3001 or buy them at the door beginning one hour before each performance.
"A Raisin in the Sun" opened on March 10, 1959, at the Ethel Barrymore Theater. Hansberry made history as the first African-American woman playwright on Broadway.
The original Broadway production, directed by Lloyd Richards, had a cast that included such rising stars as Sidney Poitier, Claudia McNeil, Diana Sands, Ruby Dee and Louis Gossett. The production won the New York Drama Critics' Circle Award for Best Play, and earned nominations for four Tony awards including Best Play, Best Actor in a Play(Sidney Poitier), Best Actress in a Play (Claudia McNeil), and Best Direction of a Play. The show moved to the Belasco Theater on Oct. 19, 1959, and ran till June 25, 1960, for a total of 530 performances. Most of the Broadway cast starred in the 1961 film version of the play.
The powerful and enthralling story centers on the Younger family, whose dreams are mobilized by a life insurance policy settlement left by the late Younger patriarch. Walter Jr. wants to use the money to open a liquor store. His sister, Beneatha, wants the money for college tuition. Mama's dream is to move the family out of their south side Chicago tenement and into a better life. The conflict over the disposition of the estate strains the family's love for each other, and brings into sharp focus the effects of racial segregation.
The SIUC Department of Theater production is directed by Head of Directing, Segun Ojewuyi, with sets by Ron Naversen, costumes by Adrianne Howard and lighting by Michael Frohling.
The cast features Jeff McGoy, as Walter Jr., Simone Biles as Ruth, Leslie Jordan as Beneatha and Ore Ojewuyi as Travis, the Younger family. Cortez Johnson plays courting Joseph Asagai, Joel Carter as his rival, George Murchison, and William Barney as Bobo. Shawn Lockhart, Shakeia Smith, Adrian Orr, Sarisa Hall are neighbors and moving men. The production also features two guest artists. Dr. Philip C. Nordstrom, pastor of Christ Community Church of Murphysboro as Karl Lindner, and professional actress Audrey Morgan as Lena "Mama" Younger.
Contact Vincent Rhomberg at 618/453-7589 or mcldpub@siu.edu for more information or to schedule an interview.