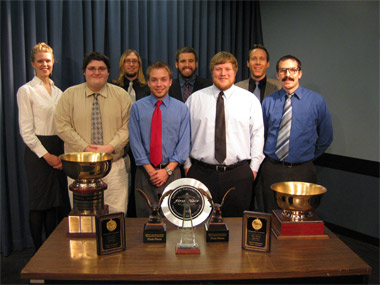 2008-2009 SIUC Debate Team – From left are Katie Thomas, Kevin Calderwood, Kyle Cheesewright, Christopher Neill, Brian Norcross, Adam Testerman, Todd Graham and Benjamin Haas. The trophy hardware displayed is the team's take so far this season. Photo provided Download Photo Here
February 12, 2009
SIUC debate team stays on winning streak
CARBONDALE, Ill. -- They came, they saw, they out-argued everyone – again. The Southern Illinois University Carbondale Debate Team returned victorious this week from a double tournament debate weekend in San Diego, winning both tournaments.

"This is as good as it gets – unless we win nationals," Todd Graham, director of debate at SIUC, said. In fact, SIUC did win nationals last year, at the National Parliamentary Tournament of Excellence. The duo of Kevin Calderwood (a senior in political science from Chesterfield, Mo.) and Kyle Dennis (a recent graduate hailing from Blue Springs, Mo.) were honored by both the Illinois House of Representatives and the Illinois Senate for their achievement.

This weekend saw the debate team at the Point Loma Round Robin and the Sunset Cliffs Classic debate tournaments in San Diego. Graham said this is one of the largest and most prestigious tournaments on the debate schedule.

The first tournament was the Point Loma Round Robin Tournament of Champions, which includes only the top 20 debate duos in the country. The other is an open-invitation debate, and it attracted more than 100 debate teams from around the nation.

The Saluki duo of Calderwood and Adam Testerman, (a junior in journalism from Springfield, Mo.) won both tournaments – a feat in itself. What makes the victory even more astonishing is that this is a repeat double-win – last year, the Calderwood-Dennis duo won both the round-robin invitational and the open tournaments in San Diego as well.

"Last year was the first time any team had ever won both the round-robin invitational and the open tournament in the same year," Graham said. "So now, SIUC has won both tournaments two years in a row – with Kevin doing a double repeat. That's pretty huge."

In addition, the duo of Christopher Neill (a sophomore in political science from Petoskey, Mich.) and Katie Thomas (a senior in political science from Fort Collins, Colo.) competed in the 100-plus team open tournament. At that tournament, SIUC took a trifecta, winning the top three individual speaker awards, with Testerman first, Calderwood second, and Thomas third.

Assistant coaches Benjamin Haas, Kyle Cheesewright and Brian Norcross travel with and help prepare the team.

Debate team members devote considerable time during the academic year to preparation and research. They must be prepared to debate current political issues, with little advance notice of the topic.

For more information about the debate program at SIUC, contact Graham at tgraham@siu.edu or at 314/495-7278.

To interview the members of the debate duo, contact Calderwood at 314/518-2420 or Testerman at 417/631-5579.

The National Parliamentary Tournament of Excellence is set for March 21-23 at the University of California at Berkeley.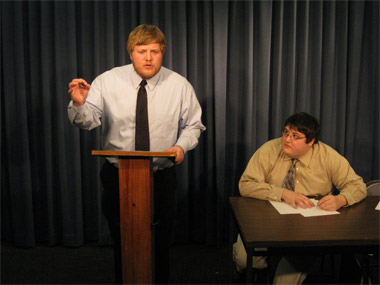 Debate duo in action - Adam Testerman takes the podium while Kevin
Calderwood takes notes and prepares. The two have several tournament
victories to their credit this season, including back-to-back wins in San Diego.
Photo provided Download Photo Here