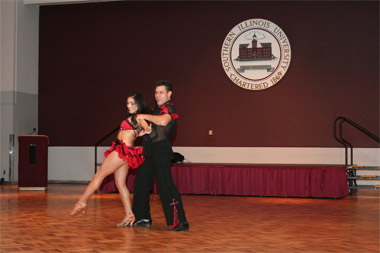 February 03, 2009
SIUC to host ESPN salsa world champions
CARBONDALE, Ill. -- Abel Pena Jr. and Zulmara Torres, three-time ESPN salsa world champions, are coming to the Southern Illinois University Carbondale Campus later this month for a pair of workshops and an interactive performance, all open to the public.
They'll lead a beginner level workshop from 10 a.m. until noon on Feb. 21 at the Student Recreation Center's Court 3. The cost to participate is $5 per person. Youth and adults will enjoy the class. An adult must accompany kids under age 16. Participants need to pre-register.
Experienced dancers can learn new intermediate level turn patterns and spin techniques, enhancing their salsa abilities at the advanced level workshop 2-4 p.m. that day in the Student Recreation Center Aerobics Room. The advanced level class has a limit of 28 participants. The cost is $20 per person and pre-registration is required.
Registration for both workshops is open to the public and the SIUC community. Sign up for either workshop by stopping by the recreation center administration office or calling 618/453-2511.
The three-time champs will illustrate their winning style during an interactive performance that evening from 6:30 to 8:30 at the Student Recreation Center. The evening features audience participation and a large group lesson, along with a high-energy demonstration by Pena and Torres.
Admission is $2 and the public is welcome. Tickets are available in advance, or at the door. Workshop participants get in free for the evening performance.
Recreational Sports and Services, the SIU Salsa Club and Student Development-Multicultural Programs and Services, in partnership with Carbondale Community Arts, Connect SI and Southern Illinois Healthcare are bringing Pena and Torres to SIUC. For more information about the workshops or the salsa performance or to register for the workshops, contact Sally Wright at 618/453-2511 or look online at www.reccenter.siu.edu.