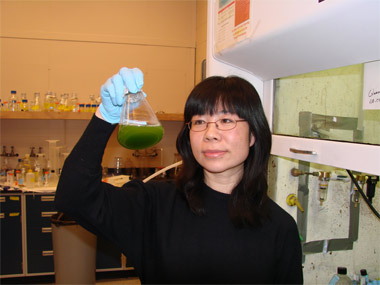 Green energy -- Yanna Liang, assistant professor in the Department of Civil and Environmental Engineering in the College of Engineering at Southern Illinois University Carbondale, examines a beaker with an algae sample in her laboratory. Liang is working on ways to improve and extract naturally occurring substances in certain algae strains that can be used to create biodiesel fuel. The substances in the algae -- lipids -- are similar to those occurring in corn or other plants used to make vegetable oil, which currently is a major ingredient in the biodiesel manufacturing process. (Photo by Tim Crosby) Download Photo Here
January 21, 2009
Researcher exploring energy potential of algae
CARBONDALE, Ill. -- You might think of algae as the plants that provide the greenish tint and murky smell in pond water. A researcher at Southern Illinois University Carbondale, however, sees a possible alternative energy source in the ubiquitous organism.
Yanna Liang, assistant professor in the Department of Civil and Environmental Engineering in the College of Engineering, is working on ways to improve and extract naturally occurring substances in certain algae strains that can be used to create biodiesel fuel. The substances in the algae -- lipids -- are similar to those occurring in corn or other plants used to make vegetable oil, which currently is a major ingredient in the biodiesel manufacturing process.
Using algae for this purpose potentially holds several distinct advantages, Liang said. First, algae can provide at least 30 times as much lipids per acre as corn, meaning less space can be devoted to this purpose. Also, using algae would reduce the competition for other oil seeds -- such as corn and soybeans -- that also are used for food. In many ways, cultivating algae also can be more environmentally friendly than industrial farming.
Her work combines several disciplines, including biology, chemistry and engineering. To unlock algae's energy potential, Liang will need a varied approach.
"It's very attractive in many ways, but it's still a ways off in making it a reality," Liang said.
Algae are extremely common photosynthetic plants that grow in water. The organism can take gigantic forms; such as towering sea kelp that form veritable underwater forests, or it can be a single-cell organism. The major U.S. algae collection includes almost 300,000 specimens.
Liang is looking at the best species and most efficient environments to grow lipid-bearing algae. She's also exploring the proteins and DNA from some of these organisms, hoping to find out why they behave like they do.
Liang started out researching algae's uptake of carbon dioxide, which it uses along with sunlight to grow. She noticed the algae converted the CO2 to lipids similar to vegetable oil and set about finding ways to encourage this phenomenon.
Of the huge number of algae types, Liang is focusing her research on two varieties that appear to have particular potential. One, Chlorella vulgaris, is a fresh-water alga that uses CO2 to grow and create lipids. As an autotrophic organism, it is relatively slow growing but produces cells with high lipid content.
The second strain -- Schizochytrium limacinum SR21 -- is a seawater alga that is heterotrophic, meaning it must be "fed" a carbon source in place of CO2. This particular strain can use glycerin, which is a byproduct -- often a waste product -- of biodiesel production. Liang sees a particular advantage in this, as the strain might be integrated into the production stream at some point, creating greater efficiency and less waste.
"In my mind this could be a more efficient and environmentally friendly approach," she said. "Crude glycerin has many impurities and can't be used, and it's not affordable for small or mid-sized biodiesel producers to refine it."
Depending on its species and its environment, algae grows at different rates and can produce 30 to 70 percent lipids per cell, she said. Another advantage: Schizochytrium limacinum SR21 grows fast and produces up to 50 percent lipids per cell. Even though this is less than other types, the fast growth rate means this type of alga can produce more lipids than slower-growing varieties.
"Some of my research is about finding the cheapest carbon source to feed algae and grow lipids for use in biodiesel," she said. "To move this to the real world, we have to consider the cost and the gain"
Liang's work also will help answer questions about how to best cultivate algae, such as in outdoor ponds or more expensive photobio reactors, which are large, expensive indoor facilities where researchers or producers can closely control variables such as nutrients, temperature and light. She also wants to examine harvesting techniques and how to "scale up" laboratory successes into industrial-level production.
The promise is there, but researchers need to answer important questions to bring algae's energy potential to reality.
"We have a lot of work ahead, but there could be a great benefit, both for energy and the environment," she said.