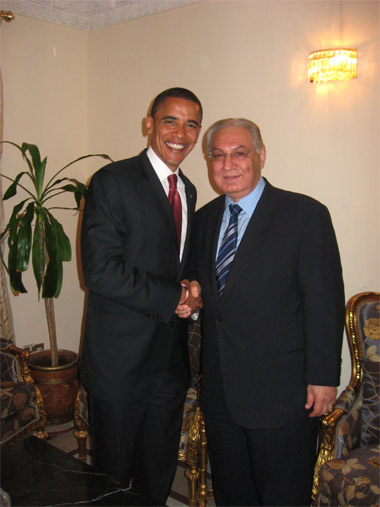 Former Saluki helps lead Iraq -- Zuhair A.G. Humadi, right, met with President-elect Barack Obama in July in Baghdad. Humadi, a senior adviser to Iraqi Vice President Adel Abdul Mahdi, earned a doctorate degree in political science from SIUC, and is executive director of the Iraq Education Initiative. Larry H. Dietz, SIUC's vice chancellor for student affairs, and John S. Jackson, a visiting professor at the Paul Simon Public Policy Institute, will attend ceremonies in Baghdad launching country's education initiative next week. The program will provide each year, for a period of five years, full scholarships for up to 10,000 Iraqi high school graduates to study in the United States, Canada, the United Kingdom, Australia, France and Germany. (Photo provided) Download Photo Here
January 16, 2009
SIUC may benefit from Iraq Education Initiative
CARBONDALE, Ill. -- Southern Illinois University Carbondale will participate in an historic event in Iraq next week as the country works to rebuild through higher education.
Larry H. Dietz, SIUC's vice chancellor for student affairs, and John S. Jackson, a visiting professor at the Paul Simon Public Policy Institute, will attend ceremonies in Baghdad launching the Iraq Education Initiative. Zuhair A.G. Humadi, who earned a doctorate from SIUC in political science in 1978, is a senior adviser to Iraqi Vice President Adel Abdul Mahdi and executive director of the Iraq Education Initiative.
Each year for a period of five years, the program will provide full scholarships for up to 10,000 Iraqi high school graduates to study in the United States, Canada, the United Kingdom, Australia, France and Germany. Published reports indicate the Iraqi government is considering using $1 billion a year from oil revenues for the project.
SIUC is one of about 20 universities from the United States, Europe, New Zealand and Australia that will participate in events Monday and Tuesday in Baghdad, and Thursday in Sulaymania.
Jackson, a friend of Humadi's since the mid-1970s, said it's "pretty clear" Humadi wanted his alma mater to be present at the Symposium on International Education. The symposium will allow university officials to meet with education officials, representatives of Iraqi universities and Iraqi students who wish to study abroad, according to a letter from Iraq Prime Minister Nuri k. Al-Maliki.
Jackson said it is "very significant" for the University to be present for the announcement. Humadi also taught some classes while finishing up his degree, Jackson said.
"Larry Dietz and I both hope that ultimately it will result in a significant flow of students from Iraq coming to the United States, and particularly coming to SIU to study," Jackson said, noting it will also increase the University's international student enrollment.
Jackson said he and Dietz will learn more details about the Iraqi education program and the timetable for implementation while there.
Al-Maliki and U.S. Ambassador to Iraq Ryan C. Crocker are among the keynote speakers at Monday's program in Baghdad.
"For many years, the system of higher education in Iraq was regarded as one of the finest in the Arab and Moslem worlds," Al-Maliki wrote to university representatives. "Students from many countries came to Iraq to attend our colleges and universities, however wars and sanctions have impaired the system of education in general and the system of higher education in particular. Iraq needs a strategic program that will transform its education system in order to make up the time lost in developing its human resources."
Jackson said that Iraq is rebuilding its higher education infrastructure not only by rebuilding its universities, but also by sending "a significant number of students oversees and require them to come back home and make a contribution."
Jackson said it is satisfying to see Humadi involved in the Iraqi government at such a high level. Humadi worked for many years for the Saudis in their embassy in Washington, D.C., and was one of the first ex-patriots to return home after the fall of Baghdad, Jackson said.
Records show Humadi earned bachelor's and master's degrees in government from SIUC in 1971 and 1974, respectively. While at SIUC, he was a graduate assistant from 1971 to 1976 in foreign language, government and political science.
Humadi returned to Iraq in 2004. In 2004-2005, he served as secretary general for the Council of Ministers, equivalent to the chief of staff for the U.S. president. He has served as senior adviser to the Iraqi vice president since 2005.
Pulitzer Prize finalist Trudy Rubin, a columnist with the Philadelphia Inquirer, wrote in June that the program not only focuses on students wanting to earn bachelor or doctoral degrees, but two-year technical degrees. Rubin wrote that the program, according to Humadi, "could surmount sectarian tensions. Candidates for study abroad would be picked from each province according to their grade levels, not by sect."
Matt Baughman, institute interim director, said SIUC and the Iraq Education Initiative fit together in several ways.
"This program is the mirror image of Paul Simon's study-abroad proposal for the United States and it's being coordinated in Iraq by an alumnus of SIU," Baughman said. "Drawing on SIU's rich history of educating international students, the University is well situated to take advantage of this special opportunity to bring Iraqi students to Carbondale. It will benefit them and their home country as well our students, faculty and community to have this kind of a cultural and educational exchange.
"It's also particularly special because the significant sacrifices the United States -- especially our military -- has given to create a brighter future for the Iraqis," Baughman said. "Hopefully SIU and the institute can play a meaningful role in fostering positive, long-term changes to Iraq's democracy by educating and befriending its young people."