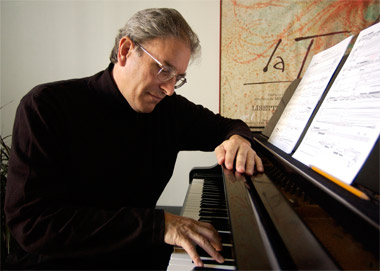 January 09, 2009
Television program to feature SIUC's Stemper
CARBONDALE, Ill. -- Frank Stemper, Composer in Residence at Southern Illinois University Carbondale, is the featured artist in an upcoming episode of the Chicago public television station WTTW-TV Channel 11 series, "Arts Across Illinois." The show airs locally on WSIU-TV Channel 8 at 9:30 p.m. on Jan. 18.
The Arts Across Illinois series theme this year is "A Journey of Musical Discovery." Host Phil Ponce introduces viewers to a sampling of the best classical, chorus and jazz music in Illinois, from Chicago to our own SIUC composer.
The episode featuring Stemper, "Sound Advice," focuses not just on Stemper as a composer, but also on his role as director of graduate studies in the School of Music. In that capacity, Stemper helps young musicians understand the risks of attempting a career in the music business even as they discover their own unique musical voices.
Stemper recently received his 20th ASCAPlus award from the American Society of Composers, Authors and Publishers. He also has awards from the National Endowment for the Arts, Artist Fellowships from the Illinois Arts Council, a grant from the Rockefeller Foundation, and past composer-in-residencies in France, Austria, Romania and Mexico, among others.