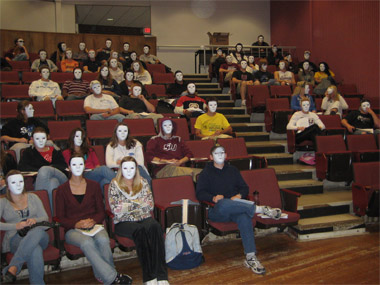 Blanks -- Southern Illinois University Carbondale architecture students donned the blank white masks as Associate Professor Peter Smith distributes them. They returned the following week with their decorated masks. Photo provided Download Photo Here
November 26, 2008
Project creates awareness for architecture class
CARBONDALE, Ill. -- It was an eerie sight. Dozens and dozens of stark, white, emotionless faces staring back at Peter Smith, associate professor of architecture at Southern Illinois University Carbondale. About 125 students in his design communication architecture class donned the plain white plastic masks as he dispersed them, creating a scene reminiscent of a Twilight Zone episode.
A week later, they returned to class and each mask was as different as the student designing it. Paint, perhaps in just one or two colors or in a myriad of hues, adorned some of the masks. Twigs, leaves, fabric, feathers, jewels, molding material, flowers and numerous other adornments festooned the masks. Smith suggested utilizing recycled materials when possible and some designers obviously complied. The final step was mounting each mask on a black 11-inch by 14-inch board.
"Architecture and design require an awareness of the environment and culture," Smith said. "We don't operate in a vacuum with the work we do. Increasing awareness of that is what this project was all about."
Before they started, Ron Naversen, SIUC theater professor, spoke to the group about mask making and the cultural influence of masks. He illustrated the discussion with about two-dozen masks from all over the world. The architecture students studied the cultural artifacts, conducted their own cultural research and then went about making their individualized masks.
All of the class members voted for the winning designs. Each winner earned a local bookstore gift certificate. A tree-like creation won the Most Bizarre category for Rasa Linkauskaite, a sophomore architectural studies major from Springfield. Her creation bears little resemblance to the plain white mask she started with.
Rick Stewart's design took honors for the strongest cultural influence. A freshman architectural studies major from Carbondale, Stewart's bronze fractured mask features rings and chains.
Elizabeth Shaw's multi-hued jigsaw puzzle mask won the "most architectural" award. Purple lips seem to jump out in the mask created by the junior interior design major from Shelbyville
The heavily bejeweled silver and blue mask crafted by Renee Possehl, a freshman interior design student from McHenry, was honored for the most creative use of the white base mask. A panel of faculty and visitors then cast their ballots for Best of Show and Possehl's design claimed that award. Possehl earned a larger gift certificate for her win along with a unique and fitting "bonus" prize -- a talking purple vampire head with blinking eyes.
"The masks displayed amazing creativity and such a range of ideas," Smith said. "All of the design ideas were based on the students' cultural research and they applied their ideas and research to the white base mask provided."
Smith said this is the third year he utilized this creative project and the group participating is the largest ever. He and those judging the competition found the masks quite diverse and extraordinary, he said. Visitors can view the masks on the first floor main hallway of Quigley Hall on the SIUC campus until Dec. 4.