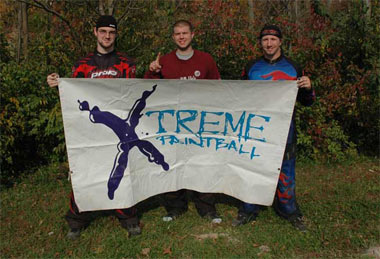 Winning paintball team -- Southern Illinois University Carbondale Paintball Club members Travis Zettler, Andrew Bryant and Steven Kovarik took first place recently at a beginner's paintball tournament held at the Xtreme Paintball Park in Millstadt. Zettler and Kovarik are from Sesser while Bryant is from Decatur. SIUC's Recreational Sports and Services offers about four dozen sport clubs. Photo provided Download Photo Here
November 17, 2008
Paintball club captures tournament title
CARBONDALE, Ill. -- It's kind of like playing capture the flag -- but with a twist. A sport club from Southern Illinois University Carbondale proved recently it has the right stuff for this 21st-century version of an age-old game by winning first place in a tournament-style paintball competition at Xtreme Paintball Park in Millstadt.
Winning the Three Man Beginners' Tournament were Travis Zettler, Andrew Bryant and Steven Kovarik, all members of the SIUC Paintball Club. Zettler, a senior information systems technology major, is the son of Rodney and Carolyn Zettler. Fellow Sesser native Kovarik, the son of Mike and Dawn Kovarik, is a sophomore aviation flight major. Bryant, a senior from Oreana majoring in physiology/psychology/pre-med, is the son of Dan and Karen Bryant.
You could only enter the beginner's tournament Nov. 2 if you had played in no more than one previous tournament, said Donnie Owsley, club president. In tournament play, participating teams get points for paintball hits on opposing players, for "staying alive" (figuratively speaking), for capturing the opposing team's flag and for hanging that flag. Through round-robin play, four teams emerged to advance to the finals where the round robin format remained in place. When play ended, the Saluki paintball shooters were the top Dawgs, landing a trophy for their great play, Owsley said.
Although the SIUC Paintball Club primarily plays tournament-style paintball, they also play some recreational paintball and they're always happy to introduce new players to the sport, Owsley said.
The SIUC Paintball Club, formed in November 2002, is just one of the many sport clubs the University's Recreational Sports and Services (RSS) offers, said Gary Tisdale, assistant director of publicity and marketing for RSS. There are currently 47 sporting clubs of all types for men and women of varying skill levels and interests. The clubs are all open to SIUC students.
For more information about the SIUC Paintball Club or any of the other club sports, look online at www.reccenter.siu.edu. Click on the sport clubs link on the left. You can check out the SIUC Paintball Club's Web site at www.siu.edu/%7epaintballclub.