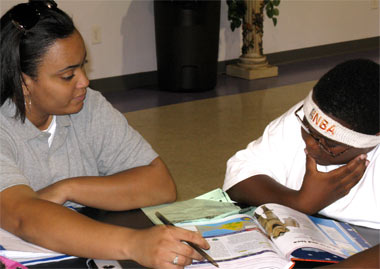 Studying on it -- Jordan D. Roseman, 11, a student at Lewis School, ponders as his tutor, Brittany K. Cawthon, a senior in political science at Southern Illinois University Carbondale, helps him review his assignment. Roseman and Cawthon participate in Project Y.E.S., which pairs University tutors with public school children in academic enrichment activities. (Photos by K.C. Jaehnig) Download Photo Here
October 16, 2008
College-community partnership gives kids a boost
CARBONDALE, Ill. -- She'd heard that kids in her community scoffed at school. They'd carry bookbags but not books. They'd do homework but wouldn't turn it in. So she decided to look at their schools' online "report cards."
"My heart sank when I saw the standardized test scores in reading and math," said Dollean York-Anderson, a three-degree graduate of Southern Illinois University Carbondale now retired from her alma mater.
Somebody should do something, she thought. That somebody turned out to be her.
York-Anderson runs Project Y.E.S., one of 25 federally funded demonstration programs operating in 16 states and the District of Columbia. All programs team universities with public schools, community groups and volunteers to help minority kids do better in school, make healthier life choices, take more pride in themselves and their origins and get some exposure to possible career paths. And each program does it a little differently.
In Carbondale, the project, housed at Hopewell Baptist Church, hones in on reading, math and basic computer knowledge through after-school tutoring provided by SIUC students. Mixed with cultural programming, conflict resolution instruction and wellness activities, it's topped off with healthy snacks and a hefty side of encouragement.
"I have learned that our children care (about succeeding) and their parents care -- they just need a little help and a lot of support," York-Anderson said.
"In working with them, we always say things like, 'You can do this. I believe in you.' It's not that they're not getting this anywhere else, but we make a point of giving it to them every day. With the parents, too, we try to say something positive about their child every day. No one wants to hear something negative every day -- it makes the parents feel like failures."
Most of the program's 30 kids, who are students at Lewis (elementary) School or Carbondale Middle School, enrolled in 2007.
"The project is designed to follow a cohort of third-, fourth- and fifth-graders over three years, though we don't have all the same ones we started with because of the district's high mobility rate," said Susanne C. Ashby, a research project specialist with SIUC's College of Education and Human Services. Ashby helped put together the grant proposal underwriting the project and serves as liaison between its board and staff and the U.S. Department of Health & Human Services' Office of Minority Health, the funding agency.
"We measure progress by looking at test scores as well as changes in behavior and teacher assessments, but that's not the whole story," she said.
"We want the kids to come out of this with a solid handle on what healthy behaviors are -- everything from nutrition to staying away from drugs -- and see them embracing those behaviors even if they have no one helping them make better choices."
The children selected for the program met certain criteria. They tended to come from single-parent families, were home alone between 3 and 6 p.m. (prime time for getting into trouble, according to the research literature), had low scores in math and reading and some behavioral problems, were recommended by teachers or counselors and had parents committed to the process.
"We have monthly support groups for the parents, and our staff contacts them each week," Ashby said. "We also speak with the parents each day when they pick up their kids."
Now in its third and final year, the project has six staff members (including York-Anderson who retired from her University job to run it), four consultants, 11 tutors and four teachers. Some of the early problems -- a permanent location, data collection snags, discipline -- are largely solved. Others -- tutor turnover ("They have the nerve to graduate!" York-Anderson said with mock indignation), the fit between the schedules of the public school system and the University -- remain.
Getting a number-crunching handle on progress also has proved thorny, in part because of the small number of kids involved, in part because the elementary and middle schools do not use the same grading scale or disciplinary reporting system.
Ashby and York-Anderson are confident in saying, however, that while most of the students aren't earning higher grades, most of their standardized test scores have gone up, and the number of detentions has gone down. In addition, the Y.E.S. kids are turning in homework more often. The students seem to feel better about themselves, are not as involved in risky behaviors, report fewer trips to the principal's office and say they're more interested in talking with their parents or other adults about what goes on at school.
"I'd like to have more quantitative results, but I think three years is too short a time to measure them," York-Anderson said.
"Still, every year we have to submit a continuation proposal (to obtain the next year's funding), and we've always gotten it!"
While funding for this project will end next year, Ashby and York-Anderson have located new money that will allow them to continue the work they've started with a broader focus.
"Race won't be an issue -- we'll be working with children of all races," York-Anderson said.
While the program has been free, in its new incarnation, families that can afford it will pay a fee.
"By opening it up that way, we can help more who can't afford to pay -- they can be subsidized," Ashby said.
"Although that fundamentally changes the overall intention, we can still meet the needs of the kids we wanted to help in the beginning."
Ashby said the thing she liked best about the project has been the way it shows that partnerships between her college and the community can be put together and sustained.
"We have the infrastructure in place, we've gotten the operational bugs out, and we have learned from our challenges," she said. "We can keep this going."