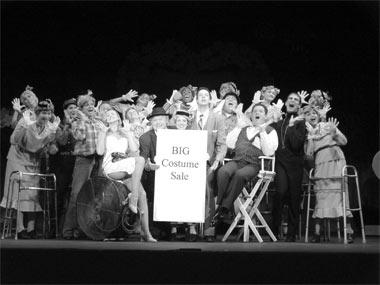 Big Costume Sale -- The cast of "The Producers," presented in 2008 by the McLeod Summer Playhouse, models some of the costumes available in the Big Pre-Halloween Costume Sale. Photo provided Download Photo Here
October 02, 2008
Theater department plans costume sale
CARBONDALE, Ill. -- The Department of Theater at Southern Illinois University Carbondale offers a sales rack of Halloween costumes unlikely to be duplicated anywhere.
The sale is from 8 a.m. to noon on Oct. 11 in the lobby of McLeod Theater in the Communications Building on campus. Yes, that is Homecoming Weekend -- so you'll be on campus already anyway, right?
The sale offers surplus stock from theater productions. This year, a super feature is 16 matching "old lady" outfits -- perfect for an athletic team or fraternity. Swing by and check it out -- you'll be assisting area arts with your purchase.
For information on upcoming productions at McLeod Theater, visit siu.edu/~mcleod.