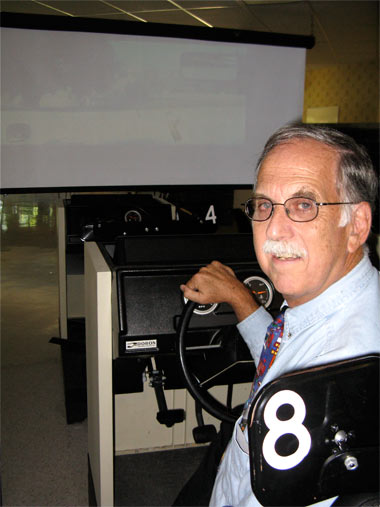 Big wheel -- Dale O. Ritzel demonstrates the use of driving simulators. Ritzel runs one of only two online driver education programs in the country through the Southern Illinois University Carbondale Department of Health Education and Recreation. (Photo by K.C. Jaehnig) Download Photo Here
September 24, 2008
Online program helps prepare driving instructors
CARBONDALE, Ill. -- These days, you can learn just about anything on the Web -- including how to teach other people to drive.
Dale O. Ritzel, longtime director of the Safety Center at Southern Illinois University Carbondale and now ostensibly "retired," runs just such a program for high school teachers and commercial driving school instructors through the University's Department of Health Education and Recreation. It's one of only two online driver education programs in the country.
"Other places may have a course or two, but for the on-street and driving simulation learning, you have to come to campus," Ritzel said.
"We don't do it like that. We have our students work with their local schools. This has allowed me to accommodate more students. I've had students from our military bases in Germany and Japan as well as people from other parts of the country. The four courses we offer in the program will meet the driver education requirements of most states."
The introductory, Web-based courses, HED 302s and 313s, cover such basics as traffic laws, driver performance, effective driving, car safety, injury prevention and safety in general. HED 442s and 443s, both with some online assignments, function as "labs," giving would-be driving instructors hands-on experience preparing and teaching classroom material, observing what Ritzel calls "master teachers" and getting their own instructional road time.
These lab classes play a crucial role in preparing new driving instructors.
"We can't expect people to get out of the driver's seat and into the passenger seat knowing how to teach that beginning driver," Ritzel said.
"For one thing, they have to learn how to control the car from the right. I always say, 'You have a left arm -- steer with the left!' And they can't talk too much. Beginners are concentrating so hard they don't hear real well. We're starting to use hand signals a lot now."
Between 20 and 30 students enroll in the two online courses offered each semester, Ritzel said.
"If they're willing to spend time in front of the computer, it's a good way to take a course in a relatively short time," he noted
"I have had students finish the introductory course in five to six weeks, and almost without exception, these were people with full-time jobs."
For more information on these courses, visit www.siu.edu/~ritzel/courses.