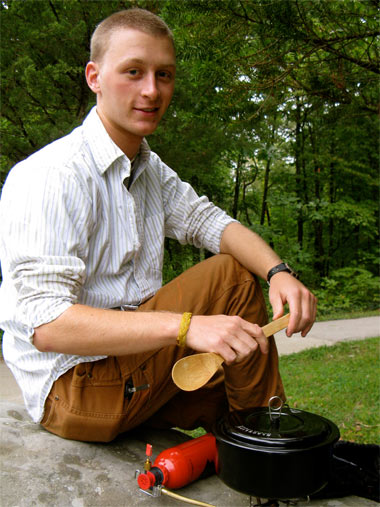 Now he's cookin'! -- Joshua P. Sheehan, a senior in recreation at Southern Illinois University Carbondale, demonstrates the latest in camp stove technology. A Crystal Lake native, Sheehan competed with students in some 90 accredited recreation programs across the country for the Armed Forces Recreation Society's annual Joseph E. Durkin scholarship. He will travel to Baltimore next month to receive the $500 award. (Photo by K.C. Jaehnig) Download Photo Here
September 19, 2008
Sheehan captures prestigious scholarship
CARBONDALE, Ill. -- Joshua P. Sheehan, a senior majoring in recreation at Southern Illinois University Carbondale, has won a $500 scholarship from the National Recreation and Park Association, to be presented in early October in Baltimore, Md., at the group's annual meeting.
Issued by the Armed Forces Recreation Society, a branch of the national association, the scholarship honors the late Joseph E. Durkin, a recreation specialist for the Coast Guard, who died in 2000. Nominees come from some 90 accredited U.S. recreation programs, with a single, annual winner selected based on grade-point average, leadership in campus organizations and professional activities, and membership in professional groups.
"This is the first time an SIUC student has received this award," said associate professor Regina B. Glover, who nominated Sheehan. "It's a great way to start the fall semester."
Sheehan, who grew up in Crystal Lake, has a cumulative 3.9 GPA and a perfect 4.0 in his major. A member of Alpha Lambda Delta national honor society, he has received two dean's scholarships as well as the 2008 William H. Freeburg academic achievement award, given by his department.
In January, Sheehan won election as vice president of the University's Student Recreation Society and this semester serves as editor of the group's newsletter. He has participated in SIUC's Leadership Council, which offers civic, leadership, educational and social programs to a select number of first-year students, and has served as a Saluki Ambassador, introducing visitors and prospective students to campus.
As a volunteer, Sheehan has worked with novice riders in a therapeutic horse riding program, with athletes in Special Olympics, in a campaign to beautify the region and with both the U.S. National Forest Service and the U.S. Fish and Wildlife Service in maintaining and building trails.
His student memberships include the American Camp Association, the Association of Outdoor Recreation and Education, the Illinois Parks and Recreation Association, the National Recreation and Park Association and the Wilderness Education Association.