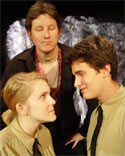 September 17, 2008
Theater season opens with Shakespeare
CARBONDALE, Ill. -- The Southern Illinois University Carbondale theater department takes on Shakespeare to kick off the 2008-2009 theater season with "A Midsummer Night's Dream."

The play runs Oct. 2-5, with performances at 7:30 p.m. Sunday's performance is a matinee at 2 p.m. Tickets are $15 for general admission, $12 for seniors and $6 for students and children.

On the surface a comical farce about love and mistaken identities, spiced up with the presence of mischief-making fairies with their own agendas -- and a love potion -- the play poses questions of familial obligation and the true nature of love. Director David S. Schneider, a graduate student from Lancaster, Pa., brings to the stage his vision of a fascist Athens and punk fairies in a sometimes dark comedy about finding "hope, meaning and love."

The play features Laura Colin (Homewood) as Hermia, whose heart belongs to Lysander, played by Jonathan Hughes (Carbondale). The two flee Athens to avoid Hermia's forced marriage with Demetrius, played by Michael C. Kelly (St. Peters, Mo.). Danna Pantzke (Little Falls, Minn.) is Helena, Hermia's less-than-helpful friend, whose heart burns for Demetrius.

Graduate student Robert W. Riddle (Park Ridge) is Oberon, the manipulative king of the fairies and Aaron Clark (Marion) is the prankster Puck, whose antics cause even more trouble than intended. Rachel Frank is Queen of Fairies, Titania, and she has love problems of her own, thanks to Puck.

Recent graduate Bobbie Bonebrake (Oakland) designed the sets and Michael Frohling (Makanda) does the lighting. Costumes are by Adrianne Howard (Canton, N.C.).

This production is suitable for a family audience. Tickets are available at the McLeod Theater box office, which is open noon to 5:30 p.m. on Monday through Friday, and one hour before each performance. Special pricing for a four-show subscription series is available for $48, or $24 for children and students. Call 618/453-3001 for more information.