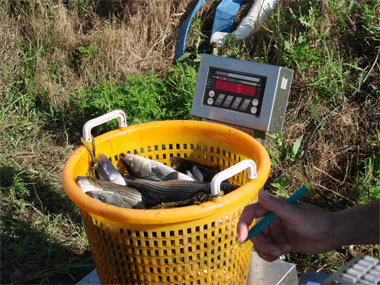 Successful harvest -- A basket of freshly harvested hybrid striped bass sit on a scale at the Pinckneyville home of Bill and Nancy Timpner, a grain farming family who began raising fish in the strip mine pond on their property around 2000. The fish were part of a 2,000-pound order bound for Toronto. Southern Illinois University Carbondale fisheries experts assist the family in raising and marketing their product. (Photo by Pete Rosenbery) Download Photo Here
August 27, 2008
Fish farmers benefit from specialist's expertise
CARBONDALE, Ill. -- Paul Hitchens plumbed the fish cage with his long-handled net and promptly withdrew 35 pounds of wiggling, shining fish, the product of a local grower's 14 months of patient feeding and care.
"These are really healthy looking fish," said Hitchens, an aquaculture specialist with the Fisheries & Illinois Aquaculture Center at Southern Illinois University Carbondale. "This is exactly what our buyer is looking for."
Hitchens loaded scoop after scoop of fish into the waiting baskets of the young men assembled for the hour's worth of hard work. The volunteers -- friends of the grower's -- dutifully carried each basket to a nearby scale, where it was weighed and assessed, before lifting their loads up to a truck driver, who spilled them into his tanks.
It's a familiar task for Hitchens, who travels the state providing technical assistance and advice to its fledgling fish farmers. His job is to help make the growers successful, and he does so by not only helping them plan and monitor their harvests, but also finding markets in which to sell their fish. His efforts are just one of the many ways SIUC serves the community.
"We're helping fish farmers develop and market their fish," said James E. Garvey, interim director of the center. "Paul has an amazing job, and he's on call basically 24 hours a day. He provides expertise and is extremely knowledgeable about aquaculture."
Hitchens serves a client list of 275 growers, each of who pay a small annual fee to subscribe to the service. Garvey said Hitchens is the only person in the state (his position is funded by state grant money) to provide such services. He's also the only person in the state certified to test fish for VHS, a deadly disease affecting the fish in the Great Lakes that state officials are keen to avoid spreading.
The center also recently won a $175,000 grant from the U.S. agriculture department to conduct a VHS survey. Hitchens, along with Assistant Professor Gregory W. Whitledge and Assistant Scientist Jesse T. Trushenski will work on that project, too.
A recent July morning found Hitchens at the Pinckneyville home of Bill and Nancy Timpner, a grain farming family who began raising fish in the strip mine pond on their property around 2000.
The Timpners specialize in cage-raising hybrid striped bass, a medium to large dinner fish sold in ethnic markets throughout the Midwest and Canada. The fish is a combination of striped sea bass, which gives its large size and fast rate of growth, and white bass, which adds its fresh water characteristics.
A schooling fish by nature, striped bass are excellent choices for cage raising, which involves raising the fish from fingerling sizes just a few inches long to harvest weights of about 1.5 pounds. Timpner accomplishes this by raising up to 2,000 fish in submerged cages 12 feet by 6 feet wide and 6 feet deep. He floats the cages along an array of gangways anchored in the strip mine lake on his family's long-time farm.
Timpner got into the fish growing market as a means of diversifying his crops, which include corns, beans and wheat. Starting with catfish, the family soon switched to the hybrid striped bass when it became clear the fish was a favorite of the live fish markets around the country.
"The truth is, we can't keep up with demand," said Hitchens, who helps local growers sell their fish into these specialty markets. "And Illinois fish -- especially the cage-raised striped bass -- have a really good reputation among the buyers. We have a very healthy fish and they can't get enough of them."
On this day, the buyer on hand is from Toronto, and after loading 2,000 pounds of the Timpner's stripers, he will drive straight through to the Canadian city, where the fish will be sold live in an Asian market there only 48 hours later.
Entering the fish market has been a learning process marked by success and defeats, Bill Timpner said. "But we couldn't do it without Paul," he said. "He's been there to help us all along."
It takes Timpner about 15 months to raise a cage of 2-inch fingerlings to market size, which includes the cold winter months when fish eat little and grow little. To better manage his cash flow, he staggers the ages of the fish in various cages, ensuring at least some are ready to go to market on a more or less regular basis.
"Our industry here in Illinois has really evolved into the live market," said Hitchens, who helped growers move about $1.6 million in fish last year. Buyers move fish to live markets in Chicago, St. Louis, Atlanta and New York, he said, as well as Toronto.
Hybrid striped bass are bringing about $3.10 per pound right now, Hitchens said, far better than the 80 cents per pound catfish are commanding, but not as good as the $5.50 per pound that pond-raised large mouth bass are bringing.
"This is a funny business and you have pay to learn," Timpner said. "But when everything's going right, this pays better than anything."