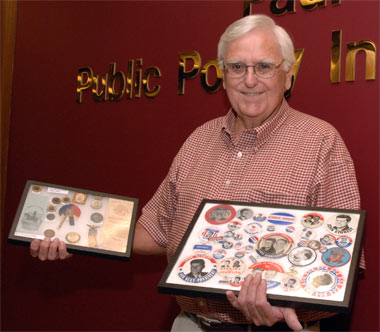 History in his hands -- Southern Illinois University Carbondale alumnus Jerome M. "Jerry" Mileur holds a small portion of the political memorabilia he recently donated to SIUC's Paul Simon Public Policy Institute. An exhibit featuring Mileur's donations is open at the University Museum. (Photo by Russell Bailey) Download Photo Here
August 22, 2008
Exhibit reflects Mileur's passion for politics, SIUC
CARBONDALE, Ill. -- A significant political memorabilia collection covering presidential elections and politics from Andrew Jackson to George W. Bush is on display at Southern Illinois University Carbondale's University Museum -- thanks to alumnus Jerome M. "Jerry" Mileur.
Mileur donated his collection to the Paul Simon Public Policy Institute. The exhibit, "Winners & Losers: The Presidential Campaign Memorabilia of Jerome M. Mileur," features close to 1,500 objects, including historic buttons and ribbons, 135 framed works from political cartoons to posters, and other items, according to Dona R. Bachman, museum director.
Mileur, originally from Murphysboro, is a professor emeritus in political science at the University of Massachusetts-Amherst, retiring in 2004 after a 37-year teaching career there. He earned his bachelor's degree in speech communication in 1955, and doctorate in government in 1971, both from SIUC.
The exhibit opened earlier this week and runs through Nov. 4. Mileur, who lives in Hadley, Mass., adjacent to Amherst, hoped the collection could find a good home at SIUC "because it has been such a good home-away-from-home for me, both as a student and since."
"I'm very pleased, indeed grateful, that the Simon Institute and SIUC museum have accepted the collection and, I'm confident, will make good use of it," he said.
A reception honoring Mileur and featuring the exhibit is set for 4 to 7 p.m., Thursday, Oct. 9, at the museum. Mileur will be present to deliver brief remarks about the collection.
"This wonderful gift -- from one of the finest people I know -- reflects Jerry Mileur's great passion for politics and his love for this University," institute Director Mike Lawrence said. "The institute is honored and thrilled to play a role in bringing the collection to this community."
Mileur's collection began the way many others do, innocuously with basically two buttons. One was a 1936 Franklin D. Roosevelt campaign button that his grandfather, who was very active in Democratic politics, gave him as a child. Another was a "Students for Stevenson" button he received during former U.S. Sen. Adlai Stevenson's first presidential bid in 1952.
The collecting pace quickened after Mileur joined the UMass-Amherst faculty as a government instructor in 1967. He used pieces in the collection as teaching tools for his political science classes.
Mileur utilized a variety of methods in expanding his collection through the years. He obtained some items from antique shows, dealers and mail order auctions, as well as from friends who knew of his collection. The better items came from dealers whom Mileur knew he could trust in terms of both quality and price.
"I may have gotten a small bargain here and there, but I also probably overpaid a bit here and there," he said. "Collectors and antique dealers know what they are doing, and there's a whole underworld of newspapers and magazines (as well as an organization) for memorabilia collectors."
One organization Mileur became aware of in his search for additional memorabilia is the American Political Items Collectors association, a non-profit membership organization that promotes collecting, preserving and studying materials relating to political campaigns and the U.S. presidency, according to its Web site. The organization has more than 2,000 members, including former presidents Jimmy Carter and Bill Clinton. Mileur said he found members and dealers who enabled him to expand his collection.
The political buttons and ribbons date back to Andrew Jackson in 1832, the first campaign in which buttons appeared. The collection also includes third-party candidate memorabilia, from former President Theodore Roosevelt's Progressive Party run in 1912, to George Wallace in 1968 and 1972, John Anderson in 1980, and Ross Perot in 1992.
Mileur said he is fond of the Tammany Hall collection because he taught courses on political parties. Mileur, who owned the Harrisburg, Pa., Senators Class AA-baseball team for 13 years, said he also likes the few items that combined baseball images or slogans with politics. He also likes all the Gen. John A. Logan pieces because like Mileur, Logan was from Murphysboro, and those of Abraham Lincoln and Adlai Stevenson, Sr., because they are from Illinois. Of political buttons, those from the early 20th century are his favorites "because they were the most colorful and artistic," he said.
The exhibit offers viewers a chance to reflect on the nation's political past, Mileur said.
"I would hope they would be reminded that we really do have popular politics in America, and that there was a time when voters were proud to display their party favorites," he said. "I most like them to realize that political parties are critical to democratic politics, even now in an age when buttons are not so lavishly distributed."
Mileur explained that political parties "have always taken advantage of the latest technology -- whether it was learning to print on metal, using the automobile, radio, airplanes, or the Internet."
"The problem with today's technologies may not be that voters lose a connection with a candidate, but that they put far too much emphasis on the candidate and not the party -- as if a solitary individual can reform health care, stop a war, or reform taxes," he said. "It is, after all, much easier to photograph a candidate than it is a political party."
Former U.S. senator and institute founder Paul Simon ran for the Democratic Party nomination for president in 1988. His book, "Winners and Losers: The 1988 Race for the Presidency -- One Candidate's Perspective," chronicles his thoughts on that effort. Simon and another former U.S. senator from Illinois, Paul Douglas, are the two politicians Mileur admires most.
Simon and Douglas were "men of intelligence, compassion and commitment to those who do not share the benefits many of us take for granted," Mileur said. In 1995, Mileur established the Morton-Kenney Public Affairs Lecture, a series that brings speakers to campus in the spring and fall of each year. He established the series in honor of two of his political science professors -- Ward Morton and David Kenney -- who inspired him as a student.
Mileur is a member of the institute's board of counselors. Matt Baughman, assistant director of the institute, worked with Mileur in crafting the agreement that brought the collection to SIUC. He traveled to Massachusetts to meet with Mileur and oversaw the collection's loading and delivery to SIUC.
The collection "represents a remarkable look at presidential history and my hope is that we are able to preserve and showcase it in a way that generates interest among young people in the democratic process," Baughman said.
"I also hope we are able to add to the collection by acquiring specific items to complement an already outstanding exhibit of American politics," Baughman said. "This should really be a living collection that grows with additions from past, current and future candidates."
University Museum is responsible for archival housing the collection, and will be purchasing acid-free boxes and other archival materials for storing the collection, Bachman said. The museum staff is looking forward to working with the public policy institute to make the exhibit available to others, particularly as an online exhibit in the future, she said.
In addition to the initial exhibit, the collection holds promise for "other, focused exhibits in the future," Bachman said. The museum will feature the Abraham Lincoln materials in a spring semester 2009 exhibit celebrating the bicentennial of Lincoln's birth, she said.
University Museum's fall hours are 10 a.m. to 4 p.m., Tuesday through Friday, 1-4 p.m., Saturday and Sunday. Museum hours will be extended from 10 a.m. to 4 p.m., Saturday, Oct. 11, which is Homecoming Weekend. The museum is closed during University breaks and holidays. Admission is free.
For more information, contact the museum at 618/453-5388 or visit www.museum.siu.edu, and the Paul Simon Public Policy Institute at 618/453-4009 or visit www.paulsimoninstitute.siuc.edu.
(Bonnie Marx, a writer with the SIU Alumni Association's Alumni Communications Office, contributed to this news release.)