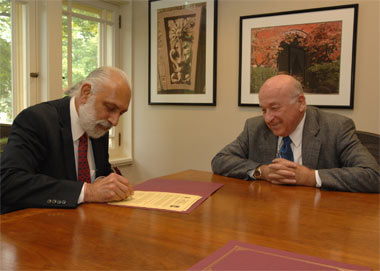 August 21, 2008
International agreement benefits students, faculty
CARBONDALE, Ill. -- Southern Illinois University Carbondale and Mudra Institute of Communications Ahmedabad today (Aug. 21) signed an agreement that provides opportunities for students and enhances faculty research projects and interests.
Interim Chancellor Samuel Goldman and MICA Director, Professor Atul Tandan, signed the five-year Memorandum of Understanding. Also present for the ceremony were: Gary P. Kolb, dean of SIUC's College of Mass Communication and Media Arts; Christine L. Svec, associate director of SIUC's International Programs and Services; and Linda Conway Correll, an assistant professor in SIUC's School of Journalism.
"We know that the reality of the 21st century is what we all refer to as the global economy," Goldman said. "That means we must continually explore international linkages that will help prepare our students for the world that awaits them after graduation. Formalizing a relationship with a leading communications institute in India creates wonderful opportunities for students and faculty from both institutions to participate in this global economy."
Each institution benefits from the agreement, Tandan said. It's important to recognize the United States is the world's largest economy. In addition, the nation's education system offers well-developed management education and communication disciplines, he said.
"More importantly, it's extremely research driven, which adds to creation of knowledge," he said. "That is very important going forward.
"There are clearly benefits that we will derive with leading educational institutes in the United States, and SIU is certainly one such university within the communications domain," Tandan said.
SIUC has 140 linkage agreements with universities in 52 countries.
"We are very excited to be entering into this Memorandum of Understanding with MICA," Kolb said. "We see benefits in the future for our students and faculty as well as for students from MICA. We will be exploring a variety of exchange and cooperative opportunities as our relationship develops. We are most grateful to Professor Tandan for traveling to SIUC to formally inaugurate this venture and we look forward to a strong relationship with MICA."
Since its inception in 1991, MICA has become one of the most sought-after graduate-level communications management schools in India.
According to the Memorandum of Understanding, the agreement is a strong fit with the Advertising/Integrated Marketing Communication specialization within SIUC's College of Mass Communication and Media Arts.
With 50 percent of India's population 25 years old and younger, a myriad of future opportunities exists "for extremely educated young people who want to integrate themselves with the international community," Tandan said. Both nations share common aspects that form a strong synergy -- freedom of speech, democratic forms of government, respect for cultural diversity, and English as a common language in education, he said.
This is MICA's fourth agreement with an American university -- the others are with Florida State University, University of Texas Pan-American and the University of Florida. In all, the institution has international collaborations with 17 universities worldwide, including London College of Communication, ESCEM School of Business and Management in France, University of Regina in Canada, and Griffith University in Australia. Tandan met earlier this week with officials at Southern Methodist University's Temerlin Advertising Institute, where a similar agreement is "under active discussions and we are more than certain it will occur," he said.
Correll, who came to SIUC last fall, started working on a similar agreement with MICA while at the University of Florida. She has taught at MICA the past five summers and was anxious for an agreement to be in place here.
"One of the opportunities that this collaboration advances is the opportunity for SIUC advertising students to obtain an international perspective on the field," she said.
"It seems to me that any students graduating now will, during their working lives, need to have international interaction," she said. "The opportunity to be immersed in a creative environment with the head of MICA's crafting creative communications program in September will strengthen their graphic approaches used in resolving advertising problems. I'm really excited about this opportunity."
The college and MICA previously worked together on other projects.
In fall 2007, SIUC Journalism 303 students collaborated with MICA graduate students in a second-year marketing course. The two institutions worked together via email and teleconferencing to produce successful advertising campaigns for Indian corporations. The agreement will also include student exchanges.
The journalism students participated in a marketing and branding strategies class that "incorporated a truly international perspective." They worked cooperatively with others halfway around the world, "just as they will be doing when they graduate into that 'real' global community out there," Svec said.
The agreement also provides for faculty exchanges. The first occurs next month when Subhash Tendle, head of the Crafting Creative Communications program, spends a month at SIUC working with advertising majors on developing their graphic design and design software skills. Correll visits MICA's campus for one month in October to teach Creative Aerobics to the Crafting Creative Communication students.
The linkage also includes opportunities for SIUC's Global Media Research Center and MICA's Centre for Research in Media. The two centers are working on a project dealing with analyzing the types of Indians shown in out-of-the-home media and their relationship to the product advertised.
A pivotal advantage with today's digital technology is it allows for a "seamless communication environment," Tandan said. Video-conferencing and online communications provide the possibility for continuous education programs and continuous dialogue that extend beyond short-duration exchanges, he said.
There are also other potential areas of cooperation for other MCMA departments through courses in broadcast management and media management. Tandan said SIU visiting faculty might wish to submit research grants to MICA's sister institute -- Mudra Institute of Communications Research, known as MICORE, also in Ahmedabad, launched in 2007.
Once linkage agreements are established, there are opportunities for students and staff from other units on SIUC's campus to benefit, as well. Svec said she sees possible future benefits to the College of Business, especially in marketing, with this agreement.