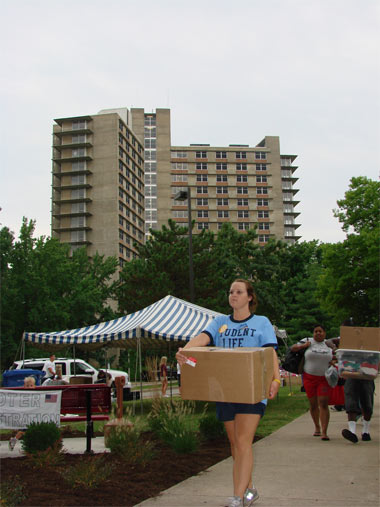 Movin' in -- Caitlin Hines, a senior from Columbia and a student life adviser at Southern Illinois University Carbondale, helps move new students in at Mae Smith Hall on Friday (Aug. 15). Hines, an elementary education major, was one of hundreds of volunteers from the ranks of students, faculty and staff at SIUC who helped move students into their new homes in preparation for the fall 2008 semester. (Photo by Tim Crosby) Download Photo Here
August 18, 2008
Volunteers help new students get settled
CARBONDALE, Ill. -- When the box tumbled from a parent's grasp to the ground in front of Mae Smith Hall during move-in day, Brian Freeburg was on the job instantly, providing both assistance and humor.
"Don't worry," the aviation administration graduate student quipped as he scooped up the box and its contents. "It's just textbooks."
Hundreds of such volunteers from across the Southern Illinois University Carbondale campus fanned out Friday (Aug. 15) to help students move into residence halls in preparation for the fall 2008 semester. Volunteers included student life advisers, such as Freeburg, as well as residence assistants, fraternity and sorority members, University faculty and staff.
Together, they helped some 4,000 students and their families set up their living arrangements on campus, carrying boxes, electronics, beds, furniture, books and other assorted items students deemed essential to everyday life.
For Freeburg, of O'Fallon, helping new students settle in is a rewarding experience.
"This is all strictly volunteer and we help them move in and give tours and take them to the welcome events," said Freeburg, 24. "We're kind of the first people the new students meet when they get to campus, and we try to make them feel welcome and comfortable as soon as possible."
Caitlin Hines, a senior from Columbia and another SLA, echoed those sentiments.
"Nobody likes moving and a lot of families are very grateful for the help," said Hines, 21, an elementary education major. "We are the liaisons between the new students and their families and the University and we are here to help them make the transition."
For Hines, Freeburg and many others, that transition included working nearly two full days near the residence hall towers on the east side of the SIUC campus. They and dozens like them beat a constant path between the courtyard, where students staged their belongings, and the elevators in Mae Smith Hall's lobby.
This year was Freeburg's second as a volunteer mover, and he's seen some interesting items brought in by students.
"I've seen quite a few Lay-Z-Boy recliners, some huge flat-screen TVs and one guy even tried to bring a king-size bed in once," Freeburg recalled. He wasn't successful, however.
There are other challenges, as well.
"The worst items are the big awkward ones that might take three people to move," he said. "The weather can also affect everything."
Friday's weather, however, was mostly cooperative, with moderate temperatures punctuated only by the occasional sprinkle. When those popped up, volunteers scrambled to help families move their items to the shelter of a large tent in the courtyard.
Jerad Romine, a resident assistant and sophomore from Bloomington, helped maintain order with his bullhorn, calling out the numbers assigned to students one at a time, signaling their turn to move in.
"Actually, this has been fairly organized today," said Romine, a criminal justice major who participates in the Army ROTC program at SIUC. He said volunteers at Mae Smith Hall coordinated about 230 move-ins on Thursday and expected to assist about 400 Friday.
Beth Scally, associate director of education and outreach at University Housing, said volunteer movers also included Saluki Peer Mentors, SIUC football players and community members, including The Vine and Lakeland Baptist Church.
"The volunteers grow every year," Scally said. "We have community members who call and ask if they can come and help. The Vine called and asked to help; Lakeland Baptist Church wanted to give out water. People just want the students to feel welcome and know they are welcome in the community as well as the University."
Andy Morgan, coordinator of student development and adviser for SIUC's fraternities and sororities, said more than 200 Greek volunteers from the 26 different fraternities and sororities assisted students between Thursday and Friday, with some working both days.
"It's been a very comfortable pace, plus the nice weather helps," he said. "It's a great way to help the University. The students want to do it. You don't have to ask. You tell them when, and they show up."
Without the volunteers, moving day would be a much more difficult venture, Scally said.
"It would not be as efficient and I don't think people would feel as welcomed or know that we truly exhibit Southern hospitality," she said. "I really do appreciate it because I've had many students come up and tell me how welcome they feel. They have been nervous but they feel welcome when they have fellow students or the peer mentors helping them move in. They have someone their own age; another college student to relate to."
One of those families included Jeanette McWalter, of suburban Chicago, who was helping her 18-year-old daughter, Lindsay, a freshman, move in. She described the busy scene as "pretty organized" with a "friendly atmosphere," which helped comfort her as she prepared to leave her youngest child at SIUC.
"I'm having more trouble with her going away as the last one, but she's excited," McWalter said. "It was supposed to be a three-hour radius of choosing your school so she pushed us to the limits and it's five hours. She loved the campus, the atmosphere and the wooded scenery. She's our sweet little rebel."
Ryan McMurtry, an 18-year-old freshman from North Chicago, arrived with her aunts and uncles to help her move in. The family left home at 3 a.m., arriving in Carbondale just after 8 a.m. and then waited for her move-in time of 9:30.
McMurtry, who plans to study nutrition, said she was a bit overwhelmed but very excited to start her first semester at SIUC.
"It's still close to home, but far enough away," she said.
McMurtry's aunt, JoAnn Carpenter, of Wadsworth, said she's proud of her niece. A nephew, Ryan's cousin, Lawrence L. Wade, is a third-year student in the SIU School of Law. That also played a factor in her decision to come to SIUC, she said.