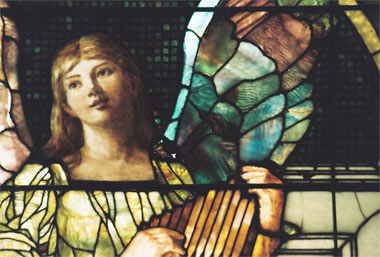 Praise Angel -- Peter Smith captured this photograph of the 1890 Tiffany Praise Angel at the Reid Library at Lewis and Clark College in Bethalto. The window is located in a space originally used as a chapel. Theodore Link designed this building as he did Union Station in St. Louis. Workers constructed the intricate wooden ceiling using wooden pegs rather than nails and it resembles a ship's hull. Photo provided Download Photo Here
July 30, 2008
Faculty member's photos on display in Springfield
CARBONDALE, Ill. -- The Tiffany stained glass angel windows depict heaven in a view oft' formerly reserved for the dead. Now, Peter B. Smith, associate architecture professor at Southern Illinois University Carbondale, has brought the angels to a forum where we all can see them.
Smith's one-man show, "Tiffany's Angelic Harmonies," features photographs of one-of-a-kind masterpieces from private mausoleums and historic churches. The photo show opened recently at the Museum of Funeral Customs in Springfield and runs until December. The museum is located at 1440 Monument Ave., alongside the entrance of Oak Ridge Cemetery, final resting place of Abraham Lincoln.
A seven-foot tall angel statue guards over the display comprised of six large 20-inch by 30- inch images. Backlighting assures that each of the photos, framed and matted on transparent paper, glows just as envisioned by Louis Comfort Tiffany decades ago. The original stained glass windows feature folded glass, at times nearly an inch thick, creating a unique sense of dimension, light and drama. If viewers of Smith's show experience even a shimmer of that effect, Smith will have achieved his goal.
For Smith, architecture, the arts and photography mesh as all weave together various elements including creativity, personal expression, design and visualization. A self-taught photographer, Smith is fascinated with the icons and memorials found within churches and cemeteries as well as by the unique style and workmanship of the Tiffany windows, some worth millions of dollars.
"I spend a lot of time in private mausoleums and cemeteries, sometimes in places where I had to get special permission for access," Smith said. "The technique used in creating these windows is remarkable. From thousands of images I picked the six for the show. The star of the show is the angel from a window made in 1896. The angel is quite the character."
Smith, of St. Louis, earned his master's in architecture and his bachelor's in architectural studies at the University of Illinois at Urbana-Champaign. In addition to being a tenured faculty member at SIUC, Smith, a licensed architect, teaches at Washington University and owns the St. Louis architectural firm Peter B. Smith and Associates. A native of Muscatine, Iowa, he has won international, national and regional awards for his photography. He's a registered interior designer and licensed architect.
Smith sees no incongruity between artistry, photography and the exactness of architecture. Rather, he said it's all about creating impressions, memories and memorials in one form and fashion or another.
The Springfield museum, found online at www.funeralmuseum.org, is open 10 a.m. until 4 pm. Tuesday through Saturday and 1 to 4 p.m. Sunday.
Funding from SIUC was instrumental in Smith's development of the special angelic photo display. In 2003, Smith exhibited dozens of photographic images he snapped at memorials and cemeteries across the country at the University Museum. The show now in Springfield has been in the works for nearly two years and he hopes to bring it back to Southern Illinois at some time, after its extended run in Springfield is complete.