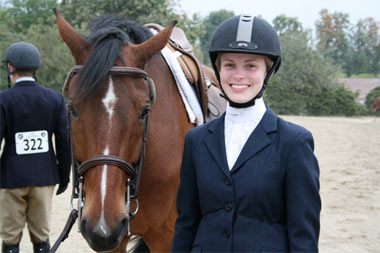 Horse power -- Allison L. Cornman, a member of the Southern Illinois University Carbondale equestrian team, gets acquainted with Jax, the horse assigned to her during a national riding competition held by the Intercollegiate Horse Show Association in Los Angeles. Cornman is the daughter of Bloomingdale residents Nick and Jill Muschong. Download Photo Here
June 04, 2008
Student equestrian competes at national level
CARBONDALE, Ill. -- While she didn't win or even place, Allison L. Cornman says the chance to saddle up for a national riding competition was "the opportunity of a lifetime."
"I'm proud that I got there in my first year of intercollegiate competition," said Cornman, a Southern Illinois University Carbondale junior from Bloomingdale who has been riding since she was 4. "It was a great experience -- and the horses were gorgeous!"
Cornman qualified for the Intercollegiate Horse Show Association's national championship show, held at the Los Angeles Equestrian Center last month, with high scores in both its regional and zoned competitions.
The association, founded in 1967 to promote competitive riding for college students of all skill levels, requires contestants to ride horses provided by the schools hosting the events.
"You draw a horse out of a hat -- that's the challenge of it," Cornman said.
"That's because it's the person, not the horse, being judged -- your form and how well you handle your horse. The only time you see your horse is when you watch them all warm up in the ring before the show starts. You take notes on each individual horse because you don't know who your draw is until minutes before mounting, and a handler holds your horse before you go into the ring."
Cornman drew Jax, a 15-hand warmblood, a type of sport horse bred particularly for equestrian events. He was "really, really tired" when her turn came around, and although she has been riding competitively for more than a decade, she was unable to get his best from him.
Still, with another year to go as a plant and soil science major in SIUC's College of Agricultural Sciences, she knows there's always next year.
Stephanie A. Speiser advises the equestrian team. Check it out on the Web at http://www.siuc.edu/~equestrianteam/.
Cornman is the daughter of Bloomingdale residents Nick and Jill Muschong.