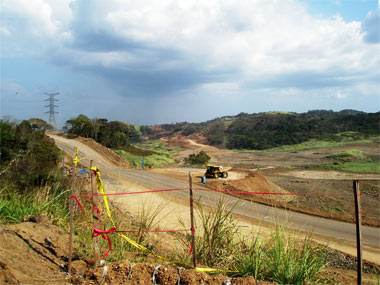 Big dig -- Earth-moving equipment at the site of Panama's ongoing canal expansion shows the scope of that project. Students from Southern Illinois University Carbondale got a rare, behind-the-scenes glimpse of the work as part of the University's first acoustic ecology field course held in the Panama Canal Watershed over the University's spring break. Photos provided Download Photo Here
May 30, 2008
Acoustic ecology course opens students' eyes, ears
CARBONDALE, Ill. -- In addition to capturing the sounds of the rainforest, the lesson plan for the new course included riding in a dugout canoe, releasing endangered animals and watching from a limited-access site as construction equipment cleared the way for a deeper, wider Panama Canal.
"It was an eye-opening experience," said Eric E. Eickmeier, a senior from Monticello majoring in forestry at Southern Illinois University Carbondale.
"I was taken into a wilderness -- another world. There's something about being there -- you get so much more out of it than you do just seeing a picture."
Eickmeier was one of 11 SIUC students enrolled in the University's first-ever acoustic ecology field course, eight days of non-stop activity aimed at combining the science of rainforest conservation with the art of "soundscape" recording in the Panama Canal Watershed.
Held during SIUC's spring break, the course grew out of joint research projects conducted in the area by Andrew D. Carver, associate professor of forestry, and Jay F. Needham, assistant professor of radio-television. Carver, active in Panama since the decade's start, had teamed up with Needham during the previous spring break with the idea of capturing sounds as a way of documenting both wildlife presence and noise pollution.
"Sound has various applications to rainforest and conservation issues, and we could see there were so many obvious teaching opportunities -- it became a priority for us to take a class down there," Carver said.
Needham, an artist and documentarian who specializes in sound, said noise often bombards pristine places because sound "doesn't play by the rules of geography."
"Our data will reveal a lot about sounds invading that natural environment and what it means for the quality of life of both humans and animals," he said.
The canal's watershed includes two national parks, a wildlife preserve, one of the world's top birding trails and EcoParque Panama, nearly a thousand acres of tropical forest abutting both the canal and Panama City. The whole area teems with life: More than 2,500 types of plants, 159 species of mammals and 564 kinds of birds flourish in the dense woods.
"The biodiversity is so accessible -- you don't have to travel hours and hours to see animals," Carver said.
"Multiple times I have stopped traffic to move sloths across the road on my way in from the airport."
While the students received two to three credits for completing the field course, this was more than just another class, Carver said.
"We wanted to share the sense of a research expedition with them," he said.
"While they were there, they were involved in studies much like we had conducted that previous spring break with sound as well as some of the work I had done prior to that. We tried to immerse them in grassroots rainforest conservation -- through research, meeting with non-governmental organizations, animal rescue, eco-tourism."
Over the course of the eight days, the students set up motion-and-heat-triggered "camera traps" to add to the data on wildlife species; helped release into safe areas animals removed from the canal expansion sites; traveled by dugout canoe to an Embera village to meet, learn from and eat with these indigenous people; walked one of bird-watching's most famous trails; snorkled among coral reefs; kayaked; visited colonial ruins; got the lowdown on peregrine falcon breeding; and, after days of negotiating for security clearances, saw for themselves the sheer scale of Panama's push to make its canal the world's premier shipping channel.
"It was an exhausting, ambitious schedule," Carver acknowledged.
"We were always on the move, and when we weren't moving, we were out recording sounds -- and that's how it is to do research. You have limited time in the field, and so much is happening."
For Eickmeier, who described himself as "a huge outdoor and animal person," it was, surprisingly, the Embera people who made the greatest impression on him.
"I don't even know how to describe it -- it was on a whole other level," he said.
"These people still dress as they always have, they have all this medical knowledge of how plants have been used for thousands and thousands of years, they show a great respect for the environment they live in, and they try to put more good into the land than they're taking out.
"They now live in a national forest, so they don't even own their own land. They can't harvest crops, they can hunt only the allowable species, they're more and more dependent on the tourism industry, which is a last resort -- their way of life is being lost -- and yet, they were extremely welcoming. I look forward to going back to that particular village."
For Joshua P. Gumiela of Burtrum, Minn., a graduate student working on his master of fine arts degree, the experience was more of an "ear-opener."
"I live through my ears," he said with a grin.
"Pretty much everywhere I went I was recording. Being immersed in that environment and hearing all those new sounds was an amazing experience.
"We're a visually dominated culture. One of the effects of that is we tend to tune out the 'noise' of the environment in which we exist. In a location such as the rainforest, it's important to realize that there is a level of encroachment on the natural soundscape that affects the animals living there. These animals are not only physically displaced by the canal expansion, but their sonic environment is undergoing drastic change as well.
"While I've done a lot field recording on my own, I have never had the opportunity to work on a project that could help bring about some awareness and perhaps even some change in people's attitudes toward the sonic environment. This project has helped me understand that I can generalize the work of acoustic ecology to virtually any location in the world. I would like to go back and focus my work more specifically on the areas where expansion is currently taking place, because in a year or two, everything you see there will be completely gone."
In addition to Eickmeier and Gumiela, students enrolled in the field course (by hometown) were:
Algonquin: Lindsay A. Warner, a senior in forestry.
Carbondale: Jolene R. Wright, a senior in forestry.
Columbia: Allie E. McCreary, a senior in forestry.
Downers Grove: Guy D. Schmale, a senior in forestry.
Teutopolis: Matthew J. Stevens, a senior in forestry.
CONNECTICUT
Collinsville: Daniel S. Kantor a junior in radio-television.
MINNESOTA
Maple Grove: DuVale M. Riley, a senor in cinema and photography.
Brendan P. Scahill, a junior in forestry, and Joseph S. Valle, a graduate student in mass communications and media arts, also took part.