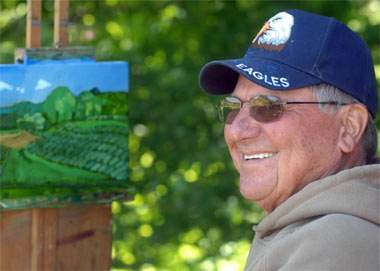 The last landscape -- Robert Paulson, professor emeritus at Southern Illinois University Carbondale, taught an outdoor landscape class for 30 years, keeping the class going even after he retired from the classroom. This was his last year to teach the class. He and his students are at Blueberry Hill Farm in Cobden. Photo by Russell Bailey Download Photo Here
May 28, 2008
Effort under way to continue landscape painting class
CARBONDALE, Ill. -- It looked like a group of people painting, but really it was the end of an era.
Southern Illinois University Carbondale Professor Emeritus Robert Paulson taught his Plein Air Landscape Painting class for the last time this May. He invited alumni of the class to come back for a last reunion. And, come they did -- from Philadelphia and Brooklyn, St. Louis and Houston and Chicago and elsewhere, some of them for the whole two weeks, some for just a week and several at a time crashing at Paulson's house. And undergraduate students took the class, too, alternately enjoying and feeling intimidated by the "sink or swim" nature of the two-week crash course in landscapes. In all, 55 students registered for the course.
Paulson is leaving the area soon, moving to Peoria to be near his family and to see his grandchildren grow. But he wants the class to go on without him.
"We're trying to create a trust to continue the class," he said between brush strokes at Blueberry Hill in Cobden. "Ideally, we'd like to hire a painter to teach the class -- like an endowed position. For a full-time position, it takes about $1 million. But we just want someone for two weeks each year. That should take a few thousand dollars."
This year, students, albeit sometimes reluctantly, donated paintings created during the two- week course for a silent auction and exhibition. And naturally they are still taking donations. Contact the School of Art and Design at SIUC to donate -- call 618/453-4315 or email Valerie Brooks at vlbrooks@siu.edu for more information.
So what's the big deal about an outdoor landscape painting class? According to the alumni, it's not something widely available. According to the undergraduates, it's a class that challenged them in unexpected ways. Green, for example.
"There's a lot of information (in the landscape). There's a lot of green. You have to sort it out. Sometimes you can get lost in the foliage," Brian Smith said. Smith earned his bachelor of fine arts degree from SIUC in 2002. He lives in Brooklyn, N. Y., now, where he paints and uses his carpentry skills to, as he says, "build frames for famous painters."
"This class is really unique -- I haven't encountered anything like this," Serena Perrone, a 1993 triple-major (painting, art history and French) SIUC alumna now in Philadelphia, said. Perrone teaches at the Tyler School of Art at Temple University in Pennsylvania and recently began working with an art dealer who is placing her work in major collections, including private collections.
"I came back and took the class in 2002 after I graduated," she said, noting that she became friends with Smith then -- a friendship they still share. "You really have to synthesize what you are looking at, you have to focus in a different way than with a still life or a portrait. There aren't a lot of rigid structures (in this view) and so it's a lot more subjective. It definitely takes training to make a good landscape."
Perrone said she knows now more than ever that she got that needed training at SIUC.
"While I was here, I wasn't sure how strong the program really was," she said. "Once I got out into other art communities, I realized how strong it was."
Paulson himself summed it up neatly. "They all start out sort of confused -- you have to sort it all out. And then the light changes. Just by painting a lot -- that's how they learn."
And of course there are worse places to take a class than nestled in the gentle hills of a Cobden berry farm or atop a bluff in Alto Pass.
"There is something about having that tranquil time," Perrone said. "I want to have a few paintings to take home with me."