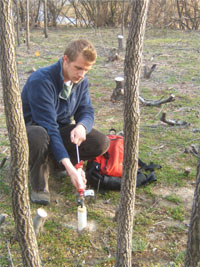 Cutting edge — Among a stand of trees from which he has cut down all the autumn olive, Andrew J. Somor samples the water in the soil, looking for traces of nitrate. A forestry major at Southern Illinois University Carbondale, Somor spent much of his senior year on a research project aimed at finding out if active management of autumn olive can improve water quality in nearby streams.
(Photo provided)
May 20, 2008
Project explores autumn olive's impact on streams
CARBONDALE, Ill. -- Folks used to like autumn olive. It smelled good and grew fast on poor soil. Outside the garden, it sheltered and fed birds and other wildlife, controlled erosion and made former strip mine sites look less naked.
But then this kindly shrub turned thuggish. Helped in its spread by people, birds and beasts, it took over more and more land, shouldering out native species that couldn't keep up with its speedy, dense growth. Today, you'll find autumn olive on the "noxious plants" or "invasive species" list of just about every state it grows in.
As if that weren't enough, there's another reason to hate it. Autumn olive roots can manufacture nitrogen out of the air; in effect, the tree becomes its own fertilizer factory. Where you have fertilizer, you have the potential for water contamination as the unused portion washes out of the soil and into nearby streams. And that's where a longstanding research project run by forestry students at Southern Illinois University Carbondale comes in.
"It started about five years ago with a grad student who did her thesis on the water quality impacts of autumn olive," said Andrew J. Somor, a senior from Palatine who last year won an undergraduate research award through the University's REACH program to continue the work.
"She measured the nitrate (produced as plants use nitrogen to feed themselves) that leached out of autumn olive stands compared to what happened in grassy areas and found the levels quite a bit higher where there was autumn olive -- it was pretty significant leaching.
"It was sort of unexpected because ecological theory suggests that these kinds of plants make only enough nitrogen to meet their own needs."
The project then passed to an undergraduate researcher working as part of the federal McNair program for college students who are from minority groups or are the first in their low-income families to attend college. That student found that soil bacteria in fields full of autumn olive also produced significantly more nitrate than they did in grassy areas.
Meanwhile, the grad student, joined at that point by Somor, began looking at nitrate levels in streams from watershed areas with varying coverage by autumn olive stands. Those with more stands also had higher nitrate concentrations in their streams.
"All these outcomes point to one more negative consequence of this invasive species," Somor said.
Somor's piece of the project began last summer and examines the link between water quality and active management of autumn olive.
" We wanted to see what would happen to nitrate leaching if you take out the autumn olive, both immediately and over time as other vegetation replaced it," he said.
Working at the University's Touch of Nature Environmental Center, Somor marked out nine plots of old stands dominated by autumn olive. He left three alone, chopped down the autumn olive in three others and in the last three not only removed the autumn olive but applied Brush-B-Gone to the stumps. That manual labor, he said, was the project's most daunting challenge.
"The plots were 16 by 16 meters, and those were big trees with diameters of 6 to 8 inches," he recalled.
"I had some help from two other undergraduates. We had six plots we had to cut. In August. In the dead heat of summer."
He next installed equipment to sample soil water in all nine plots and began in December taking samples twice weekly.
Given the previous studies, early results seem a bit surprising. Nitrate levels in the cut areas surpassed those in the untouched plot.
"We think that when you cut away the vegetative canopy, you expose the soil to more sunlight, more warmth, more water, and the soil organisms become more active -- plus there's all that dead material for them to convert into nitrate," Somor said.
"The assumption is that once you get the initial flush of nitrate from increased microbial activity and new vegetation starts to grow, in the next season nitrate levels would decrease."
The researchers assume, but they don't know. That's the value of an ongoing project like this one, said Karl Williard, associate professor in forestry and Somor's REACH mentor.
"Disturbed soil always boost microbial activity, so it wasn't unexpected to see this take place," he noted.
"But it will be interesting to see if this assumption actually bears out and how long it will take as we keep measuring over the next couple of years."
Somor won't be part of it then. He's planning on going to grad school in the fall to prepare for a career as a consultant on water resource issues. But a new undergraduate will step up to take his place.
"That's one of the hallmarks of our program," Williard said.
"We help students get their research off the ground, make sure they're collecting their data in the correct manner and help with the analysis, but the students are the ones who do the work. I like that student focus -- it's one of the big reasons I am here."