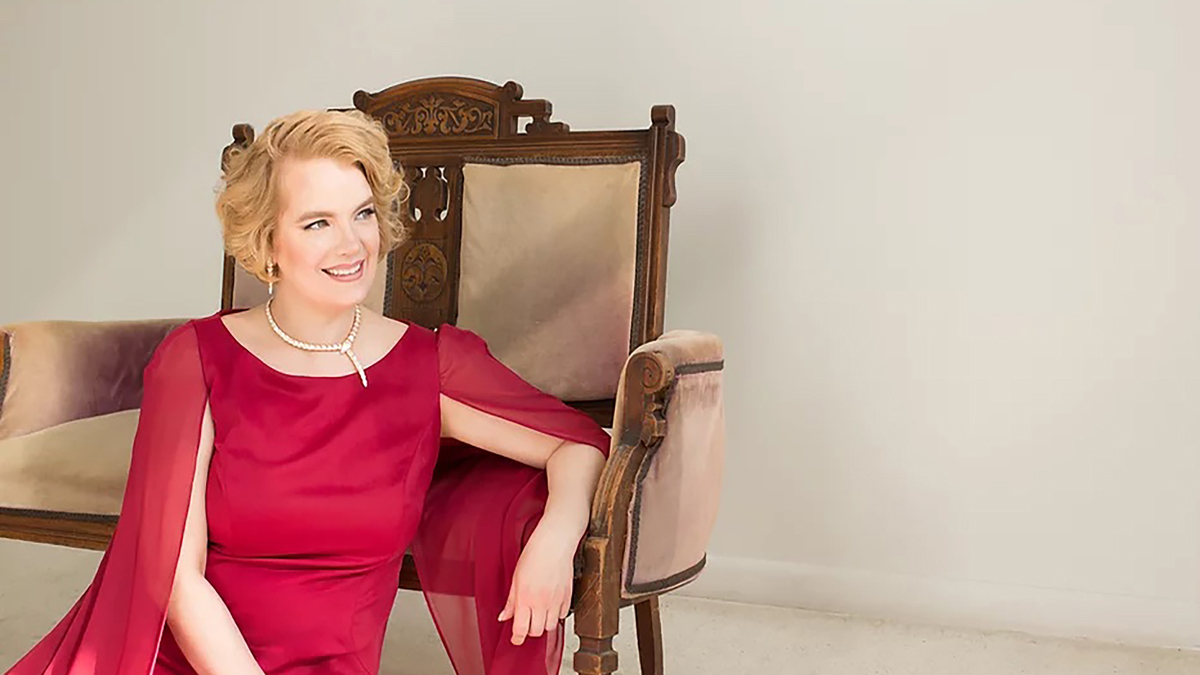 Soprano Amy Shoremount-Obra is in the title role in "Salome," a one-act opera that is among the highlights of the 2022 Southern Illinois Music Festival. The 18th annual and nationally recognized festival runs June 6-26. (Photo by Dario Acosta)
May 17, 2022
Showcase performances highlight Southern Illinois Music Festival, June 6-26
CARBONDALE, Ill. — The 18th annual and nationally recognized Southern Illinois Music Festival (SIFest) returns to promote the region's cultural activity by again featuring a strong blend of professional singers and instrumentalists along with select SIU Carbondale faculty and students.
The festival, which runs June 6-26, will feature Richard Strauss' iconic and controversial one-act opera "Salome," which has never been performed in the region. Soprano Amy Shoremount-Obra is in the title role, featuring Salome's famous "Dance of the Seven Veils" to anchor the festival with performances on June 18 and June 21 in Shryock Auditorium.
"This year's festival may be our most ambitious yet, in terms of the breadth of our repertoire and personnel," said Edward Benyas, SIFest artistic director and conductor.
"The festival includes 74 instrumental artists, 17 vocal and stage artists, 19 administrative and artistic staff, 30 host families, 14 concert venues and 53 out-of-town artists coming from across the United States to Southern Illinois for three weeks," he said. "In addition to three challenging orchestral concerts and a wealth of chamber music, this year we are tackling the most difficult opera we have ever mounted, 'Salome' by Richard Strauss."
The festival features the works of well-known composers, including Antonín Dvořák, Joseph Haydn, Felix Mendelssohn, Sergei Rachmaninov, Franz Schubert, Robert Schumann and Jean Sibelius.
Festival artists include Josh Shaw, opera director, and the founding artistic director and CEO of Pacific Opera Project in Los Angeles; cellist Maya Benyas; the Antigone String Quartet; the Edgerton/Thompson Chamber Ensemble; the Fermi String Quartet; the New Chicago Wind Quartet, and the the violin duo Syncronia,
Artist biographies and the full schedule of concerts are available on the festival website.
Orchestral concerts in Carterville, Marion
Benyas noted the three orchestral concerts are planned for June 17 and 24 at Carterville High School, featuring Dvořák's Cello Concerto and Rachmaninov's 2nd Symphony on June 17 and Schumann's Konzertstuck, a Ukrainian melody and Sibelius' 5th Symphony on June 24. Ticket prices are $25 and $10. On June 26, a free, all-American patriotic concert at Marion High School will include music celebrating the works of record-breaking Academy Award winning American composer and conductor John Williams, who turned 90 in February.
Other festival venues throughout the region
Audiences both young and old will have myriad opportunities to be immersed in classics performed by wind trios, string quartets, wind and brass quintets, and more. The Klassics for Kids and Jive with Jazz events for children of all ages are free, and reservations are not needed.
A free American Guild of Organists Recital featuring Michael Hey kicks off the festival June 6 at Shryock Auditorium, with suggested donations that night to support the Survivor Empowerment Center of Southern Illinois, formerly The Women's Center, in Carbondale. Other venues in Carbondale include ArtSpace304, the First United Methodist Church of Carbondale, and the Lutes Gallery in the University Museum. Performances are also scheduled for the Episcopal Church of Cairo and the Anna Arts Center.
Benyas noted that among the festival's accolades is recognition in Symphony magazine as the only professional music festival in Illinois that is south of Interstate 80.
Tickets available now
Tickets to most festival events are $20 for general admission and $10 for students of any age; $25 and $10 for the June 18 and 21 opera performances at Shryock Auditorium and the June 17 and 24 performances at Carterville High School. A season pass is available for $125 and includes a SIFest program booklet. Tickets and festival passes will be available at the door.
Advance tickets are available by contacting Benyas at benyas@siu.edu or 312-560-2094. Pre-festival ticket order forms available on the website can be printed out and should be mailed by May 25 along with a check for the total amount payable to "Southern Illinois Music Festival" to Edward Benyas, SIU School of Music, Mailcode 4302, Carbondale, Illinois, 62901.
Patrons will receive an email confirmation of their order and instructions.