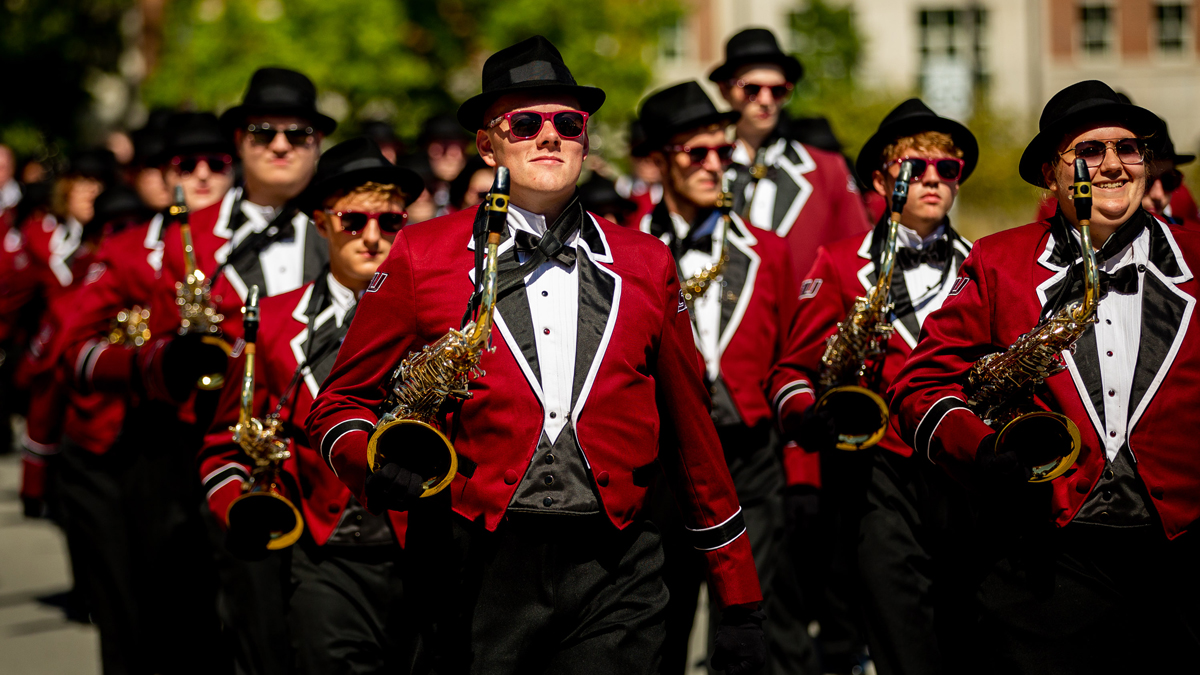 Taking the field – The Marching Salukis, shown here prior to the football game against Illinois State on Sept. 25, will host the Music & Motion high school marching band competition Saturday, Oct. 2, at Saluki Stadium. A total of 14 visiting schools from Missouri and Illinois will compete. (Photo courtesy of Brian Munoz)
September 29, 2021
SIU hosts annual high school band competition on Saturday
CARBONDALE, Ill. – "You may take the field" is a heartwarming sound for all marching bands throughout the nation this fall. For George Brozak, director of athletic bands at Southern Illinois University Carbondale, it also means that the "Music & Motion" high school marching band competition is returning to Saluki Stadium, Saturday, Oct. 2.
Postponed in 2020 due to the COVID-19 pandemic, this year's competition, the 11th with Brozak directing, will showcase 14 visiting schools from Illinois and Missouri and allow those students and their families an opportunity to spend time around SIU's own Marching Salukis and the campus.
"It will be exciting to have bands back and give them an opportunity to perform for parents, family, and friends," said Brozak, who is also associate director of bands in the School of Music.
Marching Salukis will also perform
Gates open and ticket sales begin at 9:30 a.m. with competition starting at 10 a.m. and awards scheduled for 1:45 p.m. The Marching Salukis will perform a non-competitive exhibition right before the awards program. The cost is $10 for adults and $5 for youth and senior citizens. Children under 4 years old are admitted free.
SIU is committed to protecting the community, so all those attending must follow current campus and state pandemic safety protocols and wear masks in shared indoor spaces.
---
Media Advisory
Reporters, photographers and news crews are welcome to cover the Music & Motion band competition Saturday at Saluki Stadium. For more information, contact George Brozak, director of athletic bands and assistant director of bands at SIU Carbondale at 618/453-2776 or gbrozak@siu.edu.
---
Marching Salukis play integral role
The 165-member Marching Salukis will perform an exhibition at 1:30 p.m. prior to the awards presentation, but they also play an integral role during the competition, Brozak said. In working the event, band members will chaperone the bands, assist them in getting on and off the field, take care of the high school hash marks, assist each of the seven judges, do tabulations and sell tickets and programs. Brozak added that the performances also serve as an important recruiting tool for both the Marching Salukis and SIU Carbondale.
"The only thing we don't do is sell concessions," he said.
The St. Charles High School Band out of Missouri will start the competition at 10 a.m. with the opening 15-minute window. A different band performs every 15 minutes. Bands are divided into four classifications based on band size, not overall school enrollment.
This year's judges include emeritus faculty Mike Hanes, former director of bands, and Deborah Burris from the Office of Teacher Education and former band director at Carbondale Community High School. In addition to an overall grand champion, there will be overall awards for percussion, drum majors and color guard.
The Carbondale Community High School band will be performing in the non-competitive festival division and will receive comments from judges.
The competing bands and their classifications are:
Class C Division
Anna-Jonesboro Community High School.
Charles High School, St. Charles, Mo.
Pinckneyville Community High School.
Vandalia Community High School.                                                
Class B Division 
Cape Central High School, Cape Girardeau, Mo.
Carterville High School.
Fort Zumwalt East High School, St. Peters, Mo.
Mehlville High School, St. Louis, Mo.
Northwest High School, Cedar Hill, Mo. 
Class AA Division 
Fox Senior High School, Arnold, Mo.
Marion High School. 
Class A Division
Freeburg Community High School.
Waterloo High School.